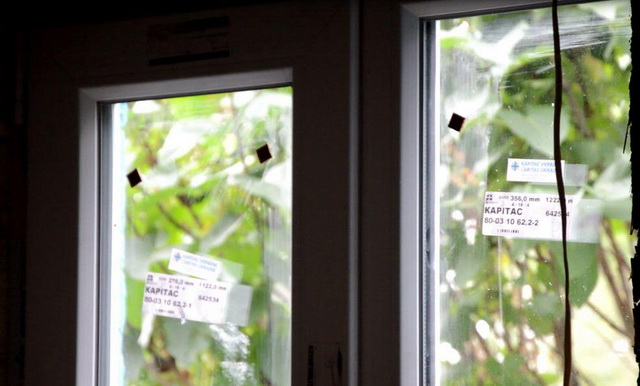 13.07.2016, Mariupol
Inhabitants of the buffer zone have many problems that they cannot solve alone. One of such problems is reconstruction of destroyed buildings. In autumn 2015, to help the needy, Caritas started monitoring damages of private buildings and social facilities in the buffer zone. In early 2016, sport school in Maryinka was taken under reconstruction.
"Mine hit the roof of the sports school exactly at the area of the gym. Of course, roof was significantly damaged. Windows were broken. We decided to renovate this school within the framework of Caritas Austria Project of Winter Preparations."- Father Rostyslav Sprynyuk, director of Caritas Mariupol, explains why it was decided to repair the sports school – "Children in Maryinka have almost no activities therefore it is very important to support children sports in the town. Today, many kids go to the sports school."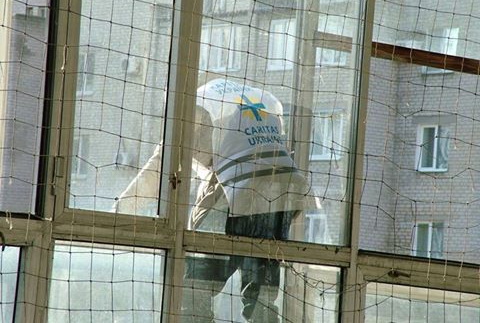 Repair works on restoration of the roof and installation of new windows with protective films lasted for two weeks. Meantime, monitoring and installation of windows was held in private homes of Avdiyivka, Maryinka, Krasnogorivka, Chermalyk and Talakivka.
Representatives of Caritas Mariupol visited every family from the list for windows replacement. It was necessary to make sure that these people really cannot fix it by themselves. "Unfortunately, we cannot help everyone. Many people have experienced loss of property. Those who have a place where to move from the destroyed house or have opportunities to reconstruct their house at their own expense can wait. However, there are families living in dilapidated houses more than a year. Instead of windows we see there plywood, boards or iron sheets. Our goal is to help them in the first place "- said father Rostyslav.
For the last half of the year, more than 700 families got new windows in their homes in Maryinka, Krasnogorivka, Avdiyivka, Chermalyk, Hnutove and Talakivka.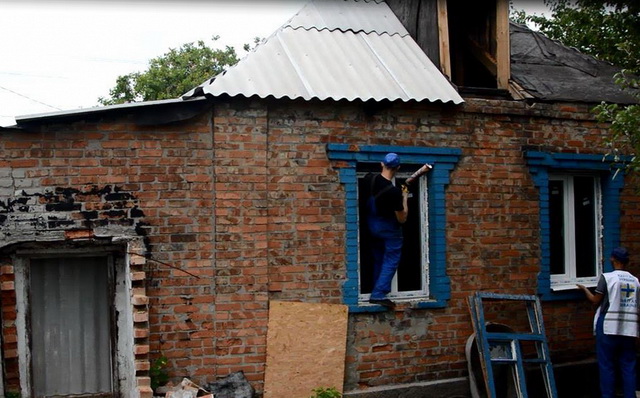 "Well, thank God, I am alive – I was sitting in my room. It flew into the corridor – and blown it all: kitchen, bathroom, and doors. All windows were smashed down. As I was sitting all these glass and things covered me completely,"- recalls 81-year-old Maria Semeniwna while wiping her tears. She lives in the old part of Avdiyivka that is constantly under shelling. Caritas Mariupol with a help of Cordaid project replaced five windows in her house. "This building we have built with my husband 50 years ago. How can I restore it now? I spent on medicine almost all my pension. Thank you for windows. At least I can see sunlight in the house."
Because of military engagement and a large number of IDPs, infrastructure of relatively peaceful cities feels significant burden too. The Deputy Chief of Mariupol oncology health center Nina Nedviha tells about problems of local oncology: "From the very beginning of the conflict, Mariupol Oncology Center changed its city position to regional. For today, we provide services to seven rural areas on the south of Donetsk region and to IDPs living in Mariupol (about 80 thousand people). The number of patients in Mariupol Oncological Hospital increased by 50% with the war. There is no enough places. We have to move all who can walk and do not need constant supervision of doctors to outpatient treatment." For this reason, joint project of Caritas Mariupol, Dutch Catholic Organization Cordaid and the UN contributed to reparation of Surgery Section in Mariupol Oncology Clinic. It helped to increase the number of beds in a hospital.
Projects on reconstruction of socially important facilities endure. With financial support by Caritas Germany, reconstruction of prenatal care have already started in the Second Mariupol City Hospital.