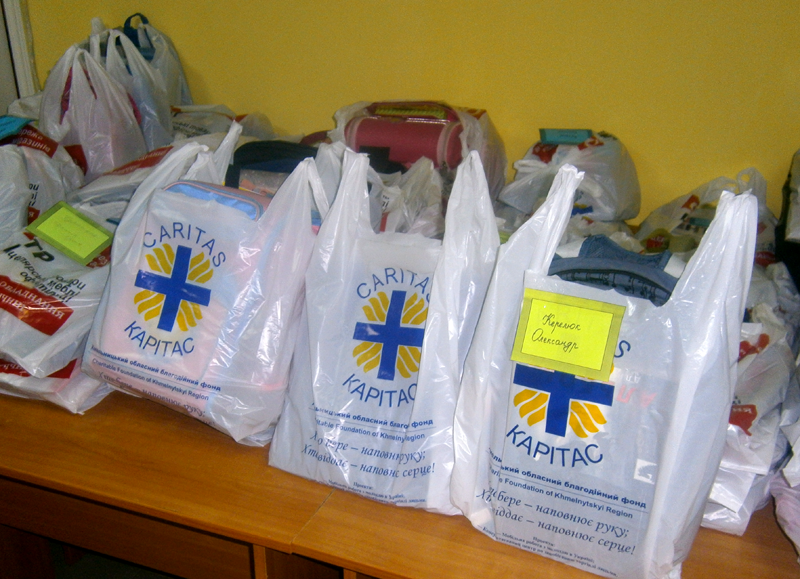 01.09.2014, Khmelnytskiy
A day before the 1st of September it was difficult to get in Caritas Khmelnytskiy: dozens of low-income kids and their parents were looking forward to receiving school backpacks. Not only families from Khmelnytskiy city came to get these presents, but also other people from oblast – all in all, 65 needful families from Khmelnytskiy region and 20 IDPs families from Eastern Ukraine and Crimea have benefited from the assistance.
That day two daughters of Mrs. Olena from Luhansk were waiting with the excitement to receive their school backpacks. Some time ago she settled in Krasyliv town, Khmelnytskiy region. Lonely mother who brings up two school girls in the unfamiliar town says: "We were forced to leave our home and tried to look for the safer place for dwelling somewhere else. Obviously, we were afraid and it was incredibly difficult for us to leave our house, because we contributed much to acquire all the things. And recently we got to know that our apartment was destroyed with bombs and we don't have a place to return.
First Bell for my daughters in a new city where our life starts with a clean slate is a really important occasion. There are some anxieties, but there are also expectations. I believe that everything will be fine. I see a great number of good people around me, and despite the complexity of the situation, I know that God will help us. I express significant gratitude to Caritas that has been supporting us since we arrived!"
Over 2000 displaced people from Crimea and Eastern Ukraine receive assistance from 6 regional organizations of Caritas Ukraine in Lviv, Ivano-Frankivsk, Kolomyia, Novovolynsk, Drohobych and Socal. There are other Caritas regional organizations that with support of known benefactors help IDPs to socialize in their new places of dwelling.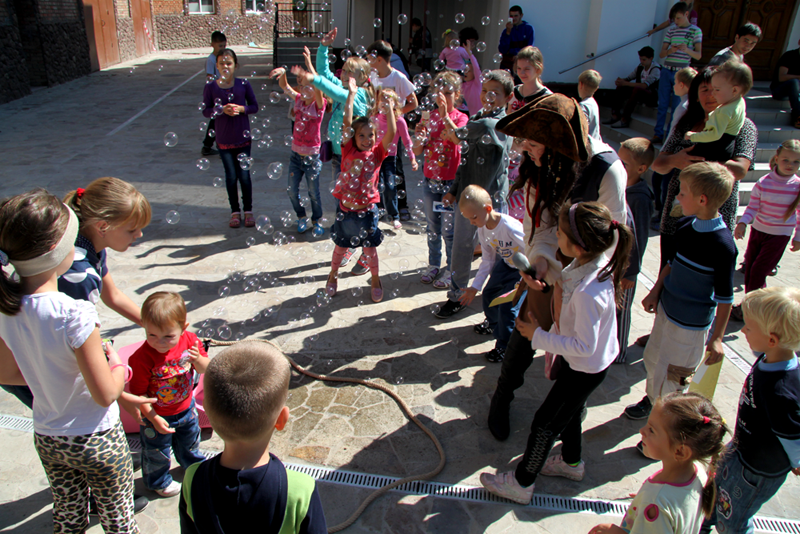 Caritas Ukraine approach in the assistance to such people is individual and foresees scrupulous evaluation of IDPs needs. Attention is focused on the most needful: first of all, there are pregnant women, large families, families with physically or mentally challenges persons, and seniors. Caritas employees don't duplicate services that are provided by other organizations, service agencies and initiatives – on the contrary, we cooperate and unite our efforts in order to render highly effective help to the displaced from Crimea and Eastern Ukraine.
"School Backpack" initiative in Khmelnytskiy became possible with help of "Office-center" stationery supermarket that organized a special campaign that was supported by over 1000 citizens of Khmelnytska oblast. Therefore, local Caritas managed to prepare 235 stationery kits and school bags for low-income children. Apart from a school bag, there were other things included in the present for low-income pupils: a set of bright copy-books, an album for drawing, a set of crayons, a folder for technical drawing, a diary, a case with pens and pencils, a ruler etc.
And with the support of "Koala club" holiday hosts organized a special entertaining program for children where participants of the celebration were able to take part in competitions and contests, communicate with each other and make photographs with heroes from fairy tales.
Some citizens of Khmelnytskiy have been addressing local Caritas to help them in getting their children ready for a school year for many years already, and some people were forced to come here for the first time because of difficulties. Caritas Khmelnytskiy does its best to assist kids in crisis living conditions, education process and their self-actualization.