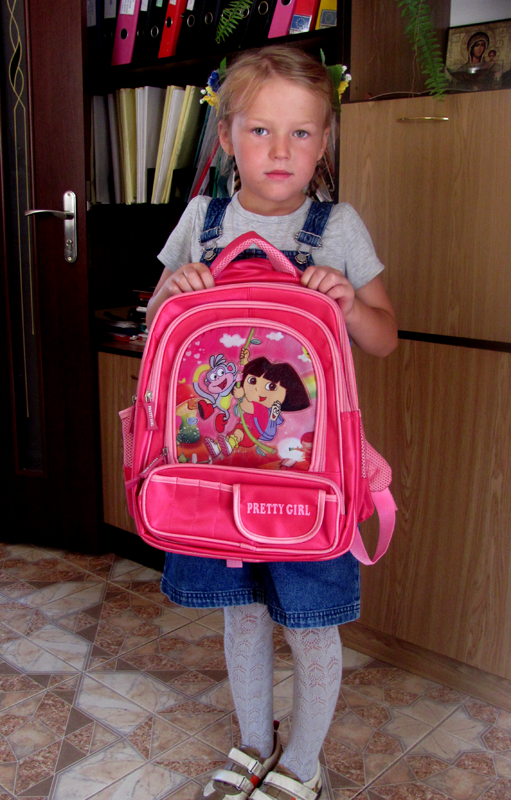 08.09.2014, Ukraine
Despite the complicated political and economic situation in Ukraine, Caritas Ukraine regional organizations in 8 oblasts of Ukraine held "School Backpack" initiative for hundreds of needful children. Such social initiative has over 12-years history, by its means it became possible to assist thousands of low-income families.
"This year school backpack initiative is really special; because it is the first time we faced the problem of IDPs. We see children who came here together with their relatives and aren't ready for a new school year. Nobody expected such things to happen in the country, and they thought they would stay here on a temporary basis. Certainly this is not such type of assistance that can change life, but at least it creates conditions for full and harmonious growth of a child," notes Father-Deacon Sergiy Tryfyak, Director of Caritas of Kolomyia-Chernivtsi Eparchy.     
The initiative is aimed to render target help to pupils from socially vulnerable families in form of a school backpack equipped with copy-books, pen/pencils cases, binders for textbooks, lead and colored pencils, felt pens and other important school items. Assistance is provided to families with difficult material situation where children are being brought up without a mother or a father, where parents are physically challenged, also large families and IDPs from Crimea and Eastern Ukraine that recently became a new group of clients in Caritas Ukraine.
These days in Ukraine not every family can afford materially to prepare a child for a school year, because one school kit costs several hundreds of UAH (note – it is said in Caritas regional organizations that an average sum amounts to 450-600 UAH).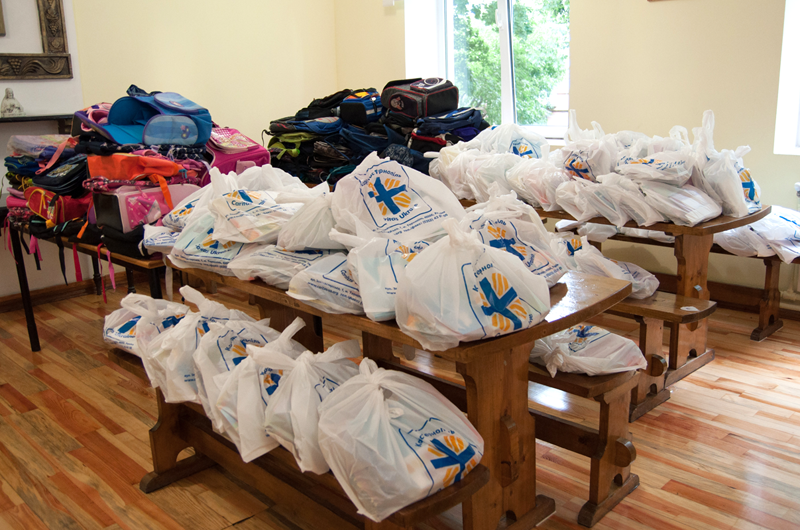 Maria Pylyponyuk from Ivano-Frankivsk is a mother of 8 children, this year her son Mykhaylyk goes to the first form. The boy radiates joy when holding a school bag for the first time in his life. "We are grateful to Caritas people of a good will. The backpack is so heavy there are many things in it!" says Mrs. Maria. "Here, every year I receive help in getting my children ready to school. With my two elder children I didn't know about this initiative, but my five children had already received backpacks. I really hope that my youngest kid will get assistance when she goes to the first form."
This year, for instance, Caritas in Kolomyia provided help for 220 pupils, in Ivano-Frankivsk – to 170, in Ternopil – to over 100, in Khmelnytskiy – to 85, in Kyiv – to more than 50, in Drohobych – to nearly 30, in Odesa – to 25, in Volyn region – to 25 and in Stryi – to 45 children of school age.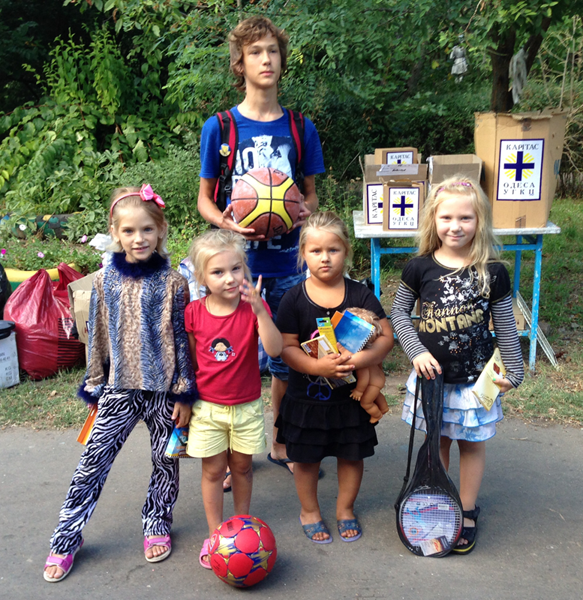 A very significant event launched a "School Backpack" initiative in Odesa. It was a wedding of Caritas worker Oleksandr Dobroyer in the beginning of August. Guests and everyone willing to greet a couple were offered to support low-income pupils as a present for such occasion. And even after this event – it is said in local Caritas – different media wrote about the initiative and many people brought school kits and backpacks to Caritas office.
The most important objective of the "School Backpack" initiative is not only to render material assistance to needful children, but also to deliver message that people around take care of them and are always ready to help in vitally important things.
"Apart from school backpacks, children felt warmth of benefactors' hearts – people who contributed money and school items. Without them the implementation of the initiative wouldn't be possible. These are people from church parishes, ordinary citizens, entrepreneurs, and persons who donated money in special charity boxes. Some people came to our office and directly assisted with financial means and school kits," notes Nataliya Kozakevych from Caritas Ivano-Frankivsk of the UGCC.