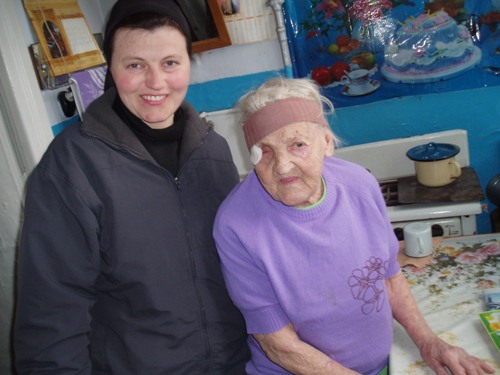 IMPORTANT!
Nearly 30 UAH*  is a sum of money determined by the Ukrainian state as sufficient  for one day of life and for healthy state of being of elderly person or individual who lost his/her ability to work. No doubt, these financial means are miserable and not enough for noutrition, medicines and paying for community facilities, without taking in consideration buying hygine supplies, clothes, shoes or other household things that are usual for Ukrainian citizens.
Meanwhile, there are profound changes in age-related structure of population of the world and Ukraine. The number of seniors (those who reached 65 years old) is growing. There are now 269 millions of such people in the world, nearly every 110, in Ukraine 15 is an elderly person, each 16 of them is a lonely one.  

For the last 12 years on basis of its organizations in 8 oblasts of Ukraine, with help of Home Care project Caritas Ukraine provided care for over 7**  thousands of seniors, disabled individuals, people who live with HIV/AIDS, palliative patients, victims of totalitarian regimes and Ostarbeiters. Only for the last 5  years Caritas Ukraine spent more than 20 million UAH*** on care of people in need of assistance from outside.
What is Home Care project?
Work aimed at care of health and quality of life of seniors and those in need of assistance from outside is considered by Caritas Ukraine as one of the prioritized fields of its activities. The objectives of Home Care project are medical and social care and improvement of living conditions of lonely seniors, feeble, terminally-ill and those who are in need of permanent or temporary care as a result of disease advancement or received injury. 
The employees of Home Care project provides their clients with wide range of services:
•    body care of ill and feeble individuals – dressing, changing bed linens and help with personal hygine;
•    medical services – monitoring vital signs, administration of medicines; debriding a wound, massages and body rubs, therapeutic physical training etc;
•    housekeeping – shopping, preparing meals, feeding, washing dishes, housecleaning, laundry services and ironing;
•    resolving legal issues – registration to obtain subsidies, documents and paying community facilities;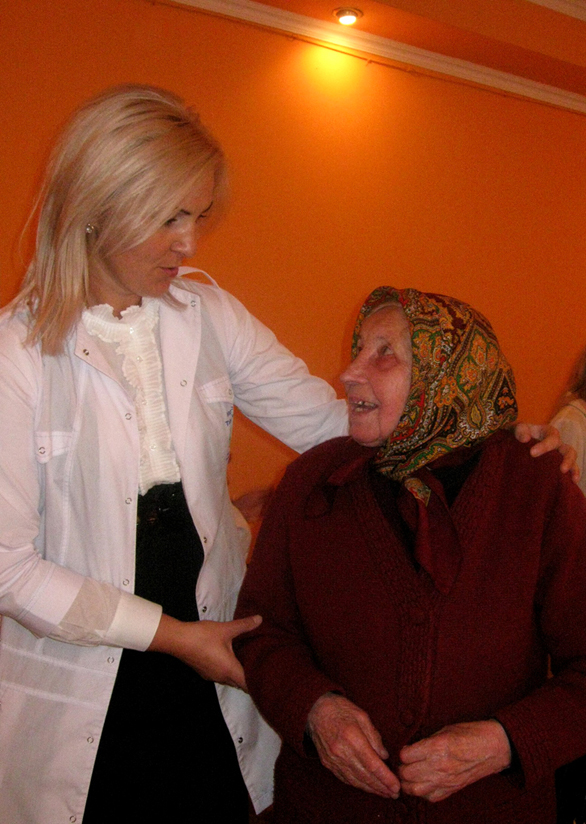 •    organization of recreation – communication, reading books and promenades;
•    consultations of clients and their relatives etc.
Informational and consultation centres function at 8 branches of Caritas in Ukraine. Here, specialists in home care render consultations on ways to take care of ill individuals and to preserve health of their family members, relatives, and neighbours.  Also educational thematic trainings are conducted for volunteers and social workers. Each year thousands of people in need are seized by such assistance.
There is a possibility to loan out rehabilitation equipment in 6 centers of Home Care project. Needful Ukrainians are provided with anti-decubitus cellular mattresses and pillows, pneumatic bowls for head washing, neck support pillows, toilet seats, wheelchairs, two-wheeled folding walking aid, sticks with four supports etc.
In 6 centers of Caritas Ukraine there are social laundries.  By means of well-organized work of laundries over 200 people, clients of Home Care project; are rendered services on washing of dirty underlinen. It goes through washing and ironing process and is delivered to clients homes in ready-to-use condition
All Home Care centers are organized with relevant medical and rehabilitation equipment, have well-trained qualified personnel and experienced local managers.
Regional administrations of Home Care collaborate with local departments of social security for seniors and lonely ones, offices of Retirement funds, with subsidies departm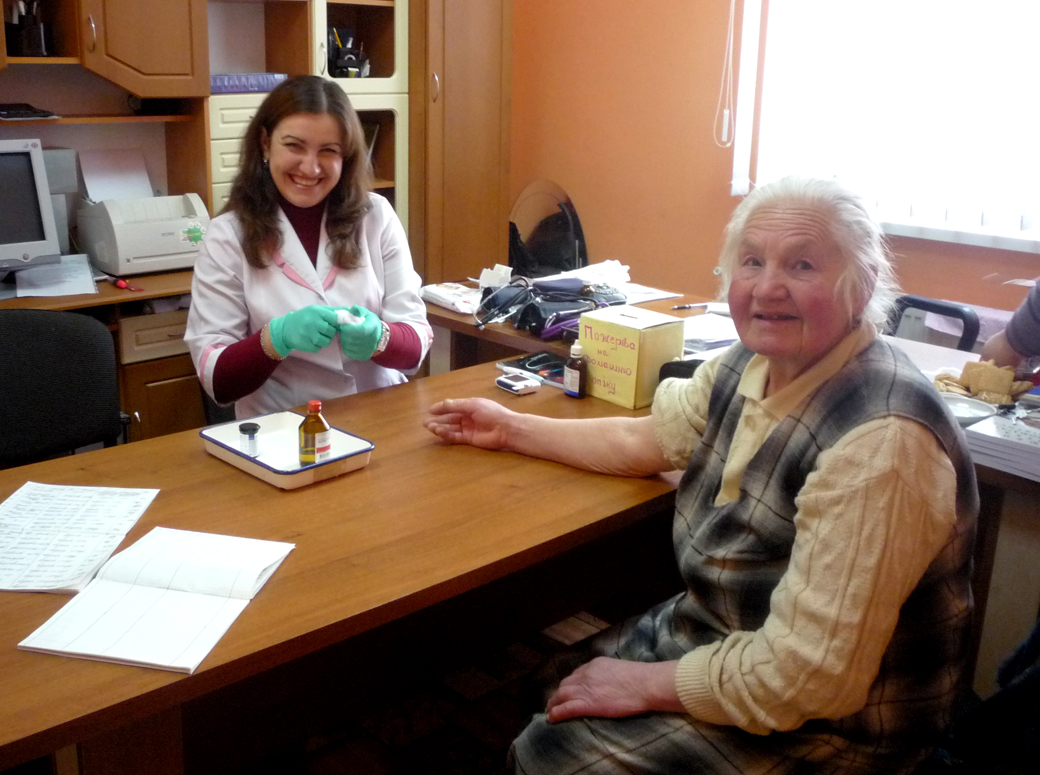 ents, doctors from policlinics and hospitals with aim to redirect and consult clients, and also with educational establishments.   
Earlier, Home Care project was implemented in 13 cities of Ukraine: in Kyiv, Odessa, Donetsk, Lviv, Khmelnytskiy, Ternopil, Ivano-Frankivsk, Kolomyia, Stryi, Brody, Sosnivka, Zhovkva, Boryslav. For the last 2 years geography of the project has been constricted to 8 cities (Kyiv, Donetsk, Odessa, Lviv, Ivano-Frankivsk, Ternopil, Kolomyia and Boryslav) and seizes 500-600 clients.
For many years project had been financed by various sponsors from Germany, France and Austria. Since January 2012 the project receives support from the Foundation "Remembrance, Responsibility and Future" and Caritas Germany.
We offer press-tour participants:
to visit centers of Caritas Ukraine Home Care project in Lviv and Boryslav/Ternopil;

to visit apartments of Home Care project clients to see their lives, household and daily difficulties and conditions to solve them;

to compare services rendered for lonely seniors by Lviv City Center of Social Services (social services delivery) and Caritas Ukraine;

to know reasons and duration of lobbying of system of social services delivery for vulnerable population categories and state centralized financial support for social services delivery by charitable and civic organizations;

to get acquainted with work of Caritas Ukraine national office and regional organizations;

to put the most intrigues and most uncomfortable questions on peculiarities of social policy implementation by philanthropists and civic organizations in Ukraine, specifics of cooperation with the state, financial support of such work and further perspectives, challenges and tendencies;

to get acquainted with other fields of work in Caritas Ukraine regional organizations – activities with needful children and youth, disabled people, labour migrants kids, charitable refectories and humanitarian aid points etc.

Journalists of printed and Internet media, TV and radio are invited to participate in the press-tour.

Please, contact Nadiya Chorna, Public Relations Manager of Caritas Ukraine, for accreditation: by e-mail  pr@caritas-ua.org  or by phone – 099 090 23 55.
Please, mention in your application:
1. Name, surname.
2. Media and your occupation.
3. Contact phone number and e-mail.  
4. Time of press-tour that is comfortable for you and what format you prefer:
A) 1-day-visit (it is offered to visit Caritas organizations in Lviv and Boryslav) or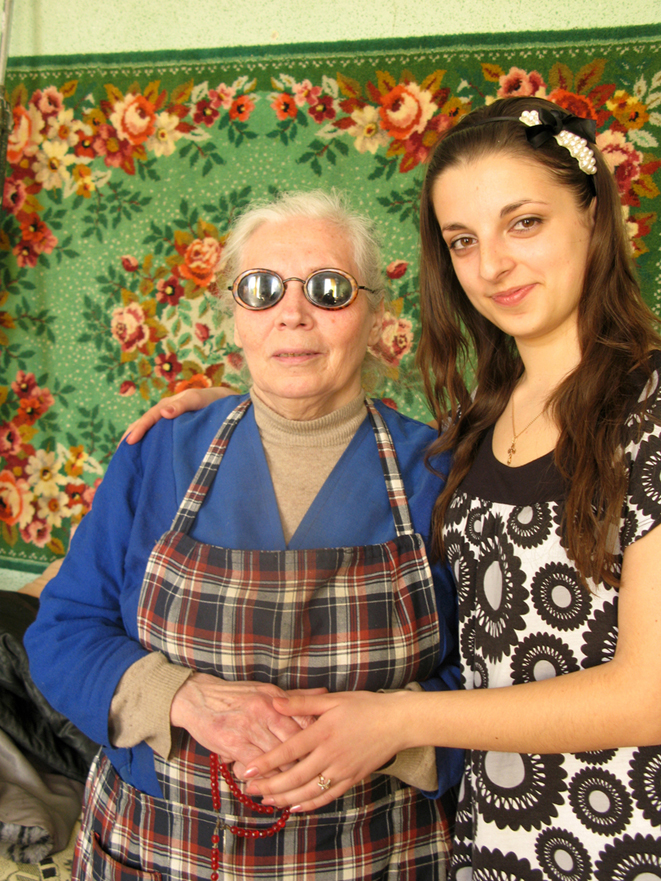 B) 2-day-visit (it is offered to visit Caritas organizations in Lviv and Ternopil; overnight stop in Ternopil is foreseen; expenses are covered by ICF "Caritas Ukraine" ).
Suggested dates for a press-tour:
A) 9-10 December   B) 16-17 December  C) 23-24 December
NB!  All expenses related to transport, accommodation and nutrition are covered by ICF "Caritas Ukraine"
* the sum of living wage per month and minimum pension was determined for the period of 1 January-1 December 2013 in the amount of 894 UAH.
** it is an approximate number, because in 12 years due to changes with project financing the number of Home Care centers changed and the number of clients was different respectively; the average amount of project clients equaled to almost 500 individuals annually.
*** speaking about 2008-2013