05.07.2016, Zaporizhia
Every day internally displaced persons have to challenge many tasks: cope with psychological problems, work out domestic, residential, and financial issues. This process is fruitful only on condition of successful adaptation to the local community. Otherwise, locals do not understand them and often impose unreasonable charges. Thus, it is so important for IDPs to organize activities that offer them a way out of difficult situations and help to cope with their problems.
Caritas Zaporizhia workers used an interesting approach. Caritas organization expert, Doctor of Social Science Oksana Ivankova-Stetsyuk held a focus group for internally displaced persons. Participants had an opportunity to simulate typical situations they face every day in the form of role-playing games and find effective solutions to their problems.
Focus group was preceded by game called "Bad Functionary." Two groups of participants were able to take roles of beneficiaries and the authorities, and simulate coming of IDP to the administration. A familiar situation – every one of us had to visit various government offices repeatedly! Interestingly, although the authorities in this game were negative characters, participants were depicting them with humor. In expert's opinion, it is a very positive sign.
Next, it was suggested to focus group participants to describe the challenges they face regularly. They had to specify solutions to these situations in the form of free dialog.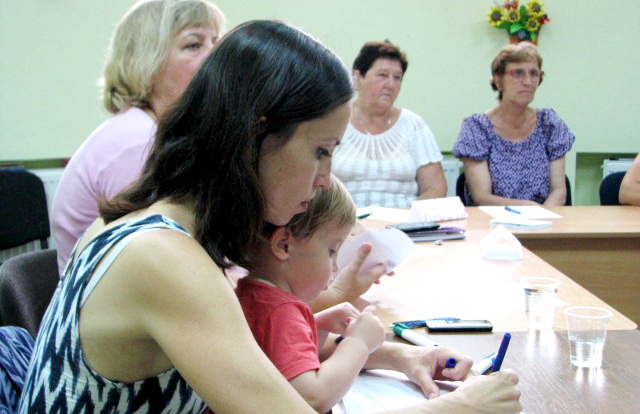 As the social worker of Caritas Zaporizhia Yulia Seniv points out, – such groups are much needed and give valuable experience to the Caritas wards. "Professionalism of moderator contributed to creating a relaxed friendly atmosphere. The participation in role-playing game allowed me to feel myself in needy person shoes for a few minutes" – shared Yulia.
During the focus group, we could hear stories about different fates of IDPs. Valentyna became a volunteer and now wants to help other internally displaced persons trying to build a new life… Lubov came from Horlivka, now she works in the summer cottage and enjoys her life… Anna is on maternity leave, but yet is looking for work … Svitlana is trying to start her own business…
"I live in Zaporizhia for two years by now. At first people helped me a lot, now I am volunteer myself – I teach children English. I changed my environment, and my views at various problems. I think that my life today is positive," – said participant of the focus group Olena.
"The constructive dialogue allows IDPs see their problems more vividly from different perspectives. They have to understand that their problems can be solved.  They only need to work, to be open, and try to help other people in need", – summed up group moderator Oksana Ivankova-Stetsyuk.