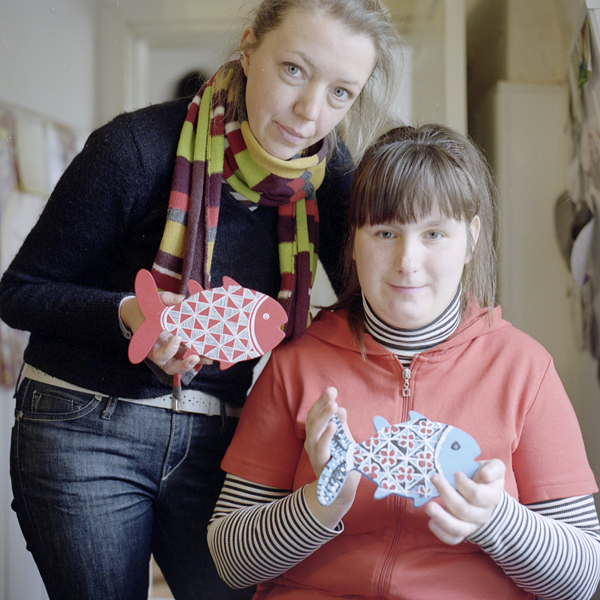 16.12.13, Lviv
Caritas Ukraine won support of Lviv City Council for implementation of this year art-project that unites almost 100 young people with special needs and famous Lviv artists. Their cooperation is aimed at creation of holiday presents that will be distributed among the public and draw attention to problems of socialization of disabled individuals.  
Contributing own style and manner, well-known artists helped to create special Christmas presents. Among them were Ostap Lozynskyi, Olia Kravchenko, Maryan Pyrig, Yevgeniy Ryabchun, Maryana Kvyatkovska. They say that such project is socially important and becomes an alternative for export presents. During workshops with disabled youth they made decorations for Christmas tree – multicolored and joyful horses. Very soon Christmas tree will be decorated with these presents and presented in lobby of Lviv City Council.
In the frames of an art project at the end of 2011 and 2012 different events seized the Western part of Ukraine and the capital, in particular there were exhibitions, workshops, Christmas fair, initiatives in galleries and coffee houses, music concert. Participants of art-project presented icon on glass, modern icon on piece of wood, ceramics, textile, pictorial art on canvas, interesting thematic presents and toys. For 2 years artists made great friends with young people who have special needs, that's why they continued cooperation this autumn.
Maryan Pyrig, artist, owner of "Pyrozhky Artisanal Family", soloist of Hytz Orkestr and art-project activist, retells: "When last year I was invited to participate in workshops with youth who have special needs I was somehow confused. I didn't want to be related to teaching – I consider it as something compulsive and contradictory with freedom of choice. But, p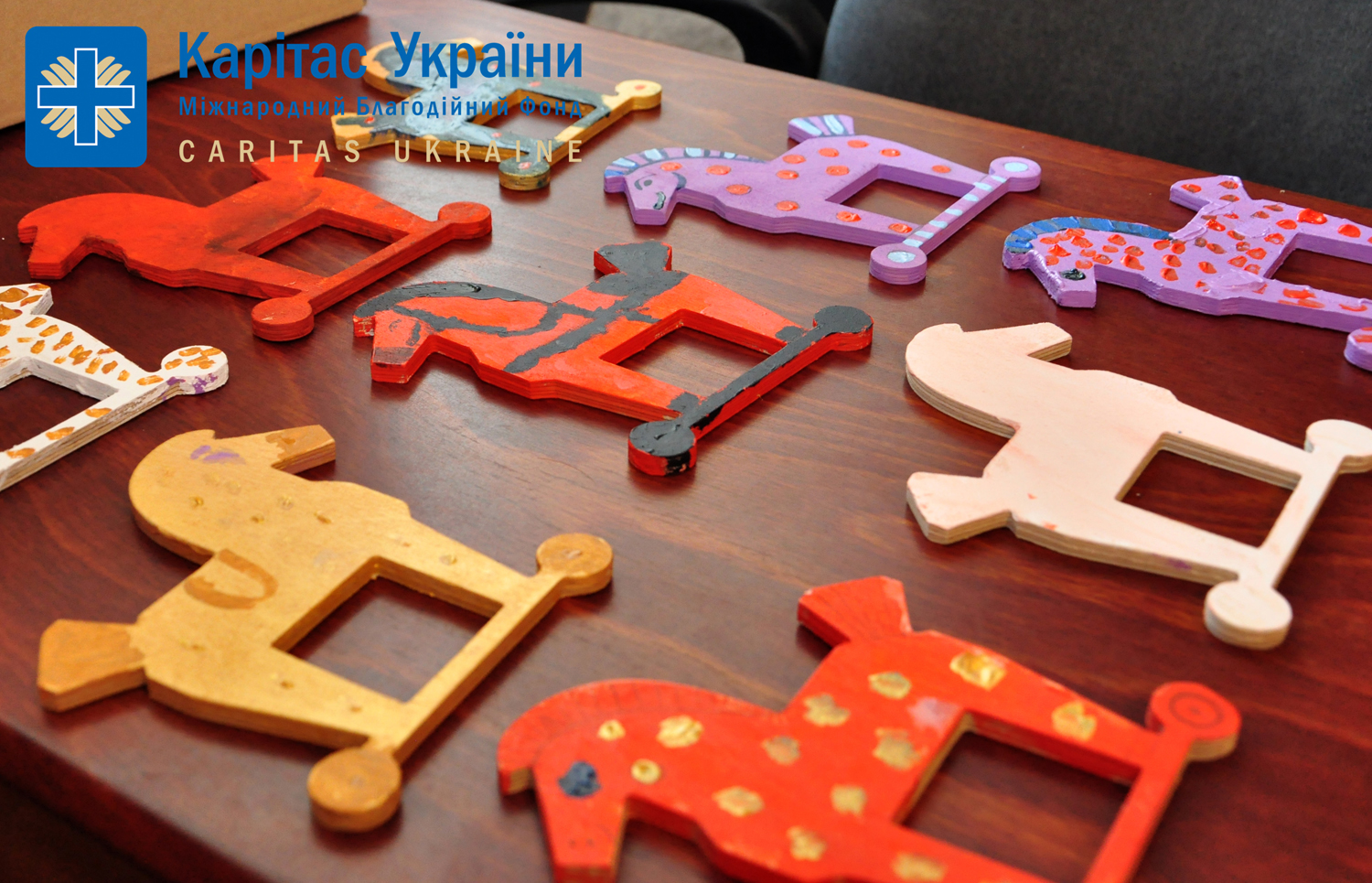 articularly to this invitation, I felt heart to heart, as I was asked to become a godfather for a child – it is wrong to renounce from such things.
Afterwards, when I visited lessons held by other craftsmen and then I started to run my own, I entirely changed my mind. I was impressed more than ever by sheer outspokenness of young disabled individuals. I could hardly take it in – what is the connection between such extraordinary kind people and the word "disabled"! Next to them I feel even more narrow-minded in some aspects. They become dedicated to what they do easily and truly, they allow you to experience their pure space without stereotypes and lies. Their love to the good, colors and power of creativity encourages you without any doubts to feel happy and joyful to the full extent. 
I count my blessings that brought me with such unusual people. Till my dying day I will deeply respect and admire people with disabilities and those who work with them!"
Every year the number of people with special needs increases in the country. At the moment nearly 10% of Ukrainian population are disabled individuals, 6% of them are people with mental deficiency. Disabled people in Ukraine feel negative impact of many social problem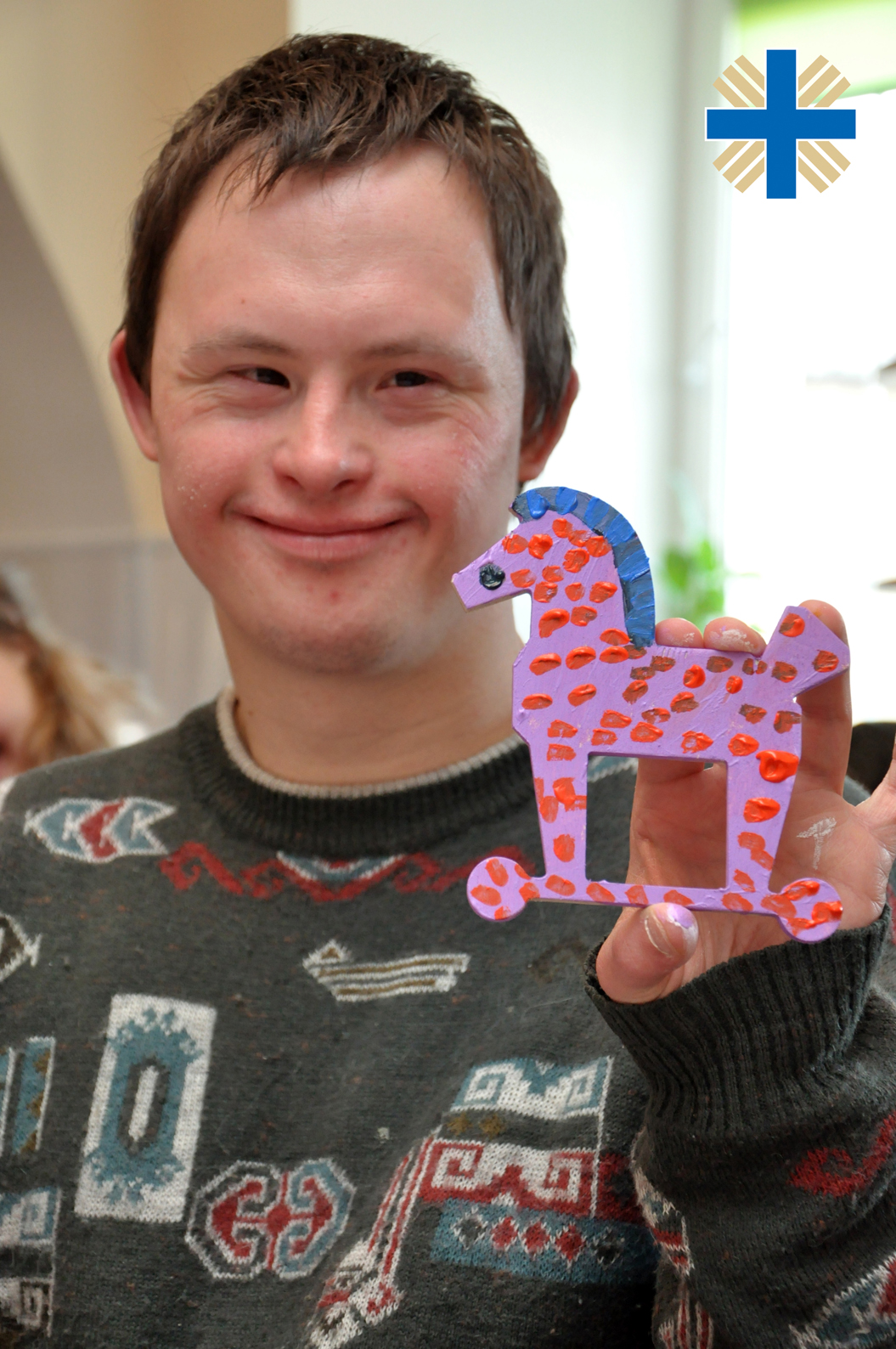 s linked to education, employment, medical service, material, technical and information support of adequate integration in society life, stigmatization.
Lyudmyla Sukhareva, coordinator of Caritas Ukraine on work with people who have special needs, says: "This autumn artists held almost 15 professional workshops with disabled youth in Lviv, Stryi, Drohobych and Ivano-Frankivsk.
Young people with special needs feel happy because they are involved in making of art works. First of all, it is creation of a special mood, improvement of psychological state, communication skills and general development of personality. Moreover, this art-project helps to better integrate and socialize disabled individuals in local communities, influence changing of conscience on acceptance of person with special needs in society."
Initiators of the charitable initiative believe that art-project will extend its geography and scale, and will become one more essential part of Christmas mood for Ukrainians. You can support the continuation of an art-project and work of Caritas Ukraine for youth with special needs and receive unique Christmas gifts:
A) in Lviv starting from December 18 in lobby of Lviv City Council (Rynok Square 1)
B) by making charitable donation to current account 2600801913626 in Central branch of Public Joint-Stock Company "KREDOBANK", code: 325365, International charitable foundation  "Caritas Ukraine", ЄДРПОУ(list of company registers) 21695710 (name purpose of payment: charity donation for art-project for youth with special needs).