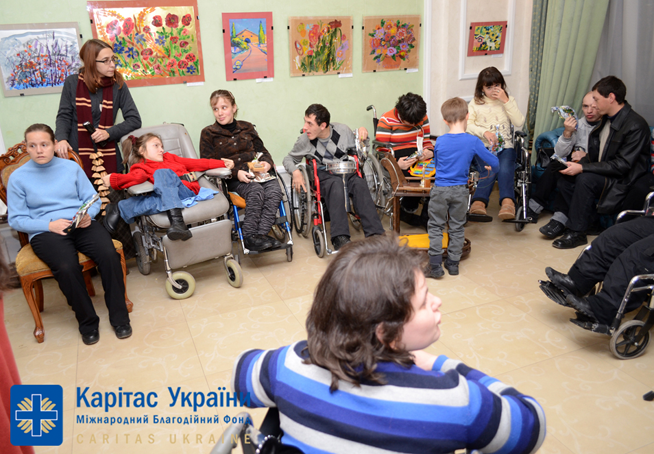 17.02.2014, Ukraine
Since January 2014 in Caritas Kolomyia and Boryslav two new social centers on work with youth who have special needs began their activity. To that moment network of centers for disabled youngsters of Caritas Ukraine seized work of 4 specialized social centers: in Lviv, Drohobych, Stryi and Ivano-Frankivsk.  Over 100 disabled individuals, their parents and relatives are involved in daily activity of centers.
Participants of Caritas Ukraine social centers are guaranteed education on acquiring labor (work therapy) and basic social skills (self-service, cooking, behavior in different household communications and situations etc); events on social integration (meetings with youth from other establishments and centers, leisure, recreation games, involvement in festivals and fairs, participation in summer camps, excursions etc). Parents of challenged individuals are granted with social and psychological follow-up; informational and legal support; they get involved in Caritas events, trips and camps, meet each other at joint events and seminars.
Year by year a number of people with special needs is increasing: at the moment there are nearly 15% of disabled individuals from total population of Ukraine, 6% of them are persons with defects of mental development.
"Opening of new centers in our network is like birth of a long-awaited child, no – even two!" jokes Lyudmyla Sukharyeva, national coordinator of Caritas Ukraine on work with people who have special needs. "Two new social centers are aimed at favoring of development and social inclusion of young individuals with special needs (Down syndrome, defects of mental development, mild forms of infantile cerebral palsy), help in adaptation and integration of these people in local communities.
It will impact the development of their self-sufficiency, feeling of own dignity and necessity. Moreo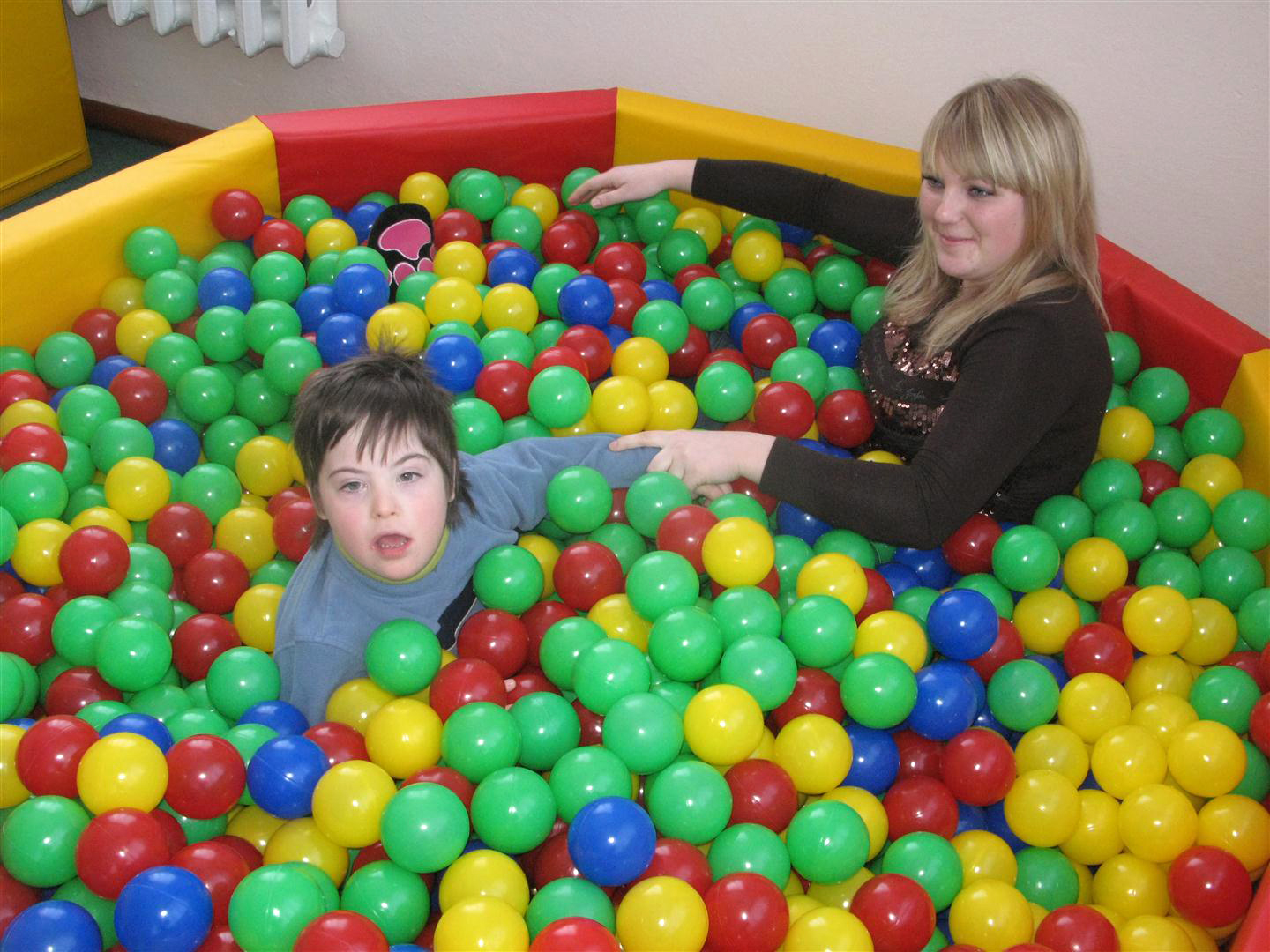 ver, it's also important to inform people about lives and needs of youth with special needs in our society, therefore – it will influence transformation of attitude of separate people, communities and society to individuals who are different from us."
During the adaptation period of work in 2 new social centers for challenged youth in Kolomyia and Boryslav 6-7 young people with defects of mental development and other relevant disabilities will be involved in the group. They will join courses of labor therapy; participate in trainings on acquiring social and household skills and in events on social integration. Social centers are open from Monday till Friday, 10:00-17:00. Social teacher and labor practitioner will work with clients and their families.
"From the beginning of the year much work was actually done. Particularly, repair works of the premises where trainings will be organized, qualified personnel was hired for activities with disabled young people, information events are being conducted, as well as selection procedure of project participants.
The mail projects objectives in our center are: favoring the development of rehabilitation programs; improvement of social integration of youth with special needs; organization of educating events for employees, parents and volunteers; information campaigns for broad public audience on problems of people with special needs; establishment of cooperation with state  and educational institutions, civic organizations," retells Oksana Yambor-Melnyk, head of the project "Social inclusion and development of integration centers for young disabled adults in Ukraine" in Kolomyia.
We believe that with your assistance, whether you are a business representative, member of certain religious community, state service employee, qualified manager or ordinary concerned individual – we can change lives of hundreds of disabled people and our civil society in general!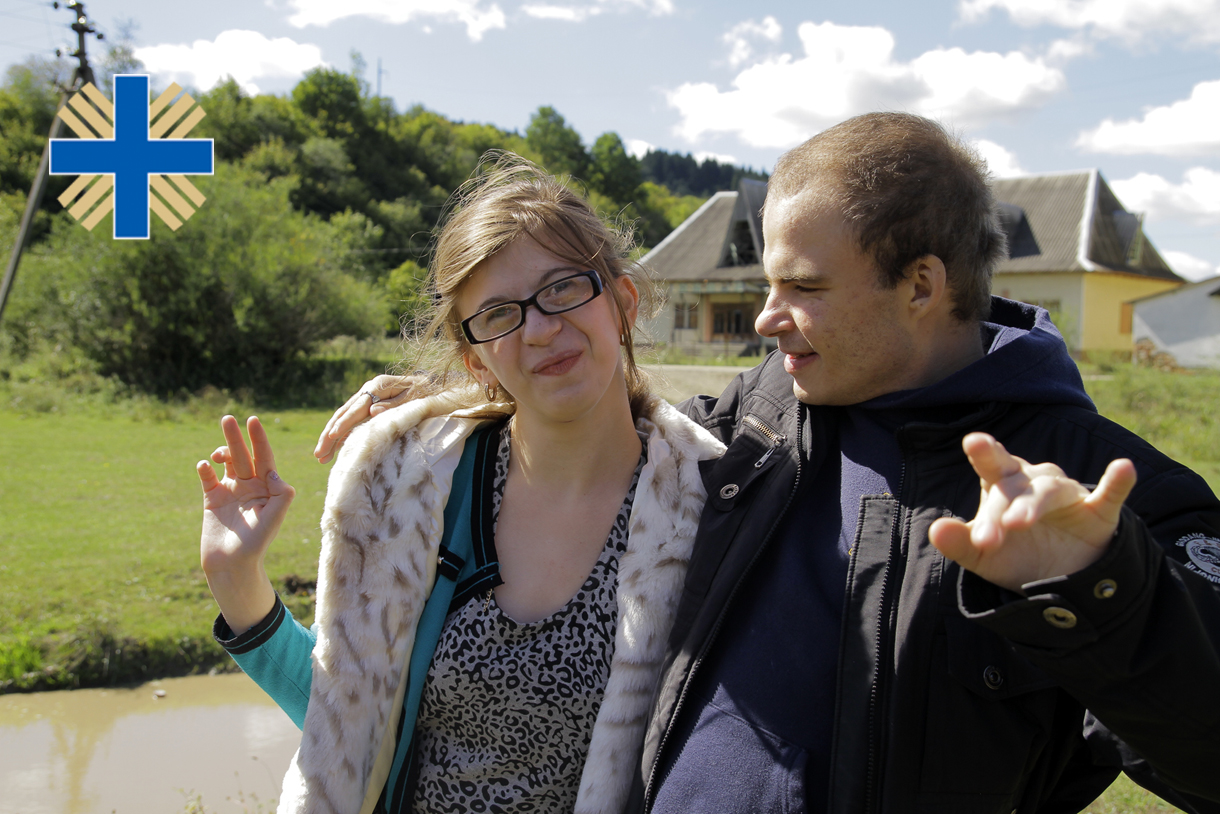 We address you to contact our social centers on rendering assistance to disabled youth and their families, and find out how you personally can help in their activity:

Caritas Lviv of the UGCC
St. Yura Square 5, Lviv
tel.: +38 (032) 2610372
e-mail: caritasdozvillya@gmail.com
Caritas of Stryi Eparchy of the UGCC
Drohobytska Str. 61, Stryi, Lvivska oblast
tel.: +38 (03245) 5 83 87, 5 20 85
e-mail: stryjcaritas@gmail.com
Caritas of Sambir-Drohobych Diocese of the UGCC
4, Chornovola st., Drohobych, Lviv Region
tel./fax: +38 (03244) 2 24 58
e-mail: karitas@mail.lviv.ua
Caritas Ivano-Frankivsk of the UGCC
Kryhivetska Str. 102, Kryhivtsi village, Ivano-Frankivsk
tel.: +38 (0342) 77 99 89
e-mail: caritas-ivano-frankivsk@ukr.net
Caritas of Kolomyia-Chernivtsi Eparchy
S. Petlyura Str. 98, Kolomyia, Ivano-Frankivska oblast
tel/fax: +38 (03433) 2 16 91
e-mail: karitas.kolomya@gmail.com
Caritas Boryslav
Grushevskogo Str. 26, Boryslav, Lvivska oblast
tel.: + 38 (03248) 4 20 05
e-mail: IvankaMOP@i.ua