15.08.13, Ukraine
In September 2012 employees of Caritas Kyiv found a family with four kids, living in a tent in the forest. The children, aged 5, 4, 2 and the youngest was 2 months and their parents were dwelling in the open air without means for living, sufficient food, clothing or things to take care of hygiene.
The most frightening was decreasing of night temperature to 0С° when the family only had their ordinary tourist tent in the forest. Lately, after meeting with family, efforts of enthusiastic and qualified Caritas employees and a local priest of the UGCC this homeless family received a place for dwelling, food; they feel safety and care.
For half a year benefactors rented a house for a young family in one of the villages in Cherkassy region. But then a problem arose: whether to buy a house or to leave these people homeless again. After several months of negotiations with the owner – the buying of the house became possible. Nevertheless, it was needed to find 32,700 UAH to buy out this house.
It is a considerable amount of money for a large family. Afterwards, on 7th of March this year, special fundraising initiative was launched at the Ukrainian Philanthropic Marketplace.
The house in Cherkassy region, where family lived, is well-kept. It has two rooms, a kitchen, a hall and a porch. There are also a boiler, gas, a cellar and some furniture. The territory is surrounded by the fence. The family has already begun to grow some crops; acquired hens, ducks and a cow. Village neighbors welcomed the young couple to their community with warmth. They rendered assistance to them. With help of benefactors local Caritas provided family with all essential things: food, clothing, toys, diapers, hygiene products and medicines. Two kids go to the kindergarten a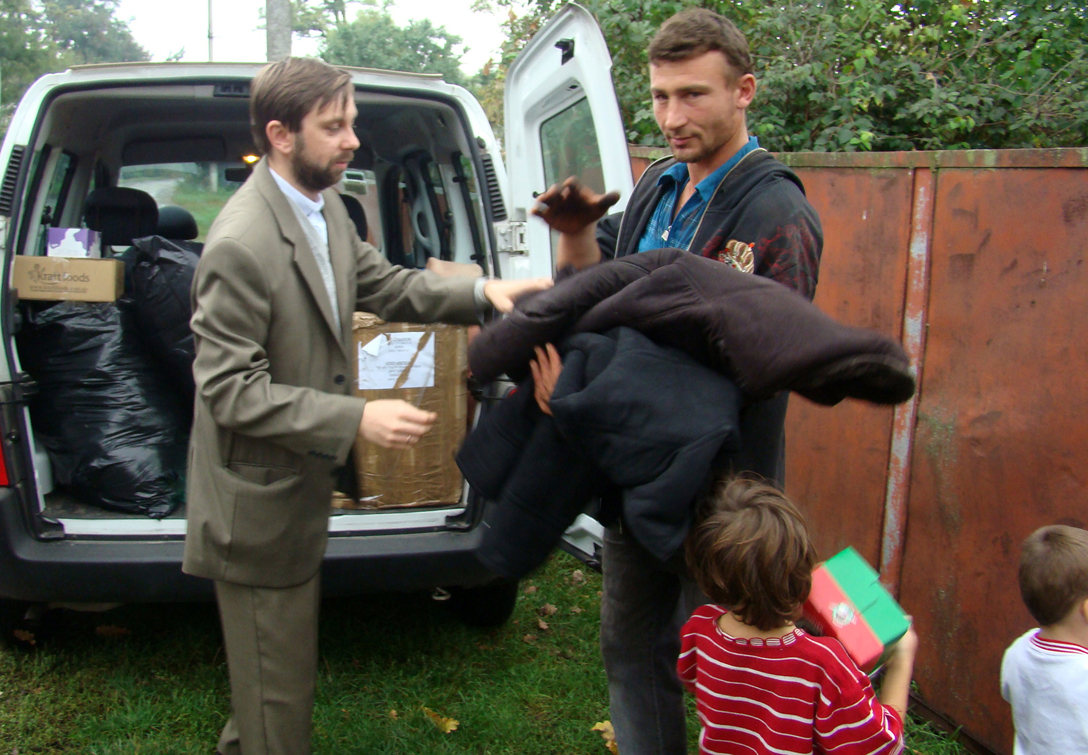 nd father will have a job soon.
The father, Oleksandr, aged 31, was one of many children born to a poor family in a village in the Kherson region. His 27-year-old wife Tamara was born in Kyiv and doesn't know her family because she was brought up in the orphanage. The couple met in Kyiv when Oleksandr came to the capital in search of work. For a while they lived in the Cherkasy region in a dilapidated old house. When they were forced out of the house they ended up on the streets, without a roof over their heads. By this time they already had four children. There was a time when they rented out rooms in the Mykolayiv region, but were evicted for unpaid rent.
Again they ended up on the streets desperately trying to get out of their situation without breaking the law. Neither of parents had dependency issues or problems with law enforcement; unfortunately, they also lacked family members who were interested in helping them. Looking for a way out of this complicated situation they addressed Caritas Kyiv and are still its clients.
Nearly 5 months passed: hope of dozens individuals, efforts of 112 philanthropists, and prayers of a young family with 4 kids made a great actio

n – a required sum of money was collected. Workers of Caritas Kyiv bought a house in Mekhedivka village (Drabivskiy region, Cherkaska oblast) for Oleksandr and Tamara.
Family who faced so much disappointment in their life is grateful for hope and chance granted to them. An average sum of donation at the Ukrainian Philanthropic Marketplace amounted to 290 uah. This situation proved one more time that it's very easy to be a benefactor!
You can watch video report about this family at "1+1" channel here.
Video report by "STB" channel can be viewed here.