27.03.2014, Ivano-Frankivsk
On 26th of March a round-table "Closer cooperation of Caritas multidisciplinary mobile teams with medical facilities of the city for the effective delivery of care to palliative patients" took place on the basis of Caritas Ivano-Frankivsk. The event gathered representatives of local hospices, hospitals, policlinics of city and oblast. The round-table was aimed to establish an efficient mechanism of cooperation with medical institutions, exchange contact information for further collaborative work.
Executive Director of local Caritas Nataliya Kozakevych introduced the project "Palliative Care in Ivano-Frankivsk" to medical practitioners. This project has been implemented for three years and is financed by Caritas of the Archdiocese of Vienna. It is directed at maintenance of better living standards of terminally-ill patients on physical, psychic, spiritual and social state of being.
Diagnosis "an incurable disease" is a great shock for a patient and his/her family. As a rule, when such diagnosis is determined, patients are discharged from hospital and are left alone face to face with problems they were not aware before. How to alleviate suffering of a person who feels an unbearable pain? How to treat a lying patient to avoid bed sores? How injections and binding up procedures should be done? Where is it possible to take a wheelchair? How to get money for buying expensive healthcare products? How to overcome emotional pain caused by understanding that your loved one will die in the near future? All these questions turn into real problems for an incurably ill person and his/her family. Caritas aims not only to alleviate suffering of a patient, but to teach his family, friends or neighbors (if a person is lonely) to render adequate and efficient care to ease patient's suffering.
In project of Caritas Ivano-Frankivsk of the UGCC multidisciplinary mobile team visits incurably ill patients in their homes and renders onsite complex assistance. The team consists of medical practitioners, nurses, social workers and a confessor. Type of care depends on patient's health condition and needs: injections are given; massages are done to prevent be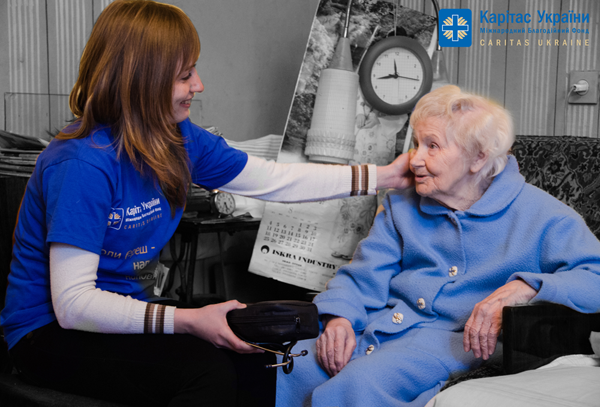 d sores; vital signs are being measured etc; if there is need social workers clean up the house, purchase products, send letters or get subsidies.
Nowadays delivery of material assistance in form of healthcare products, care products (colostomy bags, disposable underpads, diapers, blood glucose test strips etc), hygiene means and food stuff is an important indicator of the improvement of patient's living standards.
Moreover, there is also a possibility to loan out necessary rehabilitation equipment in Caritas: wheelchairs, walkers, crutches, armrests, commode chairs, functional beds, anti-decubitus cellular mattresses, massagers and applicators. Caritas workers give consultations on how to use the equipment and if it is needed they organize a training course on treatment of seriously ill patients. Another separate segment of work is psychological and spiritual support of severely ill people and their relatives.
"During the last year multidisciplinary team accomplished 385 house-calls, in their course 40 993 medical, social, household and psychological services were rendered for 54 palliative patients, project clients. In general, at the moment Caritas takes care of 115 incurably ill patients, out of them 23 individuals were redirected by Ivano-Frankivsk tuberculosis and pulmonology center; 31 person are patients of local policlinics that were forwarded by hospice to receive palliative care; others are city and oblast residents who addressed Caritas for help," it is reported in local Caritas.
But it is only a little quantity, because far more people require a qualified palliative assistance in Pre-Carpathian region. Iryna Slugotska, Director of oblast "Hospice", retold that in 2012 16 802 patients died in this, 80% of them were in need of palliative care. 84 thousand people in oblast were registered with disabilities and they need complex care at in their homes.
Caritas Ukraine and notably Caritas Ivano-Frankivsk of the UGCC address all medical institutions at the national level, cities and oblasts to cooperate with aim to increase the efficiency of rendering palliative assistance to needful individuals.