26.09.2013, Ivano-Frankivsk region
Sport trainings are an indispensible part for improvement of physical development of an individual, and for people with disabilities it is a certain kind of treatment. This medicine treats both injured body and soul. It is a tradition for Caritas Ivano-Frankivsk in September to organize a football match for its clients at the yard of College on physical education. This time Caritas clients were competing with youth who have special needs from Galych region.
Sport competitions have become a regular practice and a norm for Caritas clients. It's said in local Caritas that children with different disabilities need sport trainings in order to improve their physical condition. "Our disabled clients have lessons in exercise room twice a week and in the warm season – at the football field. Kids enjoy playing football!
They receive great amount of positive emotions and noticeably improve their health condition. They also master team behavior, discipline and persistence," says Natalia Slyvka, Coordinator of Center for children, teenagers and young adults with disabilities that operates on the basis of Caritas Ivano-Frankivsk of the UGCC.  
It's the fifth open football game conducted by local Caritas. Last year clients with special needs were competing with German team of disabled individuals from Aachen. This year clients of "Dovirya" center from Burshtyn were playing with team from Ivano-Frankivsk. "It's eye-catching that children from Caritas are playing better. It is a result of trainings. Our center is rather young; it operates less than a year. That's why we are very happy to cooperate with Caritas and get experience of our colleagues, become inspired by their achievements and victories," ad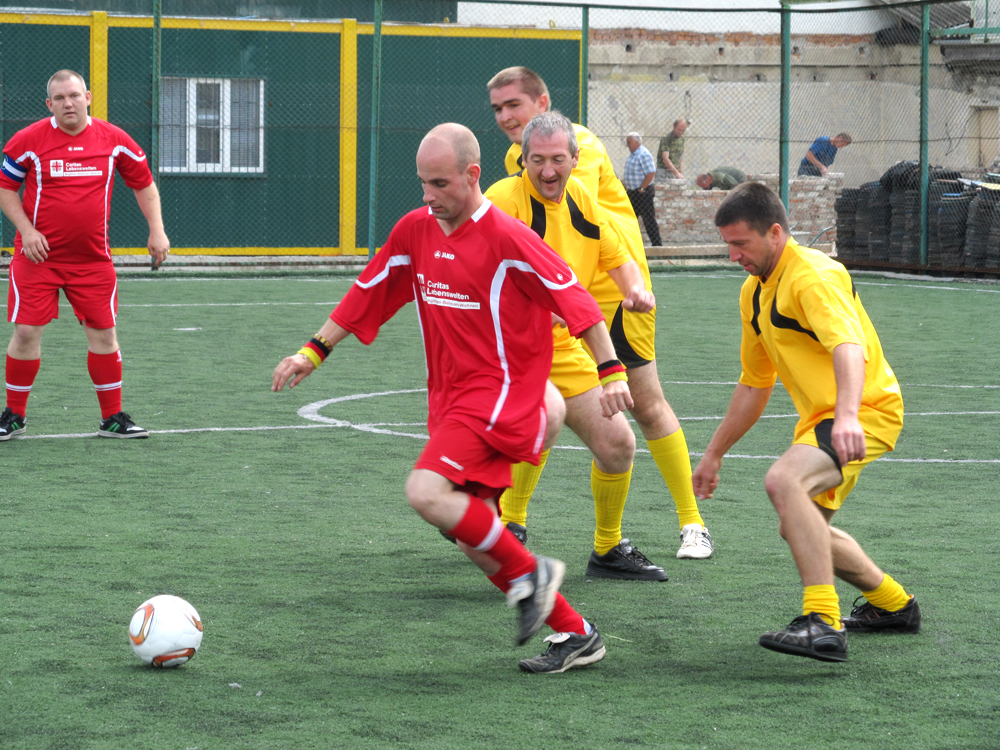 ded Natalia Kets, Head of the "Dovirya" Galych regional center on social and psychological rehabilitation for children and youth with special needs.
"Dovirya" center in Burshtyn was opened with efforts of parents who have disabled children that previously united in civic organization. They were doing their best for the authorities to acknowledge the problem: disabled kids are a part of our society and they should be integrated in its life, and the society should adjust to their needs. Natalia Kets notes: "We are satisfied with things we have now. Children are being integrated in society, people see us and begin to like and recognize the way we are. I have a child with disabilities and I have gone through all these things, but with no doubt I am sure we have right for care, respect and own social needs.
We are very glad to be invited for such sport events, because we can present ourselves. And this brings results! Here, a young girl Anyuta began to speak in her early twenties. At home she only managed to pronounce some syllables, and now she speaks in complete sentences! It's important to do some sports with disabled youngsters, because they have very sedentary lifestyle at home, and parents are afraid their children can be offended while playing outdoors."
In the framework of the cooperation clients of Caritas Ivano-Frankivsk together with children from 'Dovirja' center have joint meetings, visits to the cinemas and water parks; they go ice-skating and this summer they got their health improved in the summer camp in Zarichya village (note: Nadvirna region, Ivano-Frankivska oblast; more detailed information can be found here).
Project "Center for children, teenagers and young adults with disabilities" operates with financial support of Caritas Vienna (Austria). Football match was held in the frames of charitable program "The future of good work is in your hands".