12.09.13, Іvano-Frankivsk oblast
It was a challenge to get into Caritas a day before a new school year starts. Dozens of poverty-stricken children and their parents were waiting to receive school bags. People came here for presents not only from Kolomyia, but from other regional villages. That day son of Mrs. Natalia from Tsenyava (village nearby Kolomyia) was expecting tremblingly to get his bag.
Woman alone brings up two little children, though she has the second group of disability and requires additional care. But she doesn't complain about her complicated fortune, and got used to these life circumstances. "I am grateful for Caritas assistance. I have no possibility to buy everything for school and this support is really at hand. It is the first time I addressed Caritas, and I was pleased to be treated with understanding!" young mother retells with excitement.
The first bell brings a great deal of anxiety and expectations, because there is a whole year of studying ahead. It is the twelfth year that Caritas of Kolomyia-Chernivtsi Eparchy supports students to get ready for school and provide them with everything they need so that they can concentrate on getting new knowledge.
Nowadays in Ukraine not every family can afford to prepare a child for school, because equipment cost some hundreds hryvnias (note – it is said in local Caritas that average sum amounts to 400-600 UAH). And what should a family do if there are more school children? This year 120 poverty-stricken families with kids of school age addressed Caritas.
"During one month 'School Backpack' initiative lasted on the territory of Kolomyia-Chernivtsi Eparchy. We have been implementing it for a long time and each time its scale is growing. That's why, people know about 'School Backpack' and support us," exp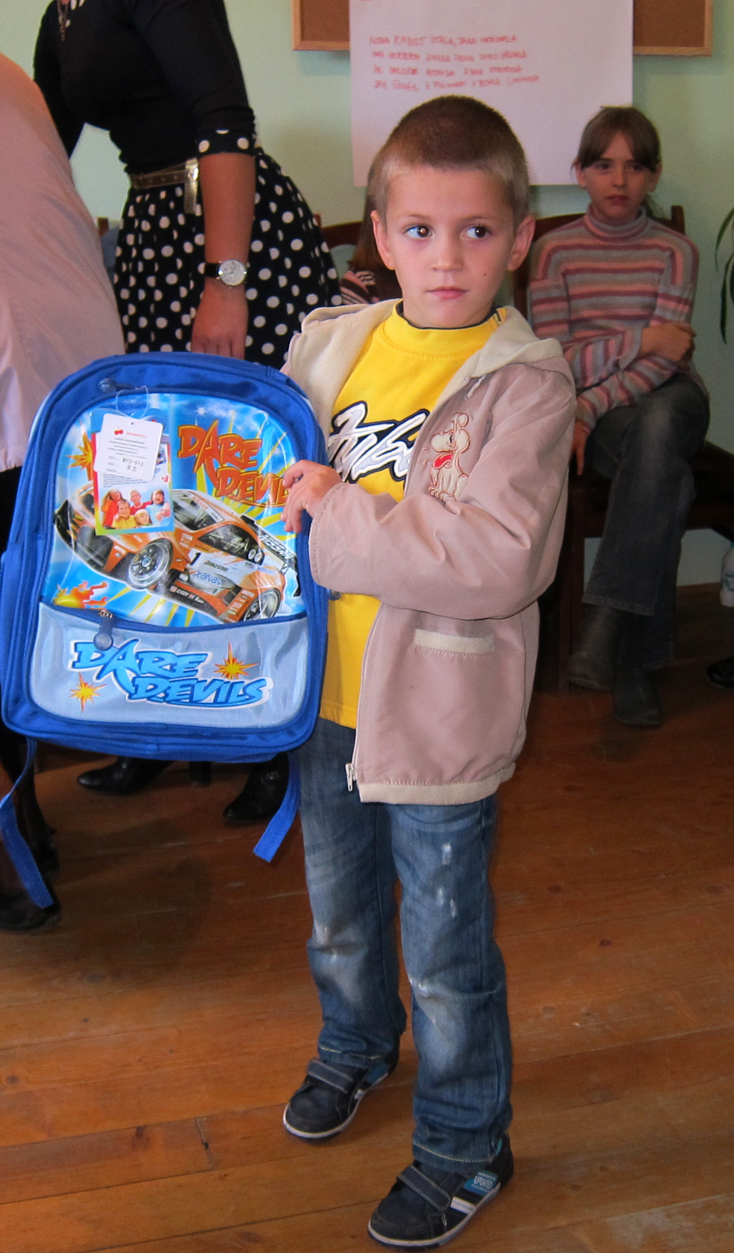 lains Taras Buchovskiy, coordinator of projects for children in Caritas Kolomyia.
Apart from bag or backpack, schoolchildren from poor families are presented a set of vivid copy-books, drawing-book, set of colour pencils, folder for technical drawing, diary, ruler, and case for pens and pencils. Such gift costs 150 UAH. Some citizens of Kolomyia come for Caritas assistance several years in a row, and for some people, forced by difficulties, it was the first visit.
12-year-old Oksana visits Caritas almost every day in the course of this year. Last year she had already got a new school bag and with feeling of gratitude she did her best to study at school better.
Caritas in Kolomyia does its best to render help in education and self-fulfillment to youngsters that are in crisis life conditions. And each of us should value these benefits available and think over doing mercy for those who lack essential things. Administration of Kolomyia-Chernivtsi Eparchy expresses sheer gratefulness to all benefactors that contributed money for charitable school backpacks and other projects of foundation. And we wish schoolchildren easy road in the land of knowledge!