05.06.2014, Kyiv
Events that were happening in our country during last months, undoubtedly, left their mark on each of us, including clients of Center for leisure and social rehabilitation for people with special needs of Caritas Lviv UGCC. That's why they dared for prayer pilgrimage to the capital to reverence heroes of Heaven's Hundred, pray for the peace of their souls and better future of our country.
Caritas Lviv started its activity with people who have special needs in 2001 and provided a background for creation of 5 offices of Caritas Ukraine network (in Drohobych, Stryi, Ivano-Frankivsk, Kolomyia and Boryslav). For 12 years hundreds of needful citizens of Lviv and oblast have benefited from center services. Work and leisure are harmoniously linked here: for many years youth have been creating candles for all-Ukrainian charity initiative "Christmas Candle", organizing fairs of artistic goods made by disabled young people, visiting library, going swimming, having rest at the sea or in Carpathians in summer, and going ice-skating in winter. Here people say that team of workers and volunteers are united by a common goal – render opportunity to self-actualize for individuals with mental disability, assist in their social integration, support their parents and relatives.
Prayer pilgrimage to the capital for disabled clients of Caritas Lviv of the UGCC started with visit to the Mykhaylivskiy Cathedral. Everyone was looking on architecture and paintings on walls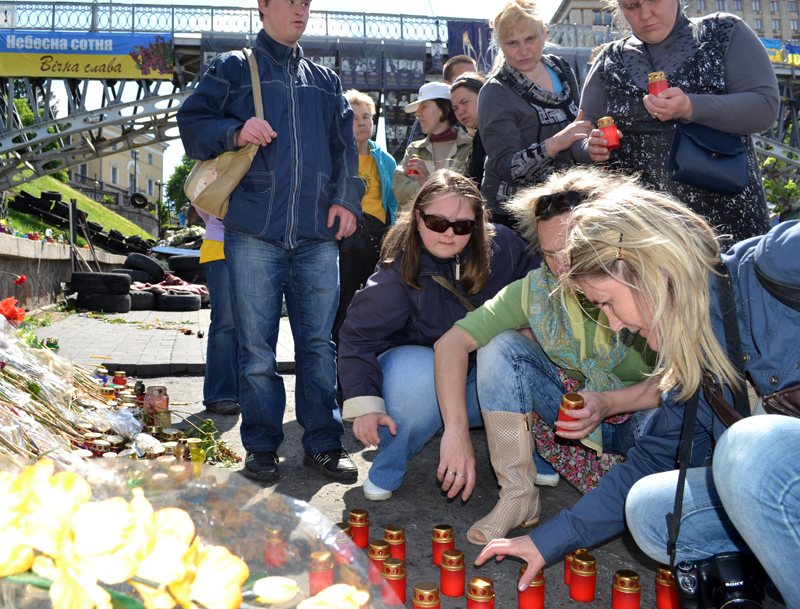 , and had sadness on their faces because of events in February that happened within and outside Cathedral walls.  
Natalya Zagayko, organizer of the trip, retells: "Going down to Khreschatyk, heart was dragging and became clenched from pain when looking on Trade Unions Building, burnt to ashes cars and left barricades. When we went up the Instytutska Str. pilgrims from Lviv came closer to the cross where there were many candles. We used candles (that Stepan Vovk gave us free of charge and we are grateful to him) to make a word "(We) Remember!" and lightened them, then sang "Christ has risen! three times. At that moment tears appeared on everyone's eyes. Later on a witness of the events who has been on Maidan since November came closer to us to us and started to speak about these tragic events. He also burst into tears.
Afterwards, we went up on Instytutska Str. and lightened candles near another cross that was put on the place where the majority of our heroes were shoot by snipers, notably the youngest one – 17-year-old Nazar Voytovych. There were many candles and portraits of patriots who died on that place. After a prayer we sang "Christ has risen!" three times. We also visited Bankova Str., where there was a violent beating of peaceful protesters on the 1st of December. Having approached Mariyinsky Park, our group went down Grushevskogo Str. to barricades in front of "Dynamo" stadium an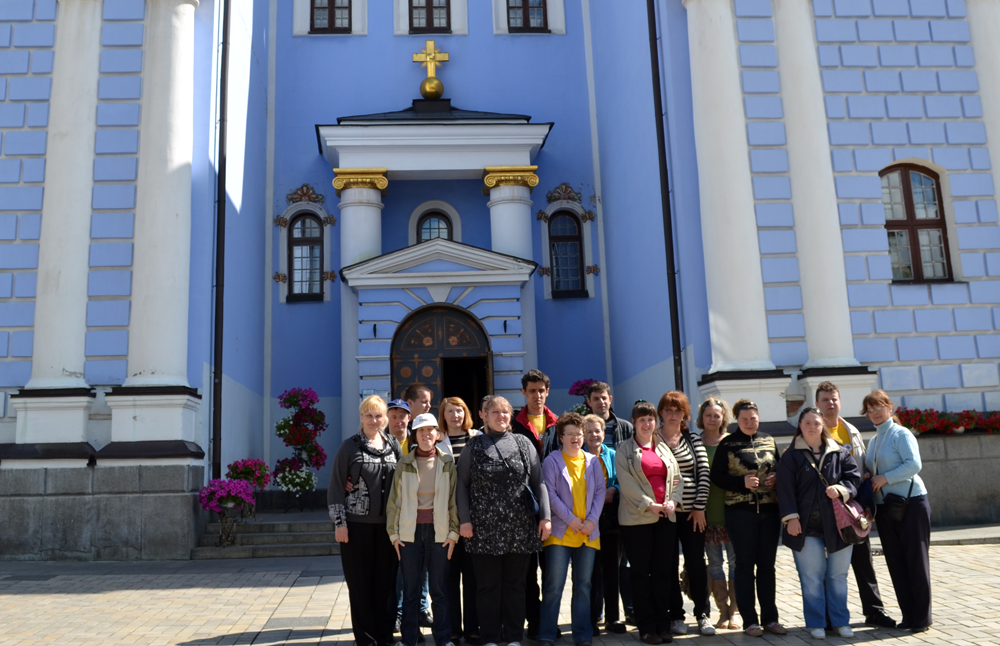 d lighted candles for our heroes Sergiy Nigoyan, Mykhaylo Zhyznevskiy and Roman Senyk and once again sang "Christ has risen!" three times."
This trip for young people with special needs was a journey to holy places – saint because they were blessed by blood of our heroes. It filled their hearts with grief, inner tension broke loose, feeling of cruelty and injustice overwhelmed their souls.
Visits of St. Sophia's Cathedral and Patriarchal Cathedral of the Ukrainian Greek and Catholic Church helped to restore pilgrims' peace of mind, greatness and beauty of cathedrals tuned everyone for prayer and gave feeling of joy and warmth. Someone was enthusiastically looking on ancient mosaics and frescos, someone was praying. It wasn't an end of prayer walk. Those who were willing (and had enough energy, because journey was really eventful) went to St. Andrew's Church that is well-known for its beauty.
The second day of pilgrimage Caritas clients started with liturgy in Patriarchal Cathedral of the Resurrection of Christ. Afterwards, they met with Bishop Bohdan Dzyurakh who put emphasis on the responsibility to take care of Maidan victims and visit in hospitals those who are still receiving treatment. St. Nicolas Church on Askold's Grave was another place to visit on that day, where everyone prayed to the Virgin Mary. Final places of destination were Kiev-Pechersk Monastery and St. Volodymyr's Cathedral.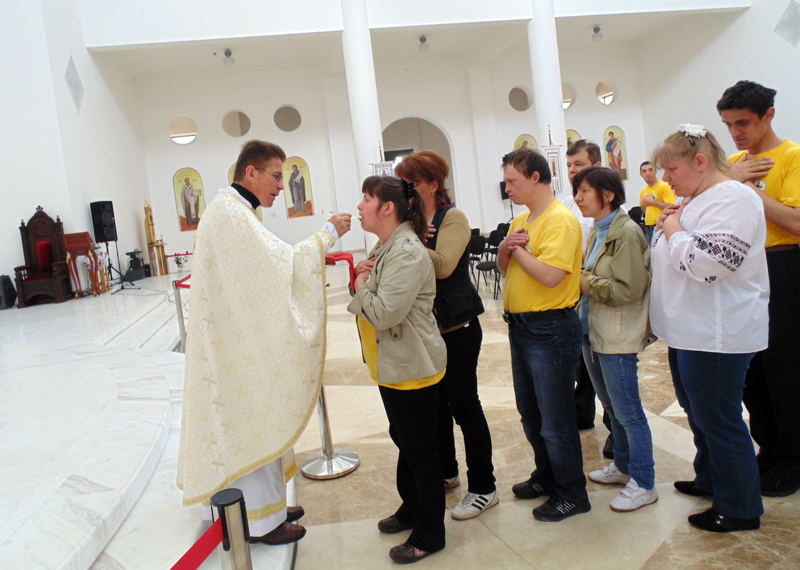 This trip became really special for young people with special needs, though they travelled to many places in Ukraine. This time as never before everyone had faced emotions that made their hearts cry from pain and sympathy, while prayers carried us upwards and brought hope for the future. To this end, we want to express gratitude to Caritas Kyiv that warmly provided us nights lodging, and Fr. Mykhaylo who became a guide for pilgrims' group from Lviv.