22.01.2016, Ivano-Frankivsk
Workers of Caritas Center for social and psychological assistance help children and youth from families in crisis to overcome life's challenges and acquire new skills. Teacher cooperates with children in doing difficult parts of homework and improving their "weak" subjects. Young people become more open and confident with a help of psychological training.
Education activities, such as watching films about healthy lifestyle, harms of smoking and drug use, computer game addiction or the risks of HIV / AIDS are in the area of assistance. Caritas focuses attention on activities that prepare children for independent living, such as cooking, personal hygiene, keeping room in order, etc.
Social workers of Caritas offer children new interesting and useful experience they can later introduce to their relatives and friends. Recently in CF 'Caritas Ivano-Frankivsk-UGCC' children from poor families, half-orphans, IDPs, as well as children and parents from families of ATO participants took part in the culinary class of making Christmas cakes and festive cocktails.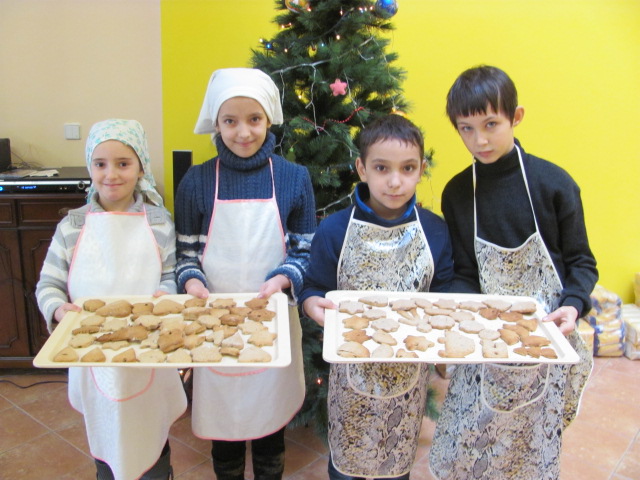 Baking and decorating Christmas cakes has become more popular in Ukraine. Gingerbread turns into one of the most important symbols of Christmas, such as kutia or vertep. Cooking class gave children a unique opportunity to learn how to make dough, bake cakes, prepare sweet colored glaze and decorate cookie. In addition, they learnt to make festive cocktails with cinnamon and spices. Even parents who brought their children to the class could not resist and participated in cooking process gladly.
Then everybody tasted delicious cakes and fragrant cocktails produced by themselves. Children and their parents gifted each other with gingerbread. They were singing carols, greeting one another, and sharing stories about traditions of celebrating Christmas in their families.
Children and youth learnt how to cook delicious sweets to not only enrich festive dinner, but also it's a perfect present for their loved ones. Caritas teaches youth to respect and appreciate old Ukrainian traditions, as well as to create new and, consequently, acquire interesting skills to surprise their family with tasteful gifts.