06.01.14, Volyn
"Christmas Eve" contest-exhibition of Christmas attributes of fine arts school students was held during New Year holidays in historic museum of Novovolynsk. 85 children aged 9-15 years participated in the event.
Caritas Volyn became the main sponsor of this artistic holiday. Since the organization was founded it has directed its work at assistance and support of creative children of the city, that's why the event was held especially for them.
This year contest-exhibition in historic museum gathered children, parents, teachers, representatives of state services, media and sponsors. Fr. Volodymyr Kmet, Director of Caritas Volyn, greeted everyone with upcoming Christmas holidays.
He wished all people God's blessing, to develop own talents, new ideas and creative upswings. He handed over certificates of gratitude for organization of "Christmas Eve" contest-exhibition to teachers of fine arts school Alla Navrotska, Olena Kytsia and Lidia Stryzhachuk.
The day before the contest-exhibition was opened evaluation of the best works was done by foundation employees. The best works were marked in such nominations: 'the doll', verteps (Nativity scene) and creative compositions in style of decorative and applied arts.
Coordinator of children's projects Victoria Skrynnikova spoke about cooperation of foundation and artistic space that lasts for 4 years. There were: contest of drawings "World in children's eyes", the best portrayal of Christmas holidays, competition by polish foundation for children-orphans where nearly 100 youn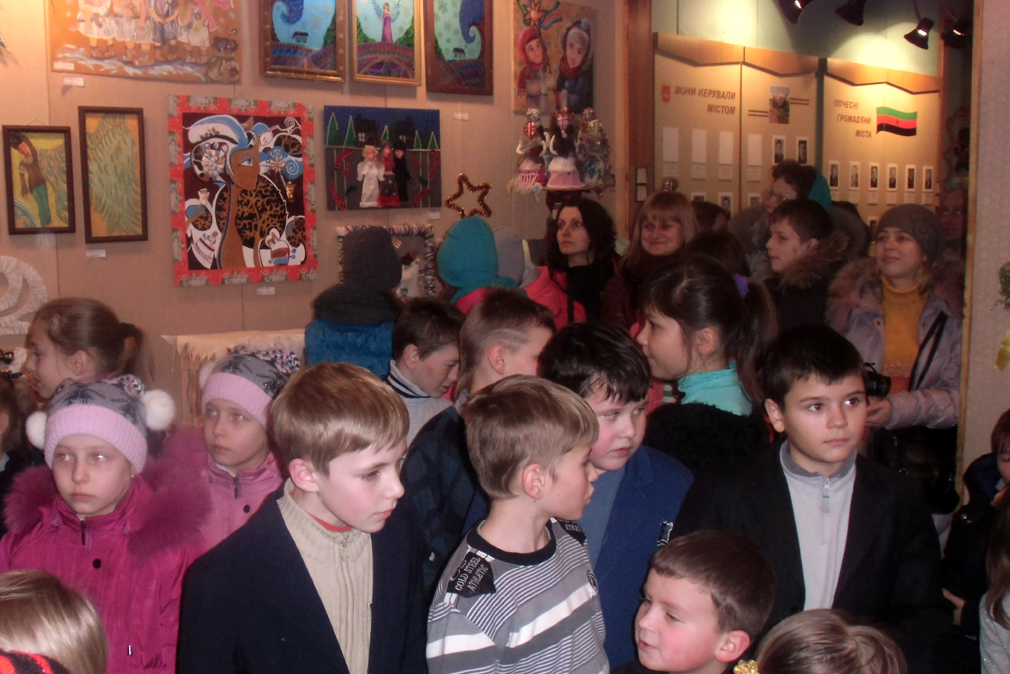 gsters actively participated.
One more outstanding event for creative youngsters was a workshop on creative decorative products from materials provided by local Caritas. Children were joyful to receive presents and possibilities to join entertaining and cultural events of Caritas Volyn.
Award ceremony of the three best pupils of comprehensive school from low-income families became a certain significant occasion for Caritas Volyn. They received gift certificates for stay in Christian summer camp near Svityaz lake. Moreover, foundation rendered material assistance in form of fabric, threads and other materials for handiwork which afterwards were used by children for their artistic pieces.
Award ceremony of winners in three nominations was conducted at the end of "Christmas Eve" contest-exhibition of Christmas attributes. The best works were created individually and in groups. 50 children received medal places, and 15-year-old Myroslava Patroshchuk was marked with grand prix for extraordinary vision of Nativity scene. Other children got as presents fluffy toys, artist's materials, certificates of gratitude for participation in contest and sweet things.
Victoria Skrynnikova retells: "Finally, I would like to express gratitude to teachers for their personal involvement and dedication. Thanks to their initiative such interesting creative events are held in our city. When among us there are people with heart full of kindness, when this kindness is planted in children's souls and lies in form of majestic beauty on paper, – the beautiful on earth won't die!"