08.05.2014, Volyn
Since November 2013 Caritas Volyn has been implementing project "Social and psychological assistance to children and youth with difficulties in studying and socialization". Recently, a training "Know thyself" was conducted within an acting project in the center of social and psychological support, 14 teenagers who are clients of Caritas took part in it.
The event was aimed for children to receive communication skills and estimate own individuality; it also gave chance for self-revealization. Training was prepared and organized by social teacher Tetyana Galytska and psychologist Natalia Gavronska.
Social and psychological training is a part of modern technologies and refers to the most efficient methods of education/bringing-up process by means of acquiring skills of interpersonal communication. Because children perceived role-playing games, discussions and psycho-gymnastic exercises that were used during the training as a gameplay. It influenced greatly motivation for participation and self-help.
Natalya Gavronska retells: "At the beginning of activity not all participants in a group were acquainted with each other, that's why they felt a bit stressed out and constrained. Exercises aimed at acquaintance helped to get rid of tension and act more naturally, create friendly and warm atmosphere in a group: it gave an opportunity to decrease the amount of barriers that are on the way to the cooperation."
Competence in the sphere of communication is one of the main attribute of a modern individual. Children  found out that our first impression about a person forms on the basis of the way he/she speaks. Language behavior has really great energy. We acquire traits of a person we speak about, we think about him/her. That's why it is important to speak about somebody who became successful. During the training teenagers also got to know about three levels of communication skills development, in particular: never criticize or talk over somebody; don't think about bad things, because the more chaotic thoughts we have, the more they reveal in our language behavior; learn to face critics. Furthermore, children analyzed cases of aggression and violence towards another persons.
By the end of every practical part all participants, including presenters, spoke about their thoughts, emotions, feelings and attitudes to all events. Teenagers were able to correct negative emotions, relieve distress that emerged after doing some practical tasks. On the other hand, children acknowledged their experience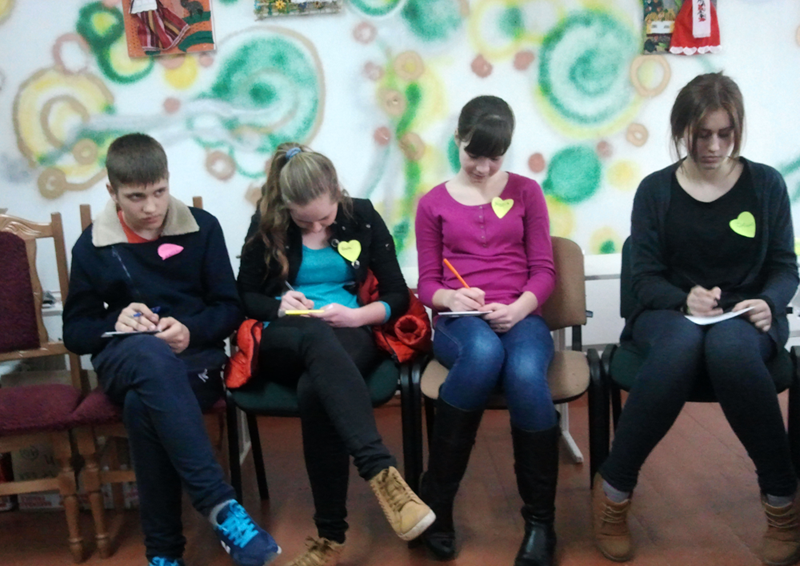 and made it wider with help of others, dealt with certain barriers that bar from being more open, sincere, better understand and feel others.
By the end of an exercise each teenager told about things he/she is proud of. It was one of the most difficult tasks, because it turned out that children rarely think about their resources and advantages.
Moreover, in Caritas Volyn there was also a special training conducted for parents. Because not only problem children, but their social environment and parents refer to the target group of the project. For several months of center activity social-pedagogic and psychological assistance was rendered to dozens of children, more than 20 parents took advantage of experts consultations.
The main thesis of the event became theme of modern approaches in upbringing of children and teenagers. Caritas employees tried to prove an opinion that progress of the humanity means greater tolerance, acceptance of otherness, ability to come to an agreement with another person or a group about constructive coexistence. It refers to relationships between generations: we can devaluate each other or greaten the distance, become martial; but we can understand the otherness, not to sharpen it, insisting on own truth, and look for values that are equally important for both generations.
In general such trainings provide many-fold benefits for different parties – bring children and parents together, add new knowledge and skills, open clients for Caritas employees and vice versa. There was a sweet buffet, held after a training came to an end, where organizers and participants shared impressions and positive thoughts. Parents expressed willing to meet soon and offered center workers a range of up-to-date and burning questions for discussion.