14.07.2014, Ukraine
Excursion in a circle of peers seems a great adventure for children, memories about it together with sincere photographs will be left for the whole life. But it is important to put in considerable efforts to organize such trip – say from experience workers of Caritas of Stryi Eparchy of the UGCC in Lviv region.
Recently local Caritas organized a trip to Khotyn Fortress and Kamyanets-Podilskiy Castle for its clients of two programs: youth with special needs, and children, teenagers and youth who have problems in studying.
Fr. Vasyl Gushuvatyi, Director of Caritas Stryi: "Our excursion to cities of Khmelnytska oblast lasted for two days. In its course participants dived into the world of medieval castles and their history. Though it was a bit of rain, it didn't spoil general mood from the trip: comfortable bus, pleasant company, karaoke, interesting excursions, greatness of Dnister River, disco on ship deck – all these things are really unforgettable!
Great number of our clients looked around these remarkable places with excitement, from time to time capturing the best moments on their photo-cameras. For the majority of us it was the first excursion to Ukrainian castles, therefore, it is possible to imagine how much joy it brought."
Caritas of Stryi Eparchy of the UGCC was founded in 2000. For so many years it became possible to render assistance to thousands of people in crisis life situations, and notably much work is directed at children and youth. In 2009 local Caritas took care of 30 disabled people*, provide them with opportunity to acquire social skills, get involved in occupational therapy and creative work, go though rehabilitation, study and travel. The same in 2010 here center for children and young people started its work, its activity is aimed at social and psychological help to childre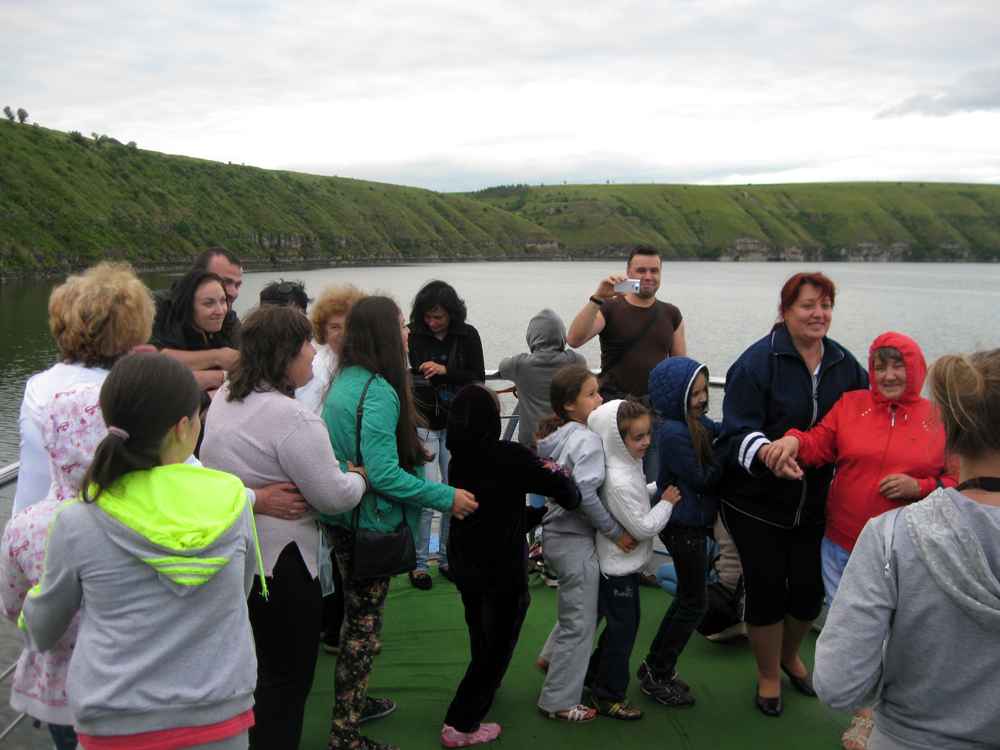 n who have difficulties in studying and socialization.** In the past Caritas in Stryi took care of lonely ill seniors, people in penal colonies, victims of natural disasters, annually organized a range of charity initiatives.
Boat rafting on Dnister River became zest of a trip to Khotyn and Kamyanets-Podilskiy, a kind of culmination point. Great amount of impressions, new experiences, singing songs, dancing didn't stop during the whole rafting. For both crisis children and disabled youth it was something absolutely new and unforgettable. Travelers from Caritas stopped for a night in a picturesque village Velyka Slobidka, nearby Dnister River, in a cozy local hotel.
"After a long-lasting trip our clients were pleasantly tired and unbelievably happy when they returned to Stryi. Such travels aren't simply a method of leisure, socialization or getting new impressions, but for us it is an excellent way to draw together children and youth, broaden horizons, motivate for changes and development, better understand oneself and own friends," convinces Fr. Vasyl.
---
** Network of social centers of Caritas Ukraine for disabled youth involves activity of 6 organizations in Lviv, Ivano-Frankivsk, Stryi, Drohobych, Kolomyia and Boryslav
** The same centers of Caritas Ukraine operate in Ivano-Frankivsk, Kolomyia, Drohobych, Boryslav, Brody and Novovolynsk.