21.04.2014, Ivano-Frankivsk
Caritas Ivano-Frankivsk of the UGCC always tries to organize own work to comply with challenges of time that come before the society. And at the moment, firstly for 23 years of country's independence, together with local community we learn to render aid to internally displaced persons, Crimean residents.
Before Easter local Caritas organized assistance for 46 Crimean families for a total amount of 11336,54 UAH. Easter baskets with paskhas (Easter cakes), product packages that include fish, meat, cheese and eggs were delivered on 17th of April in the "Prosvity" building in Ivano-Frankivsk. Such help became possible thanks to donations of devoted church people of the Ukrainian Greek and Catholic Church and Ivano-Frankivsk citizens within charitable initiative "An hour of your work is a gift to God" that is annually held by Caritas for securing activity of charitable refectory.
"Ukrainian Greek and Catholic Church is always in sympathy with people in need. Caritas as a structure that carries a mission of Church social service, renders help regardless a language person speaks, his/her confession, political views or place of origin. For us is the most important to support an individual who found himself/herself in complicated life situation, to help in fulfilling the most essential needs.
Delivery of product packages is the first step for revealing problems and evaluation of needs of every family. Caritas Ivano-Frankivsk will do its best to assist each person, every child who was forced to migrate from Crimea," says Fr. Volodymyr Chorniy, Director of Caritas Ivano-Frankivsk of the UGCC.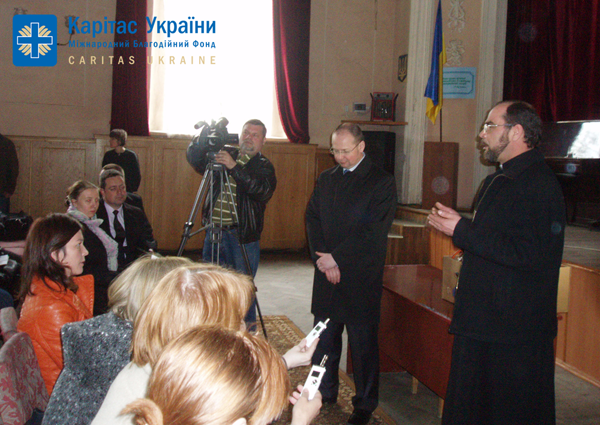 In Ivano-Frankivska oblast on the level of oblast state administration a coordination council on rendering help to people in cases of emergency was created. All in all, in accordance with council data, in oblast there are 227 Crimea residents who were forced to leave their homes in Autonomous Republic of Crimea: 135 adults and 92 children – among them there are newborn kids of 2013 year of birth.
According to data of specialized services and city self-governing bodies, 2000 refugees from Crimea are now on the territory of Volynska, Lvivska and Ivano-Frankivska oblasts.
---
Caritas Ivano-Frankivsk of the UGCC was founded in 1992 with the activity of charitable refectory and point of humanitarian aid distribution. Nowadays Caritas Ivano-Frankivsk implements the following projects:
–    Charitable refectory;
–    Home care for lonely severely ill seniors;
–    Training on care of ill people for relatives, foster parents and caregivers;
–    Assistance to large families, children and youth in complicated living circumstances;
–    Care of mentally disabled youth;
–    Work with labour migrants' children;
–    Prevention of human trafficking and help to human trafficking victims;
–    Assistance in cases of emergency;
–    Rendering of humanitarian aid;
–    Range of charitable initiatives and other activities.