07.06.13, Lviv
Lately, children and youth from the Children and Youth Social Center of Caritas in Lviv organized a number of events dedicated to family subject. Taking into attention complicated and unstable situation in families of their clients, events were focused on closest people – those who always try to be near and are ready to render aid anytime.
Financial instability, absence of transparency and unexpected economic fluctuations, little salary and debts for community facilities are hot-button issues for the majority of Ukrainians. Families in need that visit Caritas in Lviv are not an exception. Therefore, workers of charity foundation conducted evening of financial awareness for parents of their clients.
"Our state renders material support to families in complicated life conditions. However, there are certain obstacles in receiving this financial assistance, despite the fact that level of such aid is considerably lower compared to needs of families in crisis situation. For instance, not always families are aware of their category of assistance and where they have to address.
That's why employees of local Caritas organize explanatory work for families on getting subsidies from the state. They explain how to use financial resources wisely and provide psychological and pedagogical consultations. Do you know, it works!" Vitaliy Garasymiv, 'Mobile work with youth in Ukraine' Project Coordinator, comments on financial awareness events for parents of Caritas clients.
In local Caritas there is an idea that it is very important for parents to show interest in their children. In their turn, youngsters should be considerate to their parents. It is a key to solving any questions. For this reason stuff of the Children and Youth Social Center held evening occasion that was prepared by children for their parents and closest relatives.
Their performance included poems, songs, hearty stories, presentations, musical accompaniment and pieces of music. It impressed all people present. Youngsters expressed the most sincere greetings to their parents. Several dozens of people were present at the occasion and remained satisfied with the celebration.
At the end, on the behalf of Caritas Lviv of the UGCC children presented to their parents sets of hygiene and cleaning products,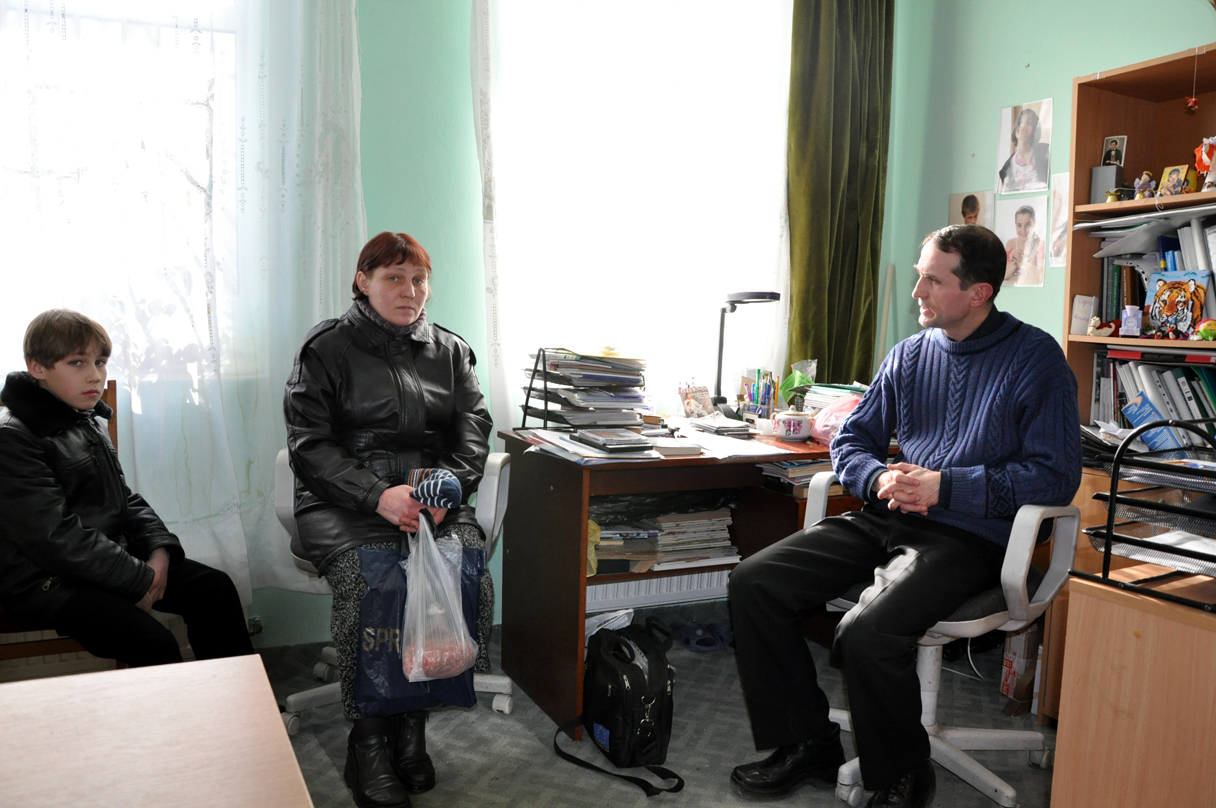 homemade presents, and also provided sweet treats for them.
Background:
For over 10 years Children and Youth Social Center of Caritas in Lviv has been providing support to children from crisis, poverty-stricken and large families and to children who found themselves in complicated living conditions. The aim of Social Center activities is to give its contribution for children looking for prospects in their lives; to help them in developing positive characteristics and in coping with crisis conditions. Moreover, it is necessary to teach them to lead healthy lifestyle and adhere to Christian values.
Employees of Caritas Lviv of the UGCC implement the following activities in their work:
– detection of crisis families and distinguishing their needs
– visit of crisis families, discovering psychological climate and household conditions, conclusion of agreement of social support
– informing and counseling services for families in order to get decent social payments; families follow-up in the process of documents compilation
– organization of trainings to deal with conflicts and violence in families
– entertainment events for parents and children for improvement of relationships in families (excursions, competitions, cultural events and joint rest)
– events on informal education in 'School of parents education' (budget planning, responsible parenthood, self-support, household life)
– leading of psychological and pedagogical consultation
– providing legal advice through partner organizations
– organization and support of mutual support for parents, organization of regular meetings