20.10.11
Recently Caritas Drohobych's Fighting Human Trafficking program held an art contest called "The World without Violence".
The contest entries were exhibited at the Artist's Palace in the city of Drohobych in the L'viv region. The exhibit had a good turnout. Art lovers had a chance to see the works of their talented young neighbours, to see how they see a world without violence, and to feel the peace and grace depicted in these artistic creations.
The most anticipated moment of any competition is waiting for the winners to be announced. All the participants anxiously awaited this event; everyone wanted to be named a winner. The previous Friday, a jury of artists selected winners.
First, Halyna Yadzhak addressed the finalists and noted that "it was very difficult to choose which works were the best. Many entries had different styles, but we could see that every contestant tried hard and tried to put forth their be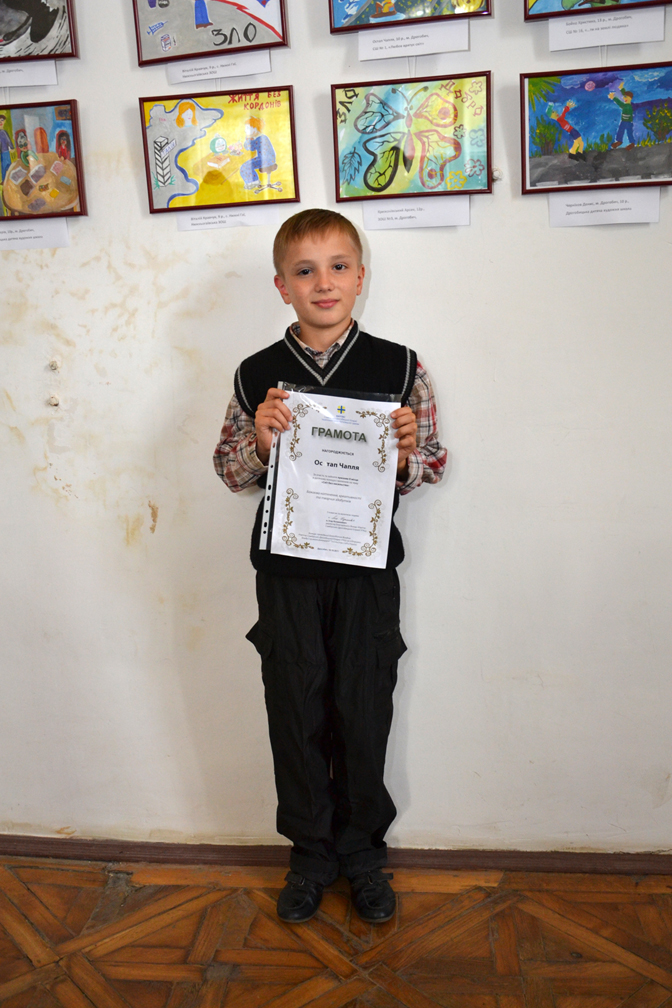 st work! We chose honourable mention winners as well because members of the jury felt that these works also deserved recognition."
In his welcoming address to the contestants and gathered audience Fr. Ihor Kozankevych, Director of the Caritas Sambir-Drohobych eparchy of the UGCC, touched on the issue of violence, he said: "Maybe, not everyone your age has seen violence. Thank God!
However, some children with alcoholic or drug addicted parents suffer from domestic violence, in schools there can also be violence between children. Your pictures are a step in changing this. Don't forget that God is with you. If we turn to Him then violence will disappear or will be reduced. You have the power to change the world!"
Among 8-12 year old contestants the winners were: 1st place—Victoriya Hryshcha, 2nd place—Ostap Chaplya, and 3rd place—Vitaliy. Honourable mentions went to: Marta Knyzhatko, Diana Hrytsay, Arsen Kryzhanivs'kyy,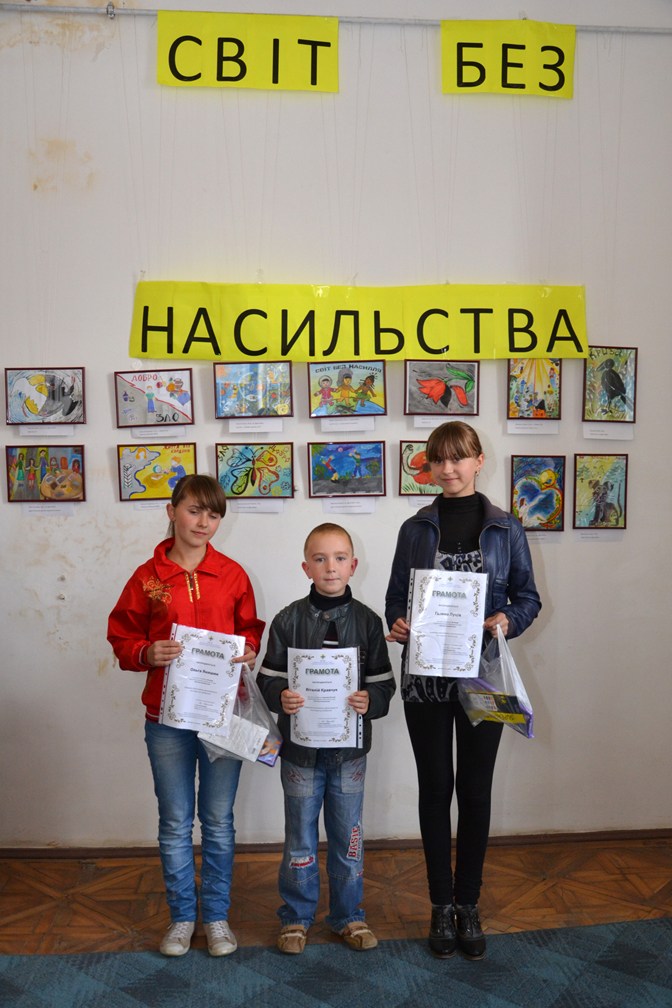 Marta Kahuy, and Vitaliy Basarab.
Among 13-16 year olds prizes were awarded to: 1st place—Marta Seya, 2nd place—Liliya Ivasenko, 3rd place—Anastasiya Vasylykiv. Honourable mentions went to: Marta Martyshyn, Halyna Lutsiv, and Olha Yanyshyn.
The winners received MP3 players, flash drives, and gift certificates for school supplies as well as paper awards.
Prizes for originality and imagination were awarded to Khrystyna Koval', Dmytro Karp'yak, Anastasiya Bohushevs'ka, and Mariya Matviyishyn. The remaining contestants were also recognized–they each received a certificate of participation and small prize to encourage them to participate in future contests.
The exhibit is still on, so you can still catch these terrific paintings, say organizers!