18.07.2014, Ukraine
"Recreation in the Carpathians is a piece of a fairy tale, full of picturesque mountain hills and crystal-clean air. Incredible beauty of Carpathian mountains, flamboyant area and spectacular landscapes – our clients deserve to see all these things. Recently we took them for a holiday in Yablunytsya village of Ivano-Frankivska oblast," retells Lyubov Sitka, coordinator of social center for children and youth in Caritas Brody (Lviv region).
Summer camp lasted for a week and was organized for 25 clients of "One hundred talents" studio that operates in Brody with aim to assist children and youth with difficulties in studying and socialization.
"It was the best camp! Firstly, I thought that we were outsiders and will never have a family atmosphere! But it turned out to be the other way. – retells 15-year-old Marichka. – Day by day we were simply joyful that we're together in a wild nature, high mountains and deep starry sky. Everyone was special: somebody was thinking as Einstein, another one was grinning broadly, someone was a future composer, another one – a top-notch cook, and all of us complemented each other!"
All participants of summer camp were facing familiar feelings, because children spent time with fun and benefit, travelling, organizing contests and visiting creative workshops that helped to reveal own potential and enriched their life experience. Every day in camp was eventful and diverse, that's why nobody had time for feeling blue. Children visited Bukovel health resort, Gut waterfall, feasted eyes with Goverla and Khomyak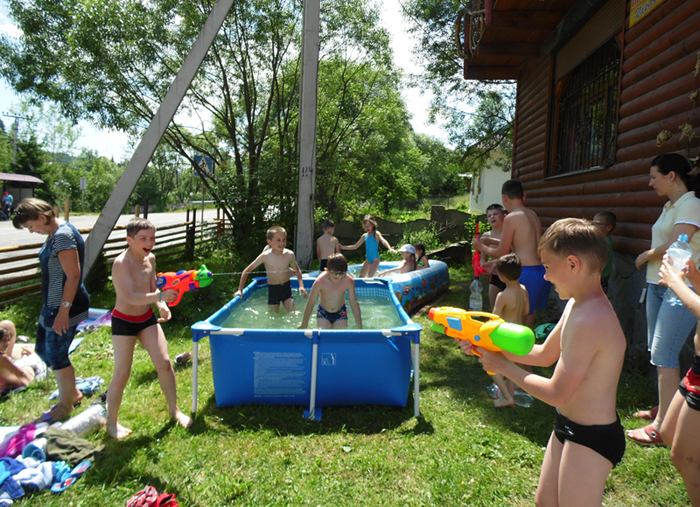 mountains peaks, and bought outstanding souvenirs in Yaremche.
At the moment Caritas Ukraine coordinates 7 social centers on work with children who have difficulties in studying in Ivano-Frankivsk, Kolomyia, Stryi, Boryslav, Brody and Novovolynsk. Objectives of such activity are: opening of positive values in troubled children; overcoming psychological problems; acquiring knowledge and skills that favor social inclusion, healthy lifestyle, practical management of time, resources and possibilities, and professional fulfillment.
Children and youth join educating, entertaining, sport, cultural and tourist events in social centers of Caritas and beyond them. Great attention is directed at work with parents, foster parents and relatives of clients – it includes rendering of primary social and material assistance, the same as psychological support, educatory events, creation of self-help clubs.
During the last assembly on the summer camp children, clients of Caritas Brody, had tears in their eyes and even the most restless ones were standing calmly, because for each of them camp brought something special and unique: for someone it was new impressions from places never been visited before, for another one – impressions from games and workshops, contests; somebody met old friends, and somebody found new ones.
"It was really cool! I have only the best memories about camp. Now I can't even imagine how I am going to wake up in the morning without a cry in megaphone: "Good morning, Ukraine!". We got many impressions! Everyone found a new friend. I am grateful to everybody who helped to create a holiday atmosphere in camp," shares his impressions 12-year-old Vladyslav.