24.07.2014, Ivano-Frankivsk region
Summer holidays is the most interesting period for children, it's time for exciting adventures and trips, new acquaintances and meetings. It has become a tradition in Caritas Ivano-Frankivsk of the UGCC to render its children-clients possibility to recover health and have rest in a summer camp. This year 85 children from low-income, large and single-parent families in complicated life conditions, parents' representatives, volunteers and workers of local Caritas for the first time visited "Children's village" of religious mission "Caritas-Spes" that is located in Yablunytsya (Yaremcha region).
Special program "Ukraine is WE" was elaborated in order to organize active, informative and memorable recreation for children. It was full of various activities and included daily morning exercise, education events, creative patriotic-oriented contests, workshops, rest in nature's lap, sport competitions, communication with volunteers and peers, spiritual talks and evening prayer.
Coordinator on work with children and youth of Caritas Ivano-Frankivsk of the UGCC Lesya Dorosh explains: "Particular characteristic of this camp is its profoundly national and patriotic character. In light of unruly events in our country we tried to focus attention on love to native land, adhere to Ukrainian traditions, and honor memory of heroes who died for our happy future, for independence of Ukraine.
Parents and children thoroughly prepared for solemnities on the occasion of camp opening. Songs of camp's teams, filled with patriotic spirit and love to motherland, and joint execution of Ukrainian hymn united all in one friendly family. And it was not simply our own idea – children and parents themselves wanted such camp this year."
All events organized, without taking into account their sport, intellectual or entertaining character, were deeply intertwined with history of Ukraine, national traditions and customs. With help of intellectual event "Patriots games" children generalized their knowledge of geography, history, culture and traditions of Ukrainian people. Each person and all of them could become a cossack in a sport competition "Cossacks amusements" where kids got to know more about cossacks' traditions, customs and daily life, tried to follow the best traits of their character: good nature, unselfishness, companionship and willing to always come for help. Game "A postcard as a memento" fostered creation of amicable atmosphere and attentive attitude of participants to each other, development of observancy, carefulness and creative potential.
Creative contest "The best girl of Pre-Carpathians and the best boy of Carpathians" and entertaining event "Ukraine has talent" were also interesting and exciting. Children revealed and brought their talents to light, learnt to show them to a wide public, manifested artistic impression and creative input when preparing to competitions. While having a trip to the touristic complex "Bukovel" children saw beauty of Carpathian Mountains and became p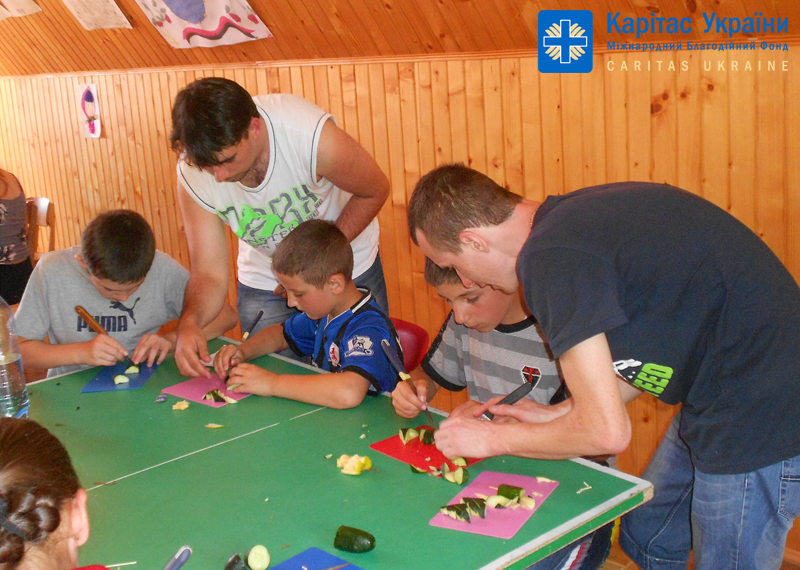 articipants of ethnical-related flashmob.
In order to diversify recreation and distract children's attention from mental and physical activities, camp participants were offered to work in creative workshops. Various workshops provided an opportunity for kids to master different types of creative activity: making of greeting cards in quilling technique, summer flowers from corrugate paper, goods from polymer clay, adornments from multicolored ribbons and great range of handiworks in origami technique. Carving workshop became a nice surprise for children: they learnt to make various figures out of fruits and vegetables. And workshops in national style allowed all interested individuals to create a rag doll, bracelets, national toy from clay, yellow-blue bracelet or keychain (pendant) from beads, learn how to paint wooden figures and make charms from different grits. Everyone was able to make bright presents for relatives and wonderful souvenirs as a memento of exciting summer recreation.
Every evening there were entertaining Ukrainian discos and snuggles near a fire for children that were accompanied by stories about Ukrainian national heroes, customs of our people, singing songs to a guitar, joyful games and amusements. Caritas employees say that with such atmosphere and quality recreation children-clients become really open and it is easier for teachers and social workers to work with them.
Camp "Ukraine is WE" gave an opportunity not only to improve health condition of children and parents, but broadened their worldview, favored upbringing of such qualities as proactiveness, social skills, responsibility and love to the native land. Patriot is a person who loves own Motherland, its language, people and customs; he/she is ready to come for help whenever it is needed and to serve state's interests. And we genuinely believe that our children will become real patriots of own dear land," Lesya Dorosh points out.
Summer recreation became possible with help of financial support of Caritas of Trier Eparchy (Germany), "Christmas Candle" initiative and ICF "Caritas Ukraine" within project "Social and psychological support for children and teenagers with difficulties in studying and socialization".