25.08.2016, Ukraine
In August, children and youth affected by crisis conditions who are pupils of regional Caritas organizations continued their holidays in summer camps organized with the support of benefactors.
More than 30 children from Ivano-Frankivsk had a chance to rest among picturesque mountains, in Zarichya village of Nadvirna district. Along with permanent wards of Caritas, in the camp "Land of Kindness and Charity", were children from families of ATO members and IDPs. Caritas staff and volunteers worked in the camp as teachers.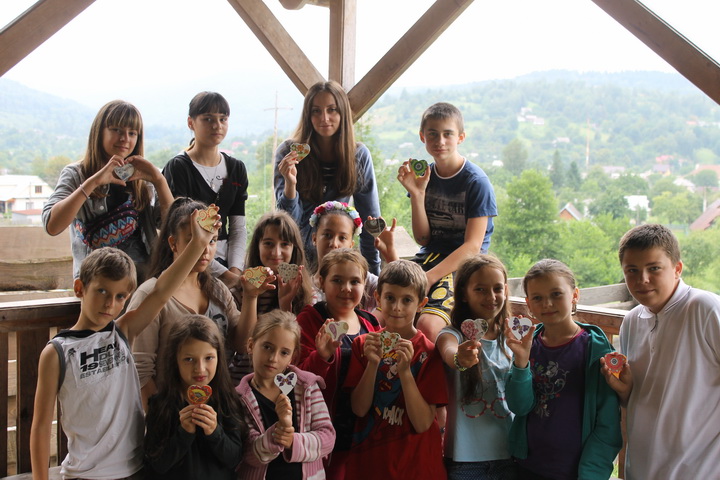 This year the aim of the camp was to grow in children need of mercy – they learned to love others, to feel the internal desire to help others. For this reason, Hour of Mercy was held at the camp at the end of every day. During that time, everyone had to devote an hour for the benefit of other person. This idea was manifested in a wide variety of unexpected surprises and pleasant gifts to one another. To the end of their stay in the camp, kids were convinced that giving someone your attention and care is no less pleasant than to receive it.
Since children are always children, camp program was full of events that made their rest active, interesting and memorable. Creative competitions, master classes, sports and entertainment programs were offered to the pupils. Among the most interesting there are such as competition "Chichka (flower, beautiful girl) of Carpathians and Lehin (youngster, strong and handsome boy) of Carpathians" or sport contest "Cossack fun" during which everyone could feel himself real Cossack  from Zaporizhzhya and learn more about the Cossack traditions, their way of life and customs. Besides, everyone had a chance to take part in various creative workshops and learn various creative handmade, like decoupage, quilling, origami, making gift boxes, original bracelets, nodular dolls that have become excellent souvenirs for relatives and vivid reminder of Zarichya Holidays.
"I really liked this camp, because there were a lot of funny and positive people. Besides, contests and games were so interesting! I especially remembered the Theatrical Contest! Scene prepared by the camp participants were so funny that I laughed to tears. I will never forget these holidays"- shares her impressions Zhanna. Her friend Anastasia adds, "I have been in many camps, but this is the best!"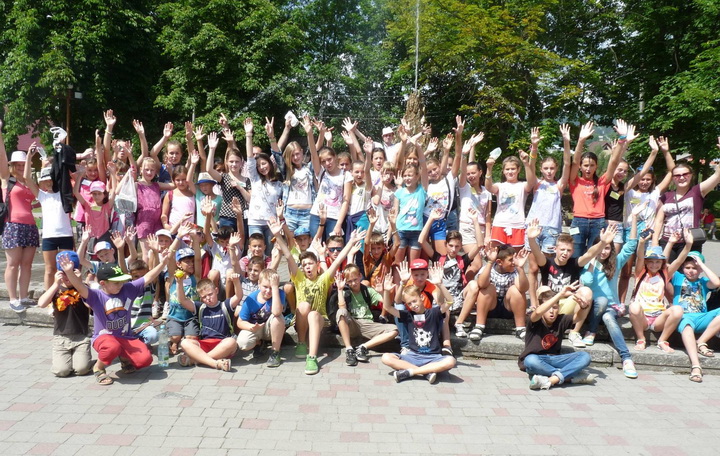 Meanwhile, pupils of Caritas Kolomyia-Chernivtsi Eparchy were able to rest in the summer camp "Vacation with God". During the summer, this camp welcomed 198 children aged 8 to 17 years in three shifts. The program included daily workshops, sport events, retreats, as well as exciting excursions, discos and talent shows. Most memorable for pupils became Gala concert dedicated to the closing of the third and final camp. As they were able to show their talents, to present a wide variety of colorful theatric sketches in warm and comfortable atmosphere. Pupils and teachers noted that concert gave an impression of family party, with no pathos or superficial gestures but with sincerity and openness of children's hearts. All participants were actively supporting young artists with dancing and singing along, while others were  just quietly wiping tears, because all participants became deeply attached to the mountains, new friends and the atmosphere of the camp. At the end, animator Natalia underlined: "We had one goal – to nurture in the hearts of our pupils a lot of love! To God, to each other and to themselves. I hope we have succeeded. The best result of our work would be if all our students grow good people!"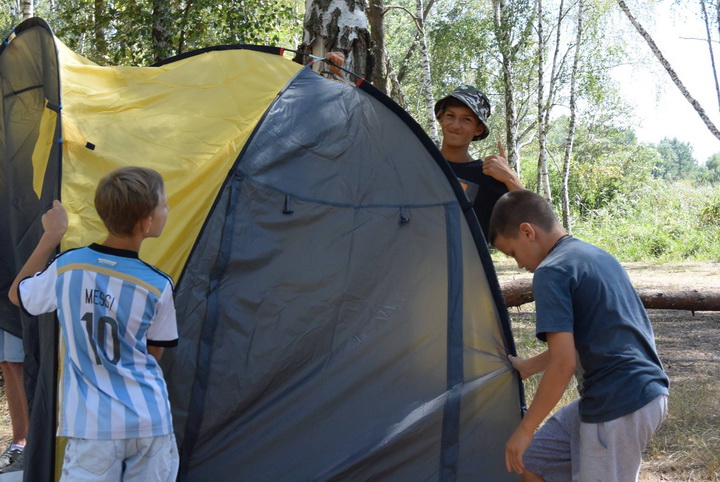 In turn, wards of Caritas Kyiv spent several unforgettable days at the Kiev Sea. The main purpose of their vacations was to expand the social space of children, promote an awareness of their health as precious value, form healthy lifestyle, and show how to spend their free time with benefit. Besides, among the tasks of the camp was to develop in children skills of responsible behavior, leadership, accountable making of important decisions in their lives. The team of the project "Mobile youth work" was doing everything possible for children not only positive impression of the rest, but also the skills of green tourism.  Judging by the reviews of the participants, they succeeded. "I really enjoyed the camp! it was really cool during all these four days. Besides, it was interesting because of my close friends with me"- said Maria. Her mate Sofia has added: "We've had smart games and quests. Most of all I remembered treasure hunt, "thread" game, maze game and competitions in volleyball. For the first time in my life I was living in the woods in tents for four days – and it was wonderful."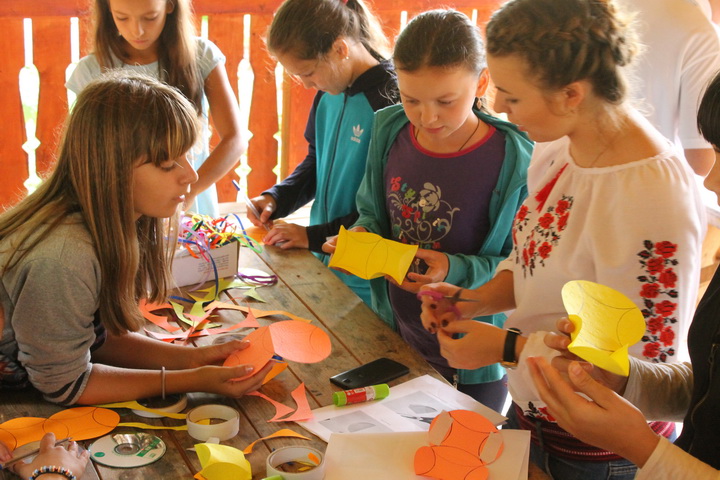 Little wards of Caritas in Donetsk region had a chance to enjoy a wonderful vacation too. More than 160 children were able to communicate freely with their peers, participate actively in art and sport activities, and simply breathe with healthy air, recovering mentally and physically in summer camps. For it is so necessary to children under stress of their living circumstances of armed conflict and forced displacement. Although, among the main "therapeutic factors" was probably the idea of interaction. The interaction that included communication, mutual support, performances on stage and sports events, during which participants could activate team spirit… It helped children from IDPs families to forget about the feeling of annexation and alienation. On the contrary, all these activities helped them to integrate into society, relive again feeling of unity and involvement in the world. Animators and psychologists were actively helping children in this process.
Little pupils were happily sharing their impressions of summer camp: "I liked the pirate contest very much. There was Funny Pirate. His assignments were so funny, and the costumes were very beautiful!" – Said Zakhar. "When we started workshop on art therapy, I thought it would be "Master Chef" but it turned out that all the pasta was made for creative work. It was so interesting! I did not know that it is possible to do so many things with ordinary pasta! Besides, all artworks were unique and original! I liked it!" – Adds Volodymyr.
***
Every summer children and youth affected by crisis circumstances, have the opportunity to improve their health, meet peers, visit interesting places and just have a rest in summer camps organized by regional organizations of Caritas Ukraine. Funds for the organization of their rest gathered during the Ukrainian Philanthropists Forum, as well as during the traditional annual action "Christmas Candle". Each camp has its own traditions, adventures and educational classes, but all of them share one thing – the desire to help children who are unable to leave their houses in summer for various situations and to organize them full and exciting summer vacations. In these summer camps children and youth from poor, large families, families in crisis, as well as families of IDPs rest.