09.09.13, Ukraine
Every year more than 20 regional Caritas Ukraine organizations conduct summer camps for children and youth in crisis living conditions. In the mountains or at the sea, in tents or at recreation centers hundreds of youngsters were granted possibility to get healthier, travel, find new acquaintances, become friends with psychologists and teachers, acquire valuable spiritual experience.
Charitable initiative 'Christmas candle' that is annually organized in Greek and catholic communities all over Ukraine contributes to holding camps for children and youth in need. Financial support is additionally rendered from projects that get donations from Caritas in France, Spain, Germany, Switzerland, Austria and also from money of private benefactors.
We directly asked organizers and participants how and where summer camps were carried this year, how many kids were involved and what things were the most remarkable.
For many years Caritas of Kolomyia-Chernivtsi Eparchy of the UGCC has been organizing camps 'Summer holidays with God' in Dora village (Ivano-Frankivska oblast). Recreation this year seized 108 children from crisis, poverty-stricken, large and single-parent families, also kids from ordinary families where parents wanted them to join Caritas activities.
"Unfortunately, existing living conditions define a certain rhythm and people are distant from God," points out Taras Buchovskiy, Leader of local Caritas projects for children and Manager of camp 'Summer holidays with God'. "Despite its advantages, in fact, technological progress distracts person's attention from real and genuine things. Here, children are able to leave everything behind, to approach God, their friends, tutors, healthy way of leisure time."
Children say they lack such atmosphere at home, at school and at the streets. Particularly in such conditions children reveal their new sides, become more open to communication with teachers and psychologists. There were active games and sport contests, informative lessons and entertainment, talks on spiritual topics and about sense of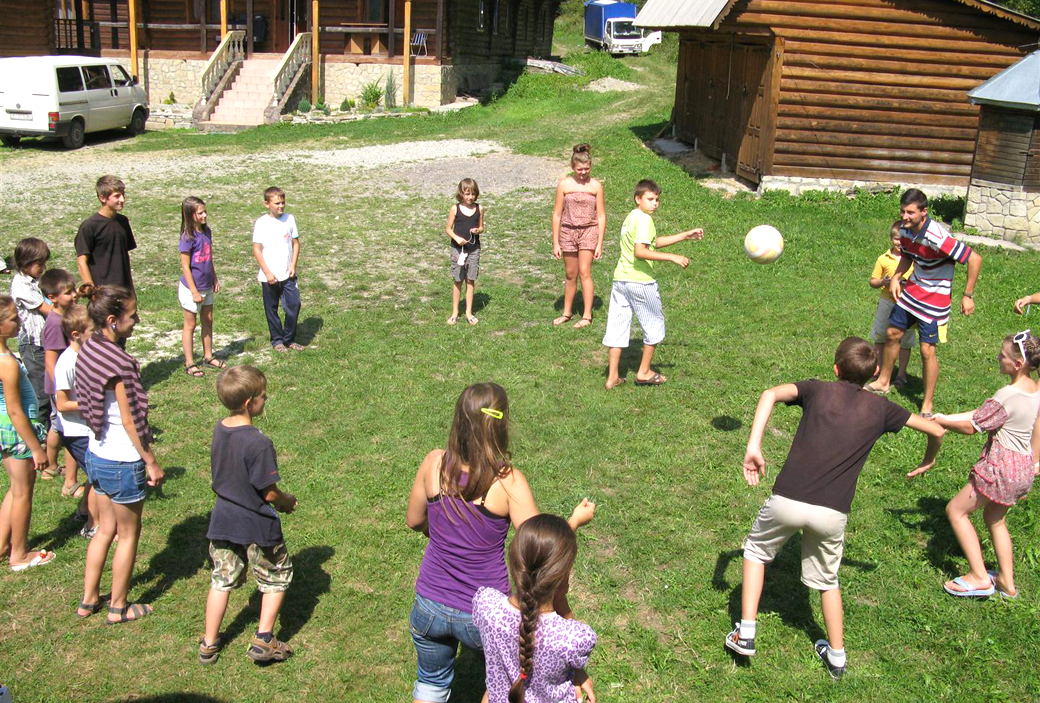 Christianity. Volunteers play a significant role in organization of 'Summer holidays with God' camp. There were eight of them this year.
Caritas Kyiv organized trip to Carpathians, recreation and leisure in 'Edelweiss' camp (Mykulychyn village, Ivano-Frankivka oblast) for its clients in July. It is the first time local teachers, – professional, experienced and harmonious team, – were involved in activities with group of 20 children and teenagers from large and crisis families, in particular, players of 'Mriya' football team.
10-days Caritas Kyiv summer camp granted children with unforgettable moments: hiking in the mountains (including Goverla mountain), to the Dovbush cliffs; walks to waterfall and Prut river valley; new competitions, discos and sport contests every day; and even festive fireworks. Moreover Caritas Kyiv workers enriched camp program and training activities of 'Edelweiss' teachers with personal talks and group classes, related to friendship and gratitude topics.
Viacheslav Fedchenkov, Caritas Kyiv social worker, retells: "Our clients impressed everyone at sport yards: the eldest girl football team (14-16 years old) beated three teams of opponents, and didn't miss any ball (scores 4:0, 4:0, 2:0). And the youngest 8-year-old girl, who is our client, became the best 'bomber' in her team (4 goals)! Boys proved their confident superiority in a few training matches; they also successfully played tennis and badminton."
This year over 20 children and teenagers in need from Caritas Brody were able to spend their recreation at the sea in Yuzhne (Odessa region). Children that are Caritas clients were swimming in the sea, enjoying sunbathing, involved in artistic workshops, excursions, sport games, and dancing. Children went for picnic to the rocks and on excursion to one of the biggest sport edifice of Europe – 'Olympus' sport complex. Psychologist and teacher were working with them; strived to hold them together and assisted in acquiring important social characteristics.
Very special and complicating moment was the fact that not everyone was acquainted with each other. This fact evoked certain difficulties in communication and behavior, at the same time it was a great reason to learn making up relationships and coping with interpersonal difficulties.
15-year-old Yulia says: "Restoration at the sea is very special. It is associated with active kinds of sport, joyful sunny mood and exciting leisure. 7 days at camp were as one for me and for my new friends!"
Caritas of Stryi Diocese of the UGCC held spiritual and recreational camp for over 20 labor migrants' children in Ivano-Frankivsk. Everyday youngsters took part in morning exercises, different contests, entertaining games, spiritual and educational trainings, and spo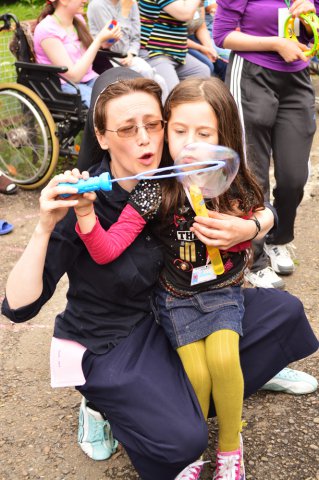 rt competitions. Children say they enjoyed the most spiritual trainings that finished with songs that involved mimics and gestures. 
Previously, camp for people with special needs was organized in Tukhlya village in Lvivska oblast. Its slogan was 'Do you know that we have a community?'. Challenged youth from Caritas of Stryi Diocese of the UGCC and members of 'Faith and the light' community from Stryi became its participants. Their number drew to 55 individuals.
Oksana Ilkiv, camp coordinator, retells: "Camp topicality was chosen because each of us finds it is important to create friendly relations and to feel that you are needed. The main objective of the community is to give life, understanding that each person is loved in the way he/she is, with all evil and good inside each of us. With understanding this, development of human values, growth and self-actualization begin."
Caritas Ternopil organized summer camp in the city and in the countryside. Nearly 30 individuals took part in the camp, in particular, orphans, half-orphans, children from crisis and large families.
Olia Hilko, social worker, comments: "As a rule, every summer we go to Vrubivtsi village (Kamyanets-Podilskiy region, Khmelnytska oblast), put up tents nearby Dnister and organize 'School of extreme survival outside' for few days. This summer we also planned to visit our usual place but unexpected circumstances changed our plans for rest and we postponed camp some time later, and arrange our leisure in Ternopil and territory nearby."
It is said in local Caritas that summer camps are really efficient method of social work with children and youth. They help youngsters to open, cope with conflicts, communicate with peers and other people, explore their own world and peculiarities, learn on mistakes and acquire life experience.
Meanwhile, over 40 children from crisis families and labor migrants' families of Novovolynsk and Volynska oblast were granted possibility to recover their health in summer camp on the bank of picturesque lake Svytyiaz – the gem of Volyn nature. Caritas Volyn employees and seminarians of the Ternopil Higher Theology Seminary accompanied the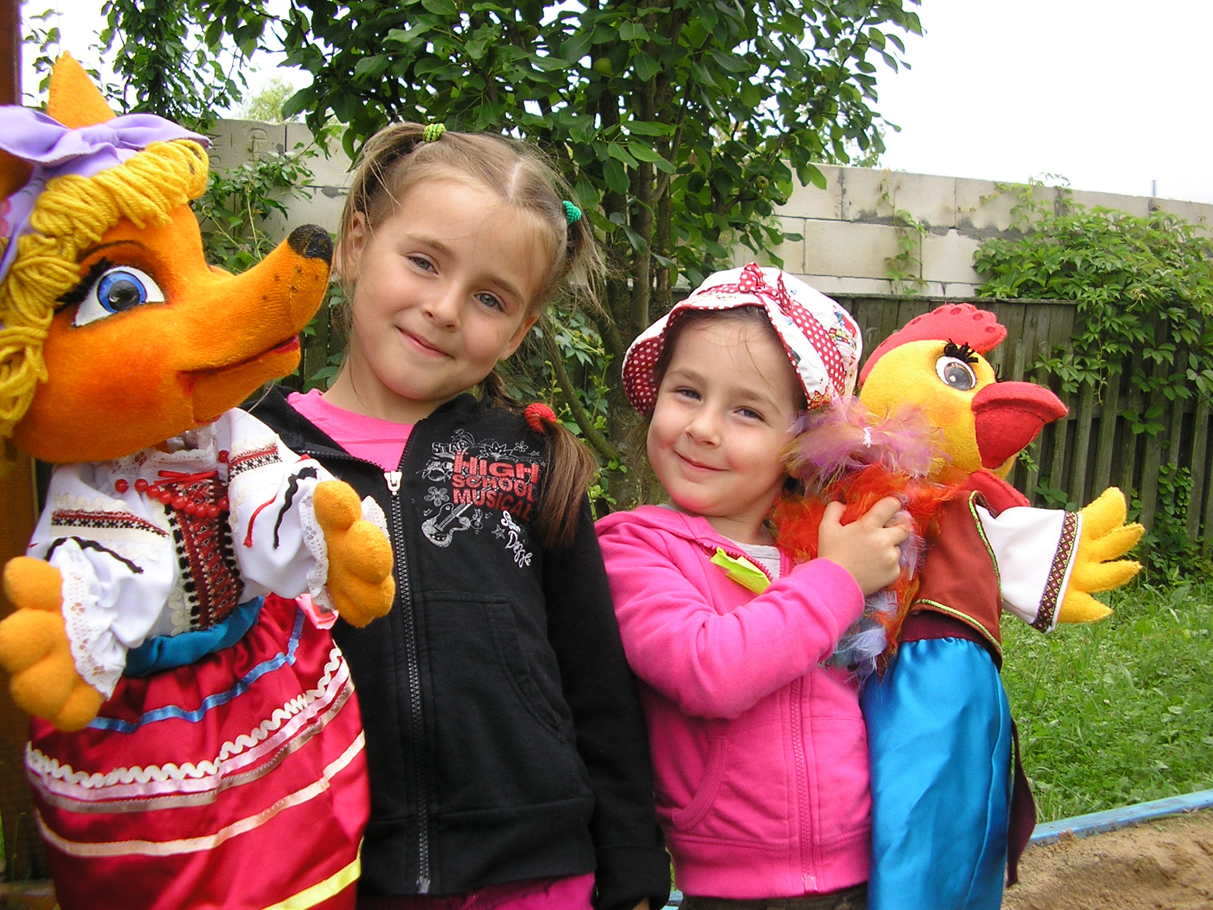 children's rest. They made it active, joyful, varied, and the same time – meaningful and memorable for many years.
Daily visits to the lake, swimming relays, different entertainment, sport contests, football, volleyball, table-tennis, badminton, and twister were connected with thematic games, competitions where kids could show their ingenuity and smartness. Moreover, children were able to develop their artistic skills: there were drawing classes, bead embroidery, decoupage, and creating flowers with sateen stripes in camp
School of financial management was interesting for children who took part in the first session. Youngsters learnt to plan their expenditures and to develop tactics on making their dreams come true. When the weather wasn't favorable for visits outside, children could watch interesting and informative movies. Performance of puppet theatre was a real surprise for camp participants. It was staged by artists from Theatre for Young Audiences in Lutsk. Camp program also included psychological work that involved trainings with elements of dance therapy, diagnostics of personality and profession-oriented tests; and discussion of daily events. All these activities were targeted at raising self-esteem and development of communicativeness.
Caritas Ivano-Frankinsk provided summer recreation for the biggest number of its clients: 107 children and 16 parents. This year it is the eighth time local Caritas organizes camps in picturesque mountains in Zarichya village, Nadvirna region in Ivano-Frankivsk neighborhood. Children rest was accompanied by 10 workers of local Caritas and 9 volunteer.
Children and youth with mental disabilities spent their leisure in the first camp session. Summer storms didn't intervene with their rest and opportunities to get physical powers, try their talents in different creative competitions. Apart from recreation, they found time for training and fastening practical skills to act independently: they laid their beds, cleaned rooms, and took care of personal hygiene.
Second camp session with motto 'Leading a healthy lifestyle' united children left without parental care, from large and poverty-stricken families, and labor migrants' children. Camp program focused attention on the importance to lead a healthy lifestyle, favored their self-actualization and creation of positive motivation, acknowledgement of advantages this approach brings to their lives.
The third camp session 'I+WE – the one family: looking for mutual understanding' was aimed to favor mutual integration of parents an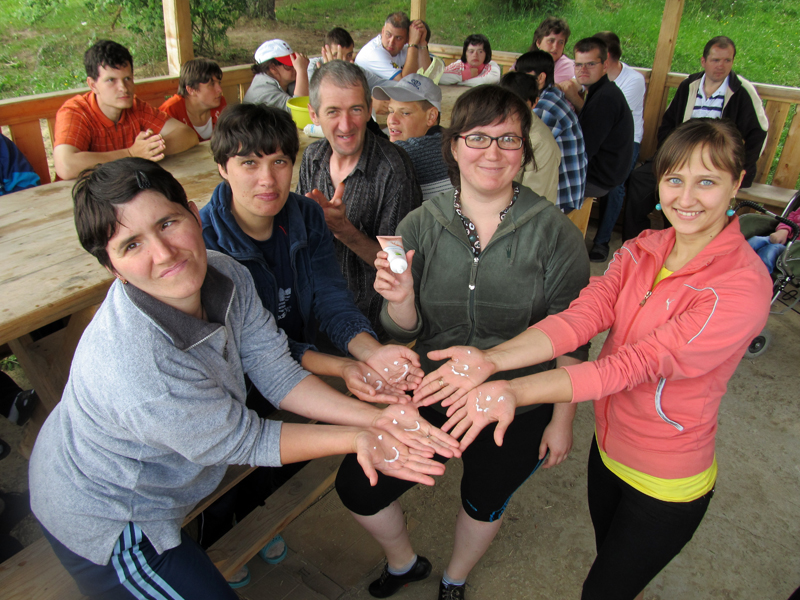 d children from 12 families that are under social follow-up of local Caritas. For 7 days team of camp organizers and volunteers worked on improving parents-children relationships, and also rendered social and psychological support to parents and their kids.
The fourth camp session involved parents and children who live with HIV/AIDS. 'You are not alone – we are one big family' – it was slogan and goal of 'Center for care and support of people who live with HIV/AIDS' project stuff. They rendered psychological and reintegration support to target group in form of individual consultations and team activities, games, competitions and classes.
"Summer camps are a significant component in work with children from crisis, large and single-parent families. It is undoubtedly true that parents of these youngsters have no possibility to provide active and informative leisure in the period of summer holidays. Very often during holiday time kids are left without care and attention, have time to get into trouble," says Maria Pidlubna, camp manager in Caritas Boryslav.
This year local Caritas held daily summer camp for needful children that lasted three sessions and 27 days. Thanks to this camp almost 67 children managed to get healthier. Rest with Caritas was full of trips, excursions, competitions, trainings and workshops. This summer camp seized children left without parental care, labour migrants children and youngsters from crisis families.
At the same time this year Caritas Lviv UGCC held two camps: in Dovge village (Drohobych region of Lviv oblast) and at the Sea of Azov in Kyrylivka village (Zaporizska oblast).
14 youngsters with disabilities participated in summer recreation camp 'We are God's children' in Lviv region. Natalia Zagayko, camp organizer, points out that emotional and psychological state of clients improved considerably with help of camp activities, excursions, thematic classes, sport competitions and entertaining events. It can be compared with months of everyday thorough work in social center.
13 challenged clients of Caritas Lviv joined educational and recreational camp at the Sea of Azov. Visiting dolphinarium was the most memorable occasion; they received inspiration and great amount of positive impressions from bathing in the sea, competition on making statues out of sand, discos and evening singing of religious and Ukrainian folk songs, joint prayer at the seaside.
"Summer camp 'Happy holidays with Caritas' of Caritas Khmelnytsky was targeted not only at recreation and leisure, but at possibility to reveal talents of oneself. Longstanding experience gives us chance to chose the best for children!" underlines camp leader Dmytro Lysyi.
Target group of the initiative involves kids and youth in complicated life circumstances, all in all there are over 30 people. For clients of local Caritas joint entertainment and lessons favor establishment of amicable and friendly relationships, make young team closer to each other, teach to survive in difficult living conditions and what is the most important – address n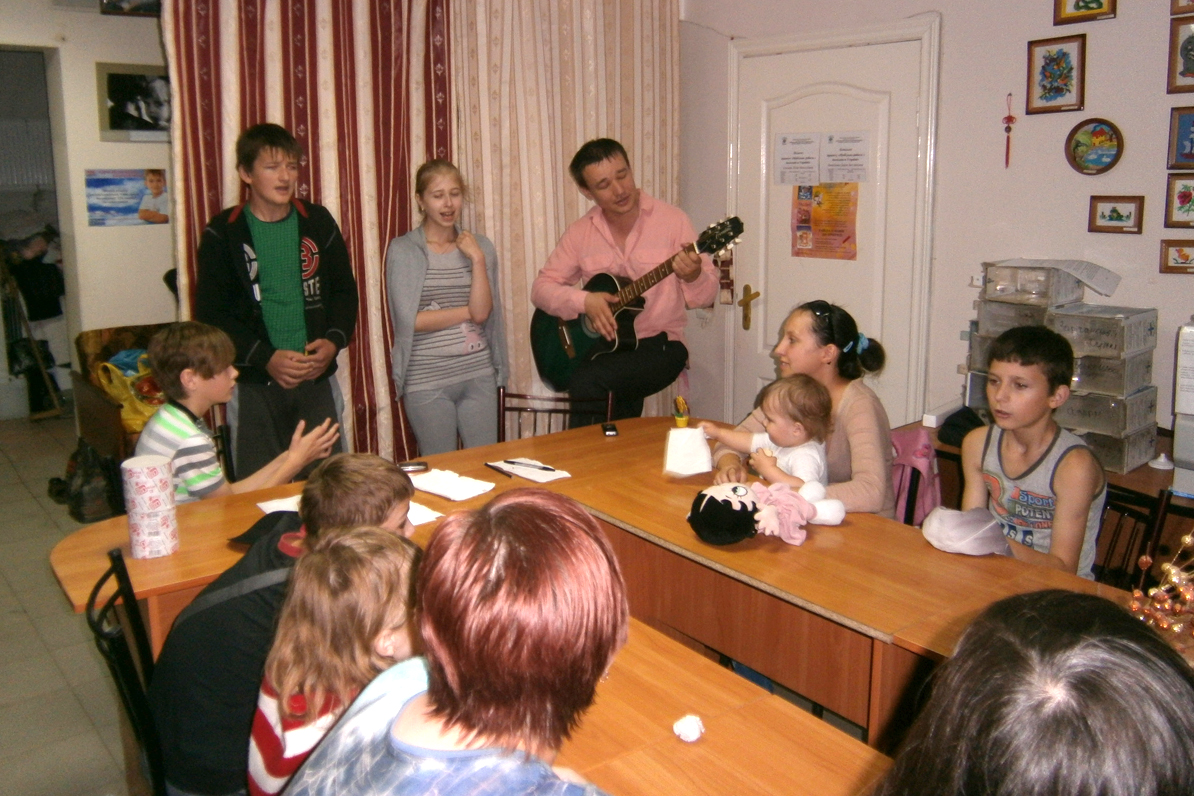 eighbors for help.
This year Caritas of Sambir-Drohobych Eparchy of the UGCC conducted summer camps for nearly 50 kids from low-income families, challenged youth and labour migrants children. Recreation was held in Strilky village (Old Sambir region, Lviv oblast). Leisure time became memorable by means of communication, active games, competitions, discos, evening time near the fire and songs accompanied by guitar and ball-masquerade.
Coordinators put emphasis on outstanding activeness of kids; they took any chance to explore the world, were interested in everything around, and asked original questions. "If to evaluate summer camps according to the 10-points scale of social work tools we can put 9 without doubt!" thinks Galyna Yadjak, camp organizer.