20.08.13, Ukraine
Presentation of the All-Ukrainian Civic Organizations Coalition report on countering human trafficking was held in Ivano-Frankivsk. This report was prepared in context of monitoring on how Ukraine implements Council of Europe Convention about measures for countering human trafficking that came into force on March 1, 2011, for Ukraine. The key idea of the report is that in compliance with international standards on human rights Ukraine has to put more efforts to protect people who became victims of human trafficking.    
The report was presented with participation of local authorities, in particular, Volodymyr Dudchak, the First Deputy Head of education, science, family, youth and sport department of the Ivano-Frankivsk oblast State Administration; Olga Schevchuk, the main specialist of the professional orientation and education department of the Ivano-Frankivsk oblast Employment Center; Rostyslav Prokopchuk, Mayor of the Militia, Head of the department on countering human trafficking and crimes against public morals of the Ukrainian Ministry of Internal Affairs Criminal Investigation Department  in Ivano-Frankivsk oblast, and Nazar Savedchuk, Head of the department on legal work and та education of the main justice department in Ivano-Frankivsk oblast.
That's why we needed an alternative. Together with youngsters we agreed to postpone camp rest for the future, and arrange our leisure in Ternopil or territory nearby."
Since local Caritas clients already had skills to put up tents and to prepare food there was a competition organized for them to show their awareness, smartness and team spirit. There were two entertaining visits to the cinema and water park. For some youngsters it was a first time in the water park and it was very exciting to observe how kids who can swim showed the initiative and began to give lessons for those who couldn't," a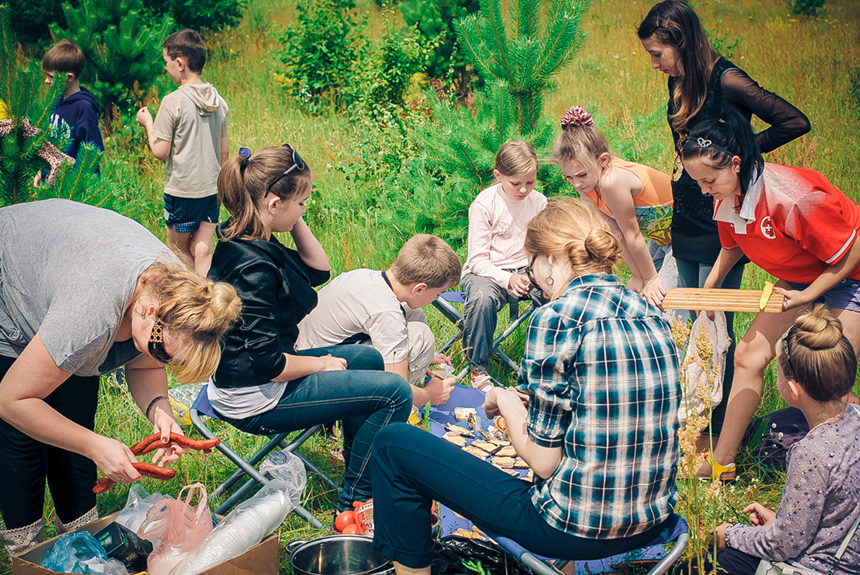 dds Olia. Later, there was a special tournament on volleyball where both the young and the grown-ups took part.
By the end of the week of camping in the city young clients of local Caritas experienced trip to the countryside. All children and workers settled on the meadow and began to divide into groups according to the type of danger they faced in the natural environment. Psychologist found out not only actual and interesting things from crisis children lives, but important interrelation, behavioral moments and characters of clients.
Money from project 'Mobile work with youth in Ukraine' and donations of local benefactors were used for organization of these events. "While planning visits to the cinema or in the water park we always ask for a discount and regularly receive affirmative answer. It's considered as quite a little, but also manifestation of philanthropy among Ternopil citizens," says Olia Hilko.  
It is said in local Caritas that summer camps are really efficient method of social work with children and youth. They help youngsters to open, cope with conflicts, communicate with peers and other people, explore their own world and peculiarities, learn on mistakes and acquire life experience. Moreover, camps provide opportunities for improving health condition, getting pleasure from picturesque landscapes and study of Ukraine beauties.