08.06.2015, Ukraine
Caritas Ukraine launches 6 centers on care for IDP children who fled military conflict in Donbas area. "Child-friendly spaces" will work for kids from 3 to 12 years old in Kharkiv, Dnipropetrovsk, Slovyansk, Svyatohirsk, Odesa and Kyiv.
"First of all, our activity is targeted at provision of psychological assistance to IDP children. Such centers are comfortable spaces for their communication, leisure, education and self-actualization that are prerequisites for decrease of anxiety and anger. Relatives of young beneficiaries will be also involved in various events of "Child-friendly spaces".
Additionally, in order to foster optimal socialization of the displaced from the area of military conflict, it is expected that nearly 25% of beneficiaries will be local kids from large and low-income families," retells Ksenia Bukhanets, Head of "Child-friendly spaces" centers.
Psycho-social assistance will be provided by professionals who have experience in pre-school education, pedagogics and psychology of children of various age groups. Each of 6 centers form 4 groups of 25 kids to give them decent attention and care. In general, this project will seize over 1500 children. It is foreseen that "Child-friendly spaces" will operate from the 1st of June till the end of 2015. During this period every group will have chance to visit courses twice a week.
Apart from face-to-face and group consultations and sessions, centers will render distance support to children and adults in each region, securing services to a greater number of isolated communities in the most needy regions. Here, phone hot-lines will be operating, using these numbers IDPs can receive expert consultations and advice.
It is not the first project of Caritas Ukraine focused on the assistance to families with kids who became victims of humanitarian crisis in the country. In the course of a last year over 60 000 needful people benefited from support and humanitarian aid in regional organizations located in 12 oblasts. Caritas approach to care for the displaced and victims of humanitarian crisis is personalized and foresees scrupulous evaluation of their needs. Attention is focused on the most vulnerable categories of population: minors, pregnant women and nursing mothers, seniors, people with special needs, people with chronic diseases, family with one breadwinner, single mothers/fathers, large families (more than 5 family members).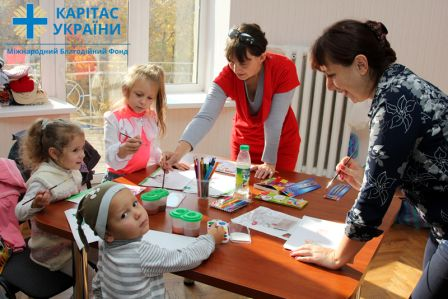 "Our international partners provide great help in implementation of such large-scale activities, notably governments of the USA, Poland, Germany, EU, and also Caritas of Czech Republic, Switzerland, France, Canada, Spain, Germany, Poland, the US. All in all, for the last year we targeted almost 5 mln. EUR as a response to humanitarian crisis. Network of centers for children – "Child-friendly spaces" – is financed by Catholic Relief Services (money of the US government) and Caritas Austria.
Moreover, we coordinate our work and cooperate with other non-governmental organizations, such as UN Children's Fund (UNICEF), UN Office for the Coordination of Humanitarian Affairs (UNOCHA), UN High Commissioner for Refugees (UNHCR), European Commission's Humanitarian Aid and Civil Protection department's (ECHO), World Food Program (WFP) and governmental bodies. Because only through the cooperative efforts we can uncover acute problems and render timely assistance to those who need it the most," Ksenia Bukhanets is convinced.