20.06.2014, Lviv
"Let's initiate changes together!" was a slogan for 4 months initiative in Lviv that united nearly 100 young people with special needs, well-known city artists and general public. During 4 weeks over 15 unique workshops were organized where disabled young people under the guidance of painters created hundreds of artistic handiworks that were later distributed in public facilities and spaces.
By means of implementation of this social initiative it became possible to collect charitable donations that amount to 5459 UAH and 20$ and will be directed at support of activity of social centers for people with special needs, particularly at favoring development of creative and communicative skills of center visitors and incarnation of new artistic ideas.
Caritas Ukraine has a network of 6 specialized social centers in Lviv, Drohobych, Stryi, Ivano-Frankivsk, Kolomyia and Boryslav that render daily care to over 100 disabled individuals, their parents and relatives.
Participants of Caritas Ukraine social centers are guaranteed education on acquiring work (occupational therapy) and basic social skills (self-service, cooking, behavior in different household communications and situations etc); events on social integration (meetings with youth from other establishments and centers, leisure, recreation games, involvement in festivals and fairs, participation in summer camps, excursions etc). Parents of challenged individuals are granted with social and psychological follow-up; informational and legal support; they get involv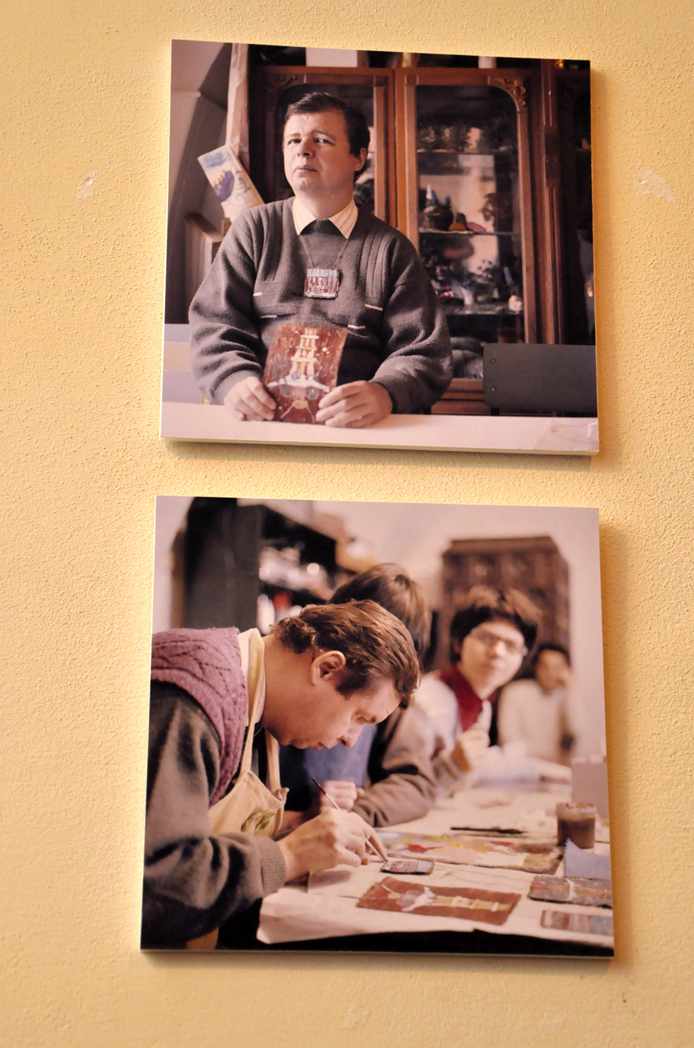 ed in Caritas events, trips and camps, meet each other at joint events and seminars.
Nadiya Chorna-Bokhniak, art-project coordinator, retells: "Art-project of Caritas Ukraine was launched in winter 2011 on basis of artistic union "Dzyga" and seized Lviv coffee houses "Svit kavy" and "Stari Mury", was presented on Christmas fair in center of Lviv, in galleries "Svit art" in Chernivtsi and "Kolo Zaspy" near Kyiv. At that time it was an incredible synergy of enthusiasm and creativity of dozens of young people and those who assist Ukrainian society to deal with prejudice regarding disabilities and art.

In winter 2012 the initiative was implemented in Lviv and Ivano-Frankivsk in branches of "Lviv Handmade Chocolate". During these two years art-project participants presented icon painted on the glass, contemporary icon on wooden panel, ceramics, textiles, canvas paintings, interesting thematic gifts and toys. In winter 2013 disabled youth together with artists prepared New Year and Christmas works and decorated a holiday Christmas tree in lobby of Lviv City Council.
The slogan of an art-project: "Let's initiate changes together!", because everyone can take part in the project and get involved in Caritas service to needful people, and particularly, youth with special needs. From Easter and till the end of May in Schevchenkivskiy Gai and other locations citizens and guests of the city were able to buy for a token money artistic pieces created in different techniques and from various materials: pysankas (Easter painted eggs), rag dolls, articles made of quilling and beads, thematically painted cups and other souvenirs.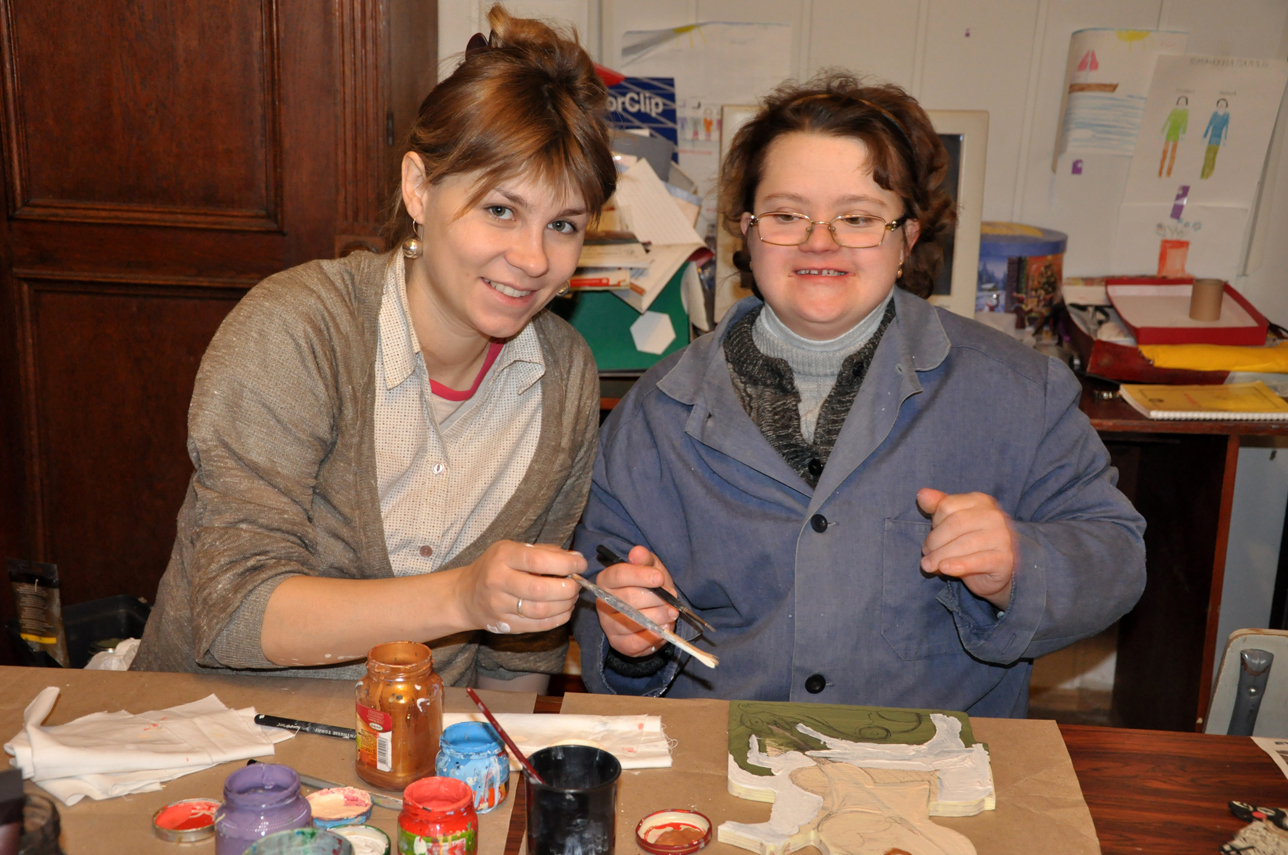 And what is the most important they were able to participate in workshops, make friends with our clients during presentation on their handiworks."
All stages of an art-project development were accompanied by a great interest from media and partners, because idea and objective of the initiative enable to get closer and transform world of people with special needs that are often isolated in their flats and deprived of basic rights and freedoms as possibility for personal fulfillment and acknowledgment of their creative skills. A great many of Ukrainians think that nowadays people are closed to youth with mental disabilities, but Caritas workers are convinced that this happens because they know little about them.
Lyudmyla Sukhareva, coordinator of program "Social inclusion and development of integration centers for young people with special needs in Ukraine" (art-project was implemented in its framework), notes that:  "In our country people with mental deficiency and other disabilities are in difficult life circumstances that are linked to social problems, isolation, education, medical services and employment.  
Organization and implementation of artistic events provide our youth with opportunity to adjust and easier integrate in local communities, enlarge circle of communication, develop own creative and communicative skills. Moreover, realization of such project helps to impact changing of consciousness regarding uptake of an individual with special needs in the society and involve greater range of volunteers and partners to the activity.
Imagine life of a young person who has been detached from public places and cultural events for years, it is a challenge for him/her even to get possibility for a self-service in a supermarket or a trip in public transport. That's why, there is a great pleasure for youth with special needs to cooperate with professional artists and receive prais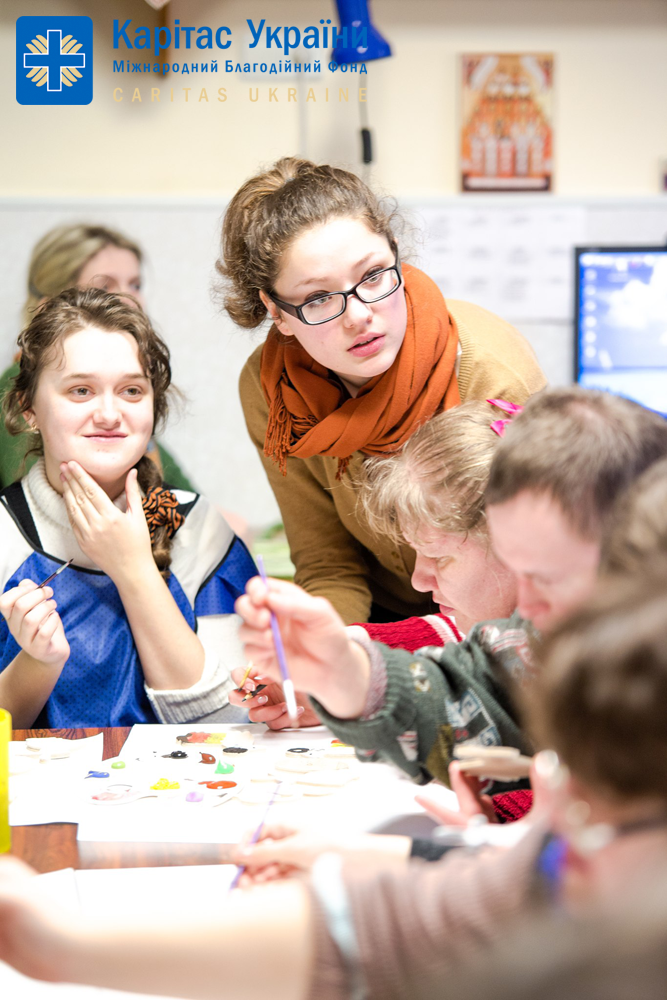 e, reward and recognition for own handiworks! With such initiatives and events we cardinally change lives of disabled youth and life-sustaining activity of Ukrainian cities."
Caritas Ukraine expresses sincere gratitude to project partners:
Lviv City Council, Museum of Folk Architecture and Rural Life (Lviv), Dick-Art, "Kredens Cafe" coffee house, "Svit kavy", "Medellin", cafe in the collegium of the Ukrainian Catholic University, anti-cafe "Kommuna", "AVTO Software" company and co-working center «BetaPlace»,
and also to painters: Olga Kravchenko, Ostap Lozynskiy, Olya Suprun, Yevgeniya Ryabchun, Olena Mazurok, Maryana Kvyatkovska,
and to volunteers of an art-project: Sophia Kayinska, Yuliana Bazarnyk, Sophia Pelekh, Iryna Ugrynovska, Karina Fursa, Martha Duda, Kateryna Vovk, Oksana Girchak.
---
You can look over creative goods that were made within the last art-project here.
You can look through photos that present course of the project here.