06.10.011
On 12, 13 and 19 September the Yuzhne Consulting Centre for Preventing Human Trafficking held classes on preventing human trafficking for children and young people from disadvantaged families who are resting or studying at Moloda Hvardia. Moloda Hvardia hosts children from all corners of Ukraine. Their ages range from 13 to 18.
Moloda Hvardia is very unique because it is located in the Luzanivka recreational park zone, on the banks of the Black Sea. The facility has its own 950 metre long beach, an auditorium, a 1200 seat outdoor amphitheatre, a library containing 50,000 books with reading room, and its own driving school with classrooms and a driving course.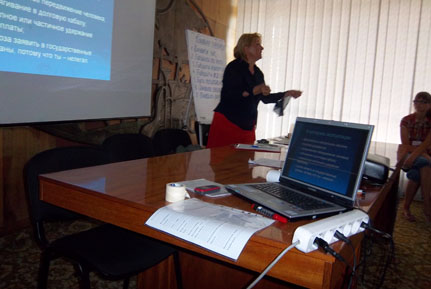 On the grounds there is also a football field, volleyball and basketball courts. A tennis court is located right near the sea.
For many years Moloda Hvardia has brought joy to its clients with their warmth and gentle approach. They give children the benefit and joy of being able to socialize with their peers, provides them with unforgettable memories, a positive attitude and friendly interpersonal relations. Recently the Yuzhne Consulting Centre for Preventing Human Trafficking was added to the list of those invited to host events at Moloda Hvardia.
The Centre held a series of classes at the facility aimed at familiarizing the children with the problem of human trafficking, and giving them the basic skills and knowledge necessary to help them avoid becoming its victims.
Iryna Khmars'ka, one of the lecturers said: "We used new art technology and interactive tools which were previously used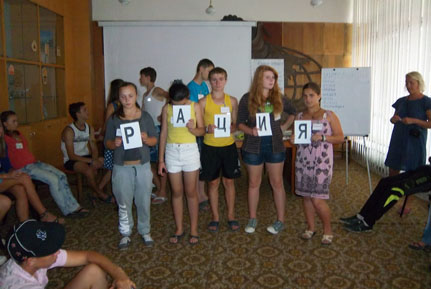 by Caritas Ukraine during a recent training held in the city of Yuzhne in the Odesa region. They included interactive games, forum-theatre, role playing games, and discussions.
The classes included nearly 100 children from various corners of Ukraine. They were not embarrassed to admit that their parents have worked abroad for many years and still have trouble finding work there. Almost a third of the children had parents in this situation." Staff from Caritas' Consulting Centre reported that their young audience took an active role in the discussions, were open to new information, and completed their assigned tasks with great interest.
The project to develop a network of Centres for Preventing Human Trafficking started in the spring of 2009 [the latest phase started in May,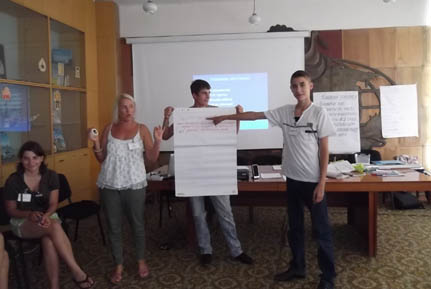 2011 thanks to the support of additional sponsors]. Staff at the Yuzhne Consulting Centre is pleased with the Centre's work. They report that the number of calls they receive is constantly growing, and that Ukrainians approach them with requests for specific help.
Additionally, Caritas has made and continues to make important contacts that are necessary to effectively conduct the work they have taken on. Everything the Centre does has one goal—to help and prevent human trafficking in Ukraine.