19.05.2015, Ivano-Frankivsk oblast
Benefactors from Czech Republic provided 5 tones of clothes to Caritas of Kolomyia-Chernivtsi Eparchy of the UGCC. This assistance is aimed to support victims of Donbas and Crimea occupation who live in Ivano-Frankivska and Chernivetska oblasts these days.
House of Lyudmyla Lazareva is located in Krasnyi Luch town of Luhanska oblast. A woman left it end September last year. Fleeing from war she didn't think about shoes and clothes. Saving of own life was the only priority: "I jumped from the house in old toeless shoes, though I had a new ones. I didn't have time for thinking, put on shoes that stood near the doorstep. Escape from that hell was almost impossible…"
"There are many of such victims of war in our region," retells Taras Buchovskiy, manager of projects on assistance to IDPs in Caritas Kolomyia: "That's why any help and support will be of use. Thanks to philanthropists and our friends from Caritas Olomouc (Czech Republic) we can to some extent ease life of our new beneficiaries. From time to time we provide them with cash support, food packages, shoes and clothes – this assistance is secured by benefactors from Europe and United States through Caritas Ukraine."
Starting from April 2014 Caritas Ukraine has rendered help to over 80.000 people affected by the humanitarian crisis in the country. Our approach to care for the displaced and victims of humanitarian crisis is personalized and foresees scrupulous evaluation of their needs. Attention is focused on the most vulnerable categories of population: minors, pregnant women and nursing mothers, seniors, people with special needs, persons with chronic diseases, family with one breadwinner, single mothers/fathers, large families (more than 5 family members)
The following types of assistance are provided for the abovementioned categories of people in 12 oblasts of Ukraine:
•    one-time payments for handling of basic needs;
•    distribution of kits with food and hygiene accommodations;
•    winterization financial assistance;
•    payment for the purchase of food, hygiene products, medications and coverage of treatment expenses;
•    provision of individual and group psychological assistance.
The mobile emergency group was created to provide food and basic NFIs to needful people who live on the territory of military actions.
Humanitarian aid delivered to Kolomyia was prepared by Czech families. They considered needs of adults and children: there is a wide variety of clothes and shoes of di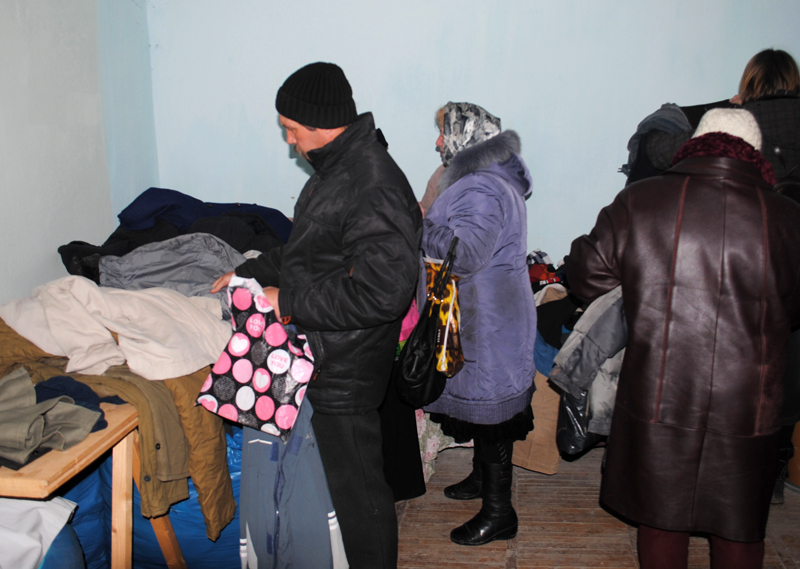 fferent sizes and styles. As of beginning of Man 1300 IDPs were registered in local Caritas. One person can receive not more than 5 kilos of clothes or shoes.
"I would like to thank Czech benefactors on behalf of Caritas Kolomyia and our IDP beneficiaries. We are glad to have friends in Olomouc city that don't leave us in hard times. Such humanitarian help is incredibly important and valuable. All these people when fleeing their homes from the whiz of bullets didn't have a thought about clothes or other things," says Taras Buchovskiy.