15.01.12
According to experts, since 1991 up to half a million Ukrainian women have been sold abroad (80% of all Ukraine's unemployed citizens are women). 40-60 thousand Ukrainian citizens become victims of human trafficking each year. According to official statistics from Ukraine's Ministry of Internal Affairs, law enforcement apprehends up to twenty organized crime groups that traffic in humans annually. In recent years, there have been several hundreds of criminal cases opened under Article 149 (human trafficking) but only a handful of those charged were sentenced. Odesa-Istanbul is favourite corridor for those trafficking in humans.
Considering the devastating impact of human trafficking on Ukraine, and the inability of official bodies to stem this phenomenon and assist its victims, community organizations have taken on this responsibility. Caritas Ukraine is one of the community organizations addressing this issue. They have been offering comprehensive services in various regions of Ukraine to victims of human trafficking for seven years.
"With the coming of the New Year, there is a tendency to evaluate what has been accomplished or attempted. This overview allows us to evaluate our efforts, successes, and shortcomings that can otherwise easily be overlooked." Natalya Holyns'ka, Coordinator of the Centre for Preventing Human Trafficking and Assisting Its Victims opened the annual meeting of Caritas Sambir-Drohobych Eparchy of the UGCC with this statement.
Since May 2011, the local Caritas has held the following events to help stem human trafficking: information sessions—8 at secondary schools, 6 at establishments of higher education in Drohobych, and Stebnyk (L'viv Region), and 4 for individuals registered with the Unemployment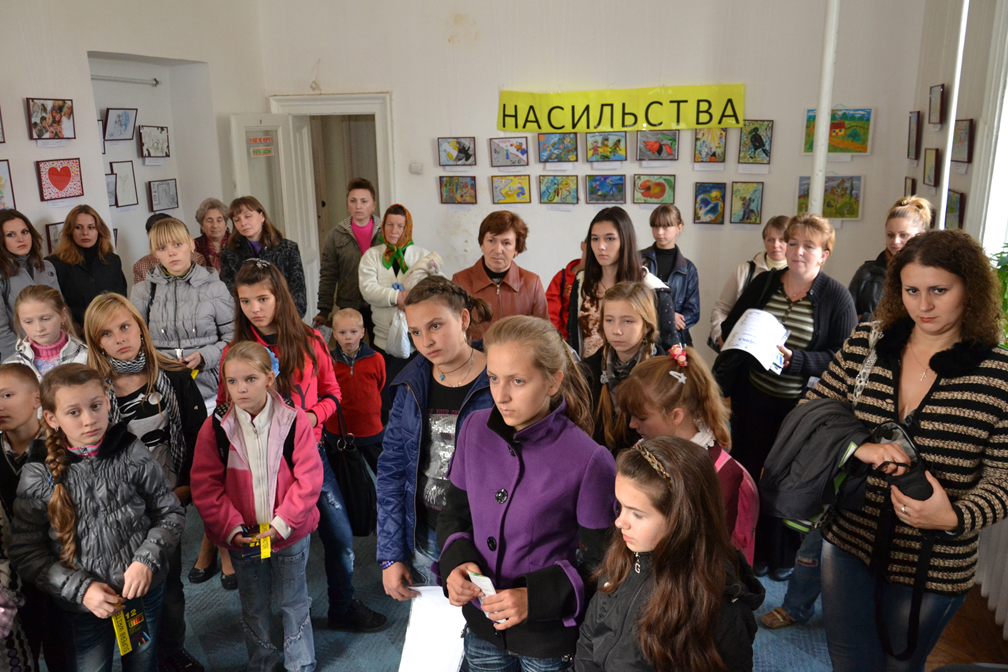 Agency; a street event on 2 December to publicize International Day for the Abolition of Slavery; and a children's art contest called World without Violence. Additionally they conducted nearly 120 personal and telephone consultations; provided psychological and medical assistance to 13 individuals who contacted the Centre and provided material assistance (basic care items) to 10 victims of human trafficking.

Human trafficking knows no boundaries as it is the third most profitable illegal business in the world. Nonetheless, many Ukrainians continue to believe that human trafficking (slavery) is a thing of the past and doesn't touch their lives.
The term 'human trafficking' by definition is "the recruitment, transportation, transfer, harbouring or receipt of persons, by means of the threat or use of force or other forms of coercion, of abduction, of fraud, of deception, of the abuse of power or of a position of vulnerability or of the giving or receiving of payments or benefits to achieve the consent of a person having control over another person, for the purpose of exploitation" (UN protocol to the Convention against Transnational Organised Crime). Anyone can become a victim of human trafficking, regardless of their sex or age; commonly men are exploited as labourers, children as beggars, women as sex workers and individuals of all ages are sold for their organs.
U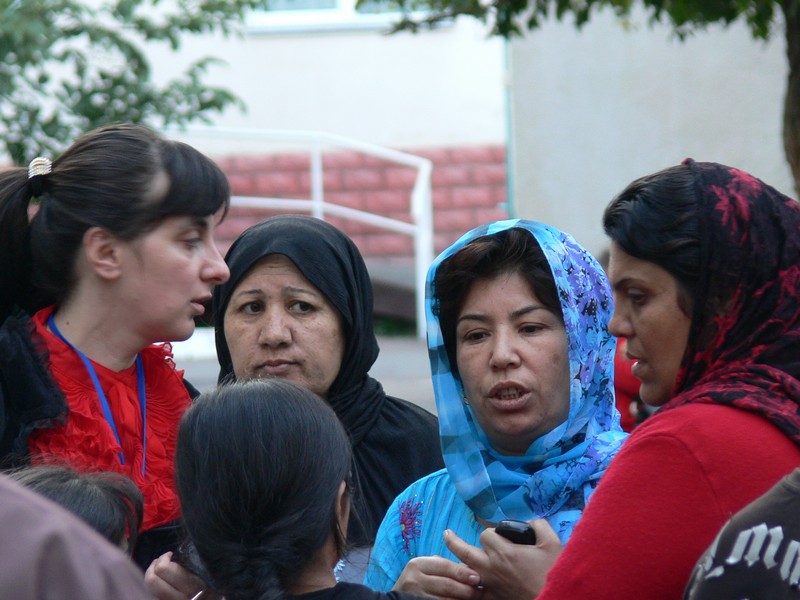 krainian citizens look for work abroad because of economic problems, the labour market, the high unemployment rate and the low quality of life in their homeland. According to unofficial statistics, currently there are nearly 4-6 million Ukrainian citizens working abroad illegally. Because they are residing and working abroad illegally, their basic rights are not protected. This affects all Ukrainians and therefore supporting and protecting Ukrainian citizens abroad should be a priority for all Ukrainians.
Oksana Ustynova, Project Leader of the Caritas Ukraine project Developing a Network of Consulting Centres to Prevent Human Trafficking and to Aid Its Victims, comments on the important topic of human trafficking: "Often when people hear that a female worked in the sex trade abroad, they automatically assume that she wanted this and went abroad for this reason. Only a handful thinks this was a tragedy or criminal activity that violated her bas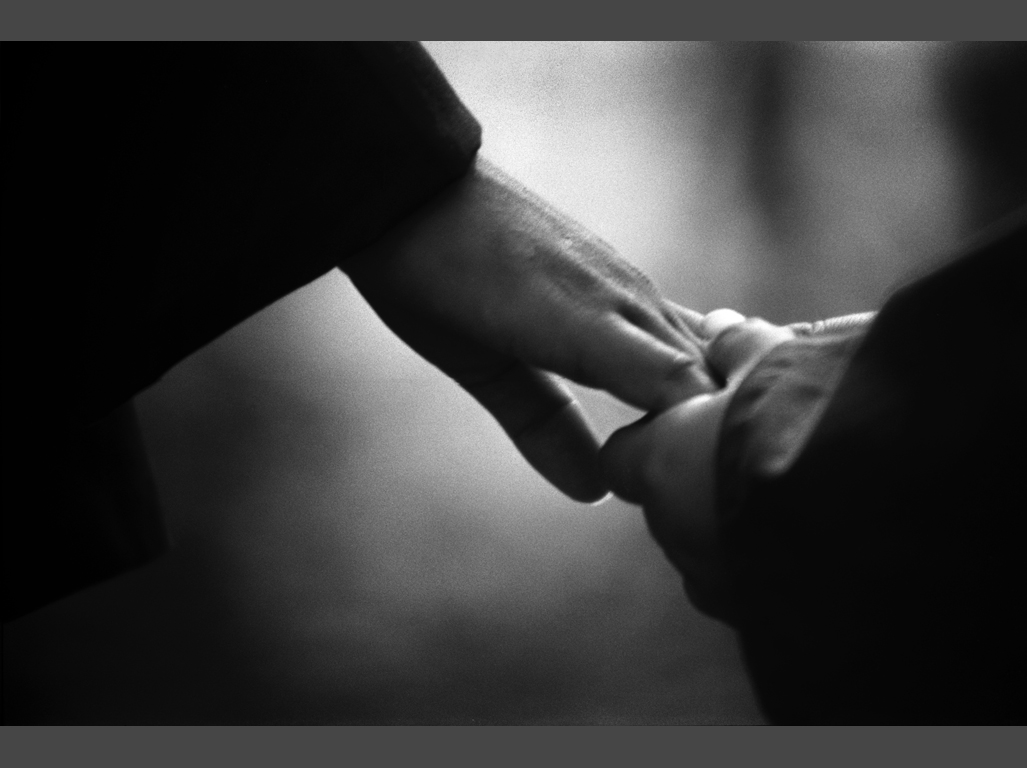 ic human rights.
There is also the prevailing belief in Ukraine that only females can get into trouble abroad; few are familiar with the International Organization for Migration statistic that shows 32% of human trafficking victims are male. This statistic tells us that the majority of victims, this year, were exploited for physical labour, not for the sex trade, as most assume."
According to Caritas Drohobych, distributing information on human trafficking is crucial. After the correct demographic group is targeted (the unemployed, family members of labour migrants, and students preparing to complete university of secondary school) informational sessions are an easy and effective way to stem human trafficking.
Another crucial factor is to appropriately present the information. Discussion forums facilitate accepting new information by offering each participant the ability to share in a friendly atmosphere. Participants are asked to fill out a 10 question survey at the end of each session. The information obtained from these questionnaires help organizers understand how well the attendees understood the issue, if attendees had encountered this issue in their lives, and to what extent they believe they can fall victims of human trafficking.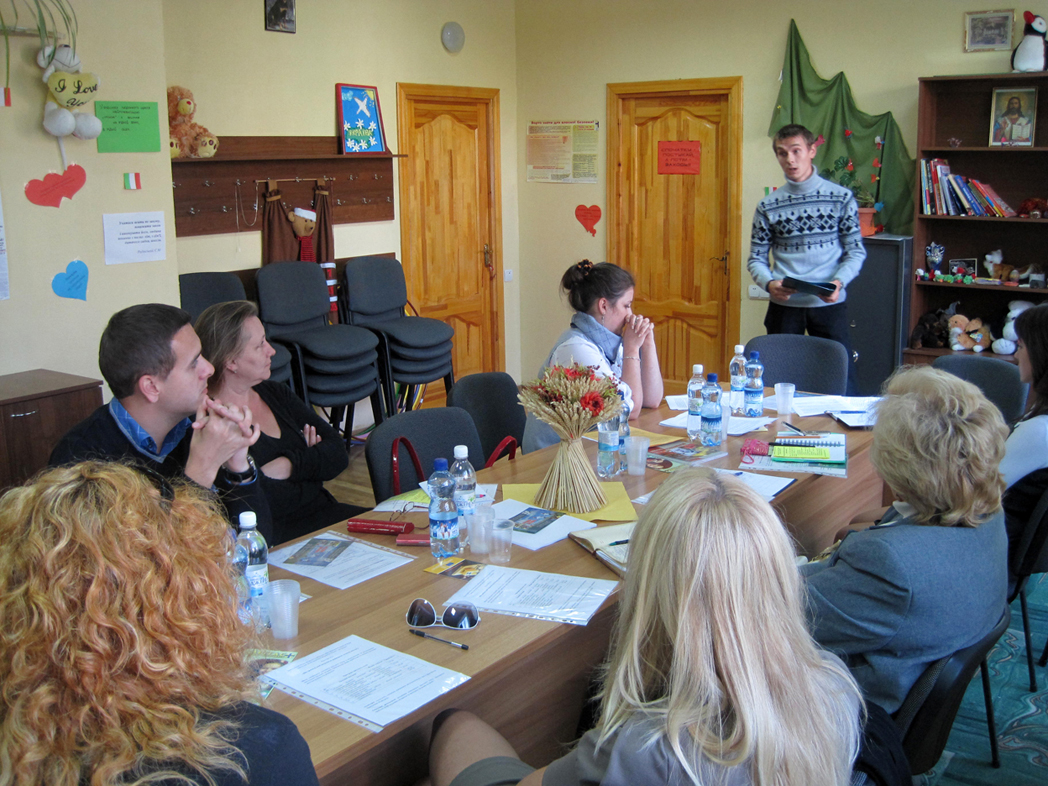 "The information we receive shows that we are targeting the appropriate groups as over 80% of participants voiced a desire to go abroad. Of them 16% were willing to work abroad illegally. The majority of people who want to work abroad want to work as housekeepers, wait-staff, nannies, construction workers, or farm hands. Most people know their chances of finding work abroad increase if they are willing to work without a written contract.
Travel agencies also complicate the issue. When asked: Who helps citizens go abroad, the majority of the people questioned answered travel agencies. This response was surprising because travel agencies do not set citizens up with employment abroad, they only organize vacations. Another alarming discovery was that 8% of those questioned are willing to trust often deceptive middlemen. Marriage agencies, another trap for people wanting to live abroad, are also trusted by 38% of respondents. Roughly the same percent has a positive attitude to marrying a foreigner and personally favour this option.
The questi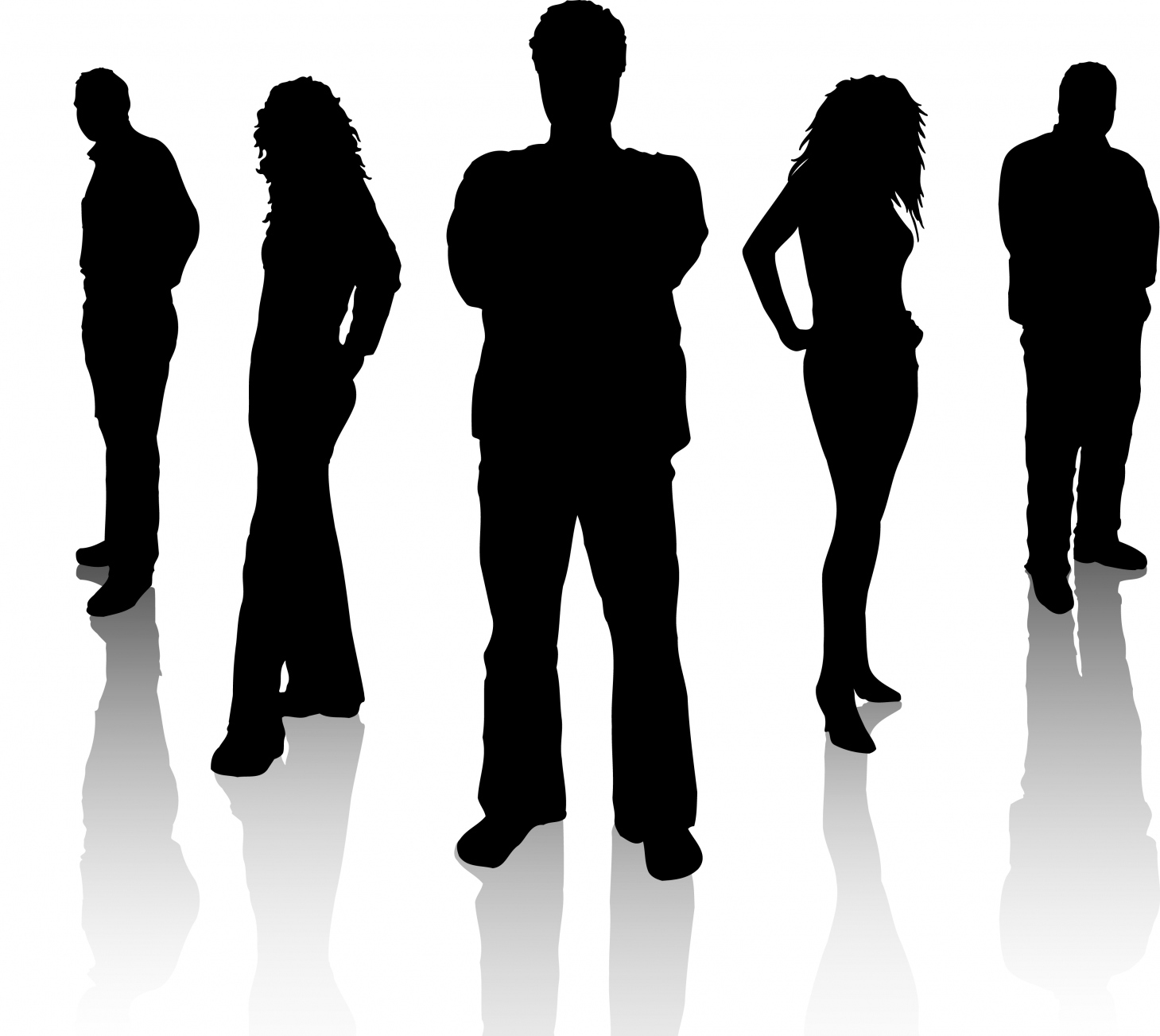 onnaire also showed that Ukrainians acknowledge that they know very little about what rights Ukrainian citizens have abroad. Thirty-nine percent reported that if they were making definite plans to move abroad they would consult with acquaintances, friends and loved ones, not with officials from the Ministry of Foreign Affairs. However, we were nonetheless enthused that if they encountered problems, these individuals knew to turn to the police, their local Ukrainian Embassy or the International Organization for Migration to get help," the Coordinator for Preventing Human Trafficking at Caritas Drohobych noted at the end of the meeting.
Learn More:
Ukrayins'ka Pravda, 10 Myths About Human Trafficking
The TV show Personal Business aired segments on human trafficking in Ukraine on 1+1 clip 1, clip 2