20.05.13, Ukraine
Another interregional tournament on street football with participation of 'Mriya' team was held in Odessa at last days of April. The team was founded and is supported by Caritas Kyiv. Four teams were competing in the tournament. Apart from Kyivites there were young players from Donetsk, Odessa, select team from Ternopil and Kreminets; youth aged 14-17 years. In all cases there were teams of mixed type: girls were playing at the equal level as boys. Odessa charitable foundation 'The way home' initiated the tournament with financial and informational support of UNICEF, the United Nations Children's Fund.
We remind that after a necessary short break 'Mriya' recommenced regular training activity. One more time we express gratitude to 'Winner Automotive' and Facebook users who rendered assistance to Caritas in charitable initiative of 'Winner' company. It helped to provide financial basis for trainings and activity of Caritas Kyiv football team.
"'Mriya' was thoroughly preparing for this and other tournaments. This preparation was evident in Kyiv when at last trainings girls and boys, who are Caritas clients, overcame various teams with older and more experienced players" explains Fr. Roman Syrotych, Director of Caritas Kyiv, with joy and excitement.
On 27th of April players came to Odessa and lodged in the hotel near the sea.  The sea was stormy and cold, the weather was rainless and warm. The reception of tournament hosts was even warmer. A longtime acquaintance with team and clients of 'The way home' charitable foundation encouraged friendly info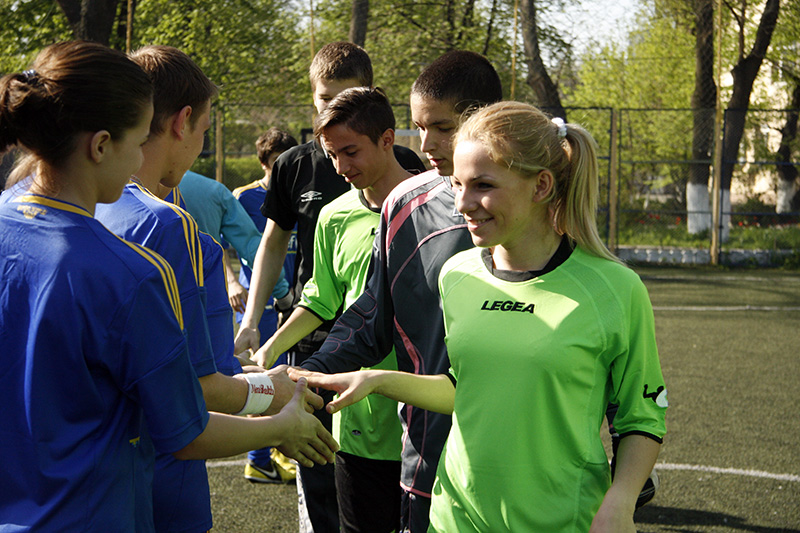 rmal communication of players and Caritas employees who accompanied teenagers in their trip. At the same day there was a traditional 'green' campaign on cleaning parkways on the slope of Sea port in Odessa.
Football matches were organized the next day. Teams played on the field with good artificial surface layer. They had two rounds for 15 minutes; each team met the three other. The intrigue was kept till the last game. In fact, 'Mriya' and Ternopil team easily dealt with other opponents and their confrontation became the dignified final point of the competition.
"The game was carried at the upmost pitch of powers and emotions. Ternopil and Kremenets fielded strong and well-trained team. In similar cases coaches of Ukrainian clubs say 'we won't comment the referee's decision'. In this crucial match 'Mriya' gave ground (the score was 1:0) and played the last round in the minority (the leading forward Vitaliy was ejected from the game). Another problem was injury to arm of the main goal-keeper Mykhola" points out Pukhnyak Iryna, responsible for work with children in Caritas Kyiv.
Despite the last defeat, 'Mriya' played on the decent level. In two victorious matches Kyivites scored nine goals. Moreover, Nastya (15) and Oksana (17) made a mark. This time Donetsk team was defeated, this had never happened before.
After coming back home players received greetings with 'silver' and valued prizes. We hope that insult because of the defeat will be gone soon and wounds will be cured. In a month street football will gather fans and young sportsmen in Kyiv. Caritas clients from disadvantaged and poverty-stricken families are among the players!