16.09.2013, Ukraine
Dozens millions of Ukrainians were watching football game between national teams of Ukraine and England. The 10th of September became a significant occasion for football fans. Children who are clients of Caritas Kyiv were honored to accompany football players on the field of the Olympic stadium. It turned for them one of the most remarkable event in life.
"Football lesson is a separate direction of work in-line with other activities on social adaptation of children and youth that found themselves in complicated living circumstances. Youngsters who come to social center have possibilities to train with a coach, master game skills, improve individual physical powers, acquire positive experience of communication with peers and be a part of team.
Though final result of the match was 0:0 and it wasn't satisfactory for Ukrainian football fans, our young fans will remember this evening as an unforgettable holiday! Such things become for crisis children a certain start, manifestation of respect and chance, inspiration for doing own achievements and acknowledgement
," retells Fr. Roman Syrotych, Director of Caritas Kyiv.
Football lessons in local Caritas are conducted with children during the school year. These lessons led to the creation of Mria football team who had already chance to reveal own skills by taking different places at inter-regional championships on mini-football in Odessa, participated in tournaments in Ternopil, Donetsk, Kyiv and Odessa. In particular, Mria brought deserved silver from April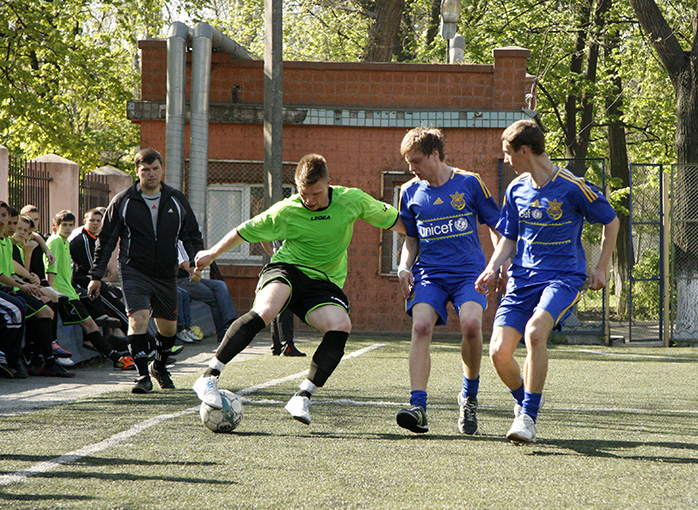 match in Odessa where tournament on street football among oblasts' teams was held.
There was also a tournament organized in May in Kyiv with the support of Football Federation of Ukraine for UNICEF Cup (note – this tournament is a part of a wider range of activities aimed at social adaptation and professional fulfillment of crisis children and youth by international children fund of the UNO), where Caritas team showed a successful performance and took the third place among 11 teams.
Viacheslav Fedchenkov, social worker of Caritas Kyiv, explains: "Caritas is grateful for the possibility to accompany star football players at the stadium to long-standing collaboration with representative office of UNO Children Fund in Ukraine and participation of our football team in numerous events held by UNISEF. It is a great piece of news that Football Federation of Ukraine continues to develop cooperation with UNICEF. One can find it not such an outstanding occasion, but to accompany stars of European football at the main arena of the country is a really defining moment for our clients.
Winners of the UNICEF Cup, players of Troyeshchyna football team, were also invited for match between Ukraine and England; they brought flags of two countries, emblems of FIFA and 2014 Championship on the field. Furthermore, young activists of All-Ukrainian Network of PLWH – children who live with HIV/AIDS and volunteers of this organization participated in the event. Initiatives of this kind don't only impact socialization of crisis youngsters and give them feeling of making their dreams come true; they are an excellent example of consolidation among communities, organizations, business and international public. The more such things occur, the more large-scale, resourceful and effective our social work will be."

Today football players of Caritas Kyiv team are doing their best to prepare for very major tournament in Odessa that will be held in October. It will be a check-point of their qualification, team spirit and sport achievements. We wish them good luck!