12.06.13, Ukraine
About a month ago in Kiev at the Bannikov Stadium was held second juvenile national tournament for the UNICEF cup. A level of game of participants has improved considerably in comparison with the last year – as the organizers and viewers say. This year in competition for a trophy girls and boys from Mykholaiv, Kherson, Kharkiv, Zakarpattya took part, and for the second time for this competition came young people from Brody, Kolomiya, Odessa and Kiev. All in all, 11 teams and about 100 players took part in the struggle.
About 2 months ago (on 27-28th of April) a football team of Caritas Kiev "Mria" got silver medal in Odessa, and this time they got the third place. Next competitions of young footballers are scheduled for the end of June at the tournament "Football star of future" in Ternopil.
UN Children's Fund is the main organizer of this contest, supported by Federation of football of Ukraine and the Ministry of Youth and Sports, also supported by French Embassy in Ukraine, International Alliance for HIV / AIDS in Ukraine and the Office of the UN High Commissioner for Refugees (UNHCR), the team of pop stars "Maestro".
We decided to ask Vyacheslav Fedchenkov, social worker of Caritas Kyiv about the rationale, progre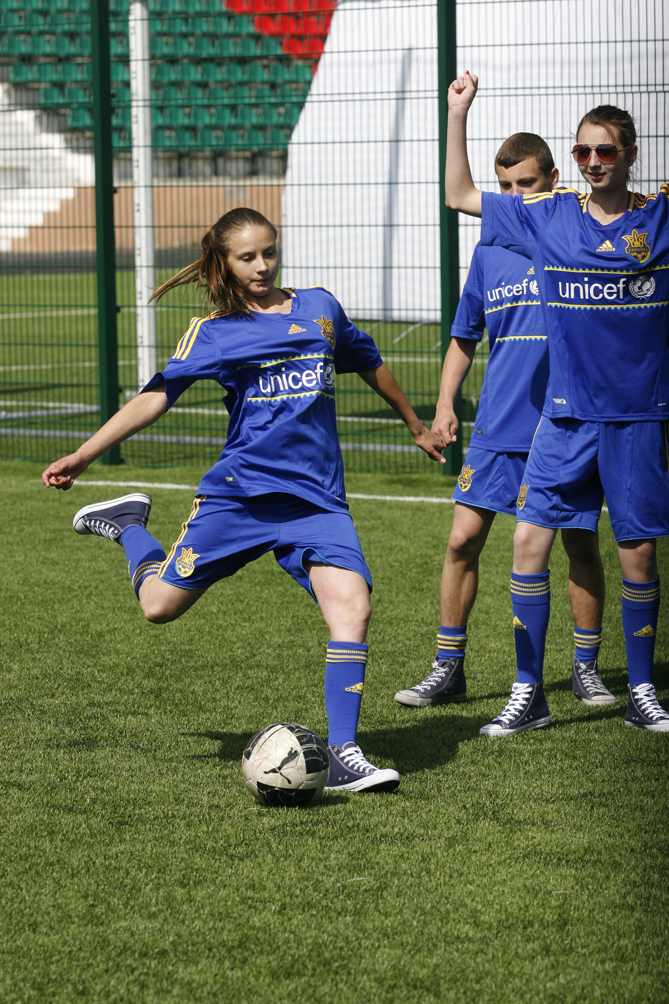 ss and experience of such tournaments.
Who needs these tournaments and whether they help in solving the problems of crisis or "street" children?
The main purpose of the tournament is to draw public attention to the problems of disadvantaged children and young people in Ukraine. This year's tournament was accompanied by a surprisingly strong support, especially in social networks. On facebook UNICEF presented the team members and submitted relevant information about youth issues and child protection in Ukraine. Competition was also covered by a network twitter, keyword #UNICEFCup. The event at the Bannikov stadium received media coverage by traditional media: Ukrinform, newspapers "Visokiy Zamok" and "Komsomolskaya Pravda in Ukraine", online broadcast was provided by resource betv.com.ua. Over the course of the tournament and issues generally followed few thousand people of audience!
And who are the participants of the tournament? What is meant by "crisis youth"?
In each of the 11 tournament teams – girls and boys, including orphans and deprived of parental care, children with disabilities, children from orphanages, refugee children and children affected by HIV.
Caritas Ukraine is working with families with crisis, poor, homeless, fatherless children and youth for over 10 years now. There are 12 centers in different cities of Ukraine (Kyiv, Donetsk, Lviv, Khmelnytsky, Ternopil, Ivano-Frankivsk, Kolomyia, Drohobych, Stryy, Boryslav, Brody, Novovolynsk) with sufficient technical and methodological basis for qualified psycho-social work. Each year, the work covers more than 1,000 children, plus you should count their families and loved ones – we are changing environment of needing child in complex.
Vyacheslav, and how do you think what is the correlation between resources spent on organizing such events and assistance to children and youth who live in times of crisis?
Comments of invited guests and organizers reflect that the purpose of the event – to draw public's attention to the problems of Ukrainian crisis children and young people, is achieved. In addition, such measures help to increase the role of football in educating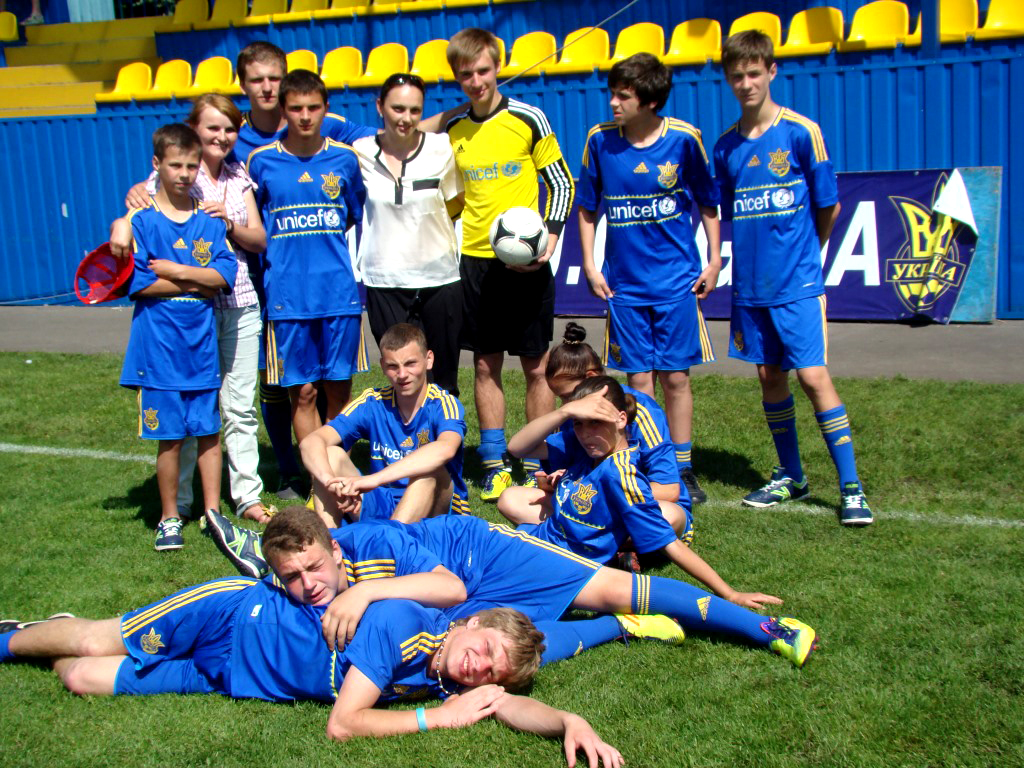 the virtues of responsible and mature young men and girls, it also shows the importance of a healthy active leisure.
It is impossible to correlate, what is more important in this situation – to give "street youth" a computer and in this way support his future professional realization, or use the same amount of money and send him to a Christian summer camp or, indeed, to invest in his annual training in the football team. I think you need to invest resources in various forms of support to crisis children and young people, and at the same time systematically plan the work in order to effectively pool resources of the government, donors, civil society activists, and other Ukrainians.
And simply, as the tournament guest Alexander Shovkovskiy said: "In football there is great potential to improve the lives of children. Especially those who endured difficult life circumstances. They are winners because they do not surrender on the life field".
How did the last Kiev tournament finished?
After intense struggle in the semifinals and finals the team "Troeshchyna" earned their deserved victory in Kyiv. The second place took the players of "Internat" team from Mykholaiv. The third – our "Mria" team founded and supported by Caritas Kyiv (note – a major role in the functioning of the team played Initiative of "Winner Automotive") Depending on the strength of the winners and other participants, the third place still can be considered a very good result. And I'm also extremely pleased that the tournament was attended by our colleagues in Caritas Kolomyia and Brody, by the way!
All team members received prizes from UNICEF, heard greetings from officials from UNICEF, FFU and their idols musicians. Especially it was pleasant to see the famous "Dynamo Kyiv" player Alexander Shovkovskyy, who participated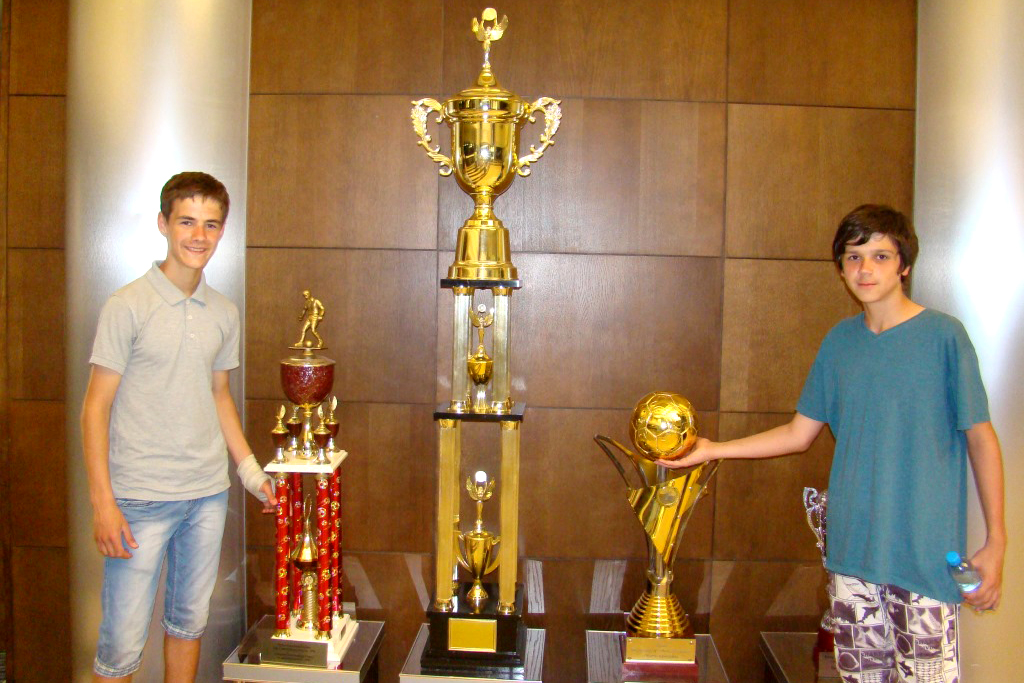 in rewarding ceremony. Footballers of "Mria" team, apart from the gifts from organizers, were also presented with a "football" cake and greetings in the social center of Caritas Kyiv.
Also the doors of museum of Football Federation of Ukraine, which contains trophies and sites associated with major successes of Ukrainian football were opened for young players on this day. After that, the room of FFU was turn into celebration hall where players were enjoying feast.
Recordings of finals and awards at betv.com.ua.
Photo gallery of Ukrinform.
UNICEF Photo Gallery.