02.02.15, Lviv region
The small village Krymske (in Novoaydarsky district, Luhansk region) was an average settlement, and its inhabitants had no idea that one very unlucky day their village in particular will appear on front line of the war. Today almost every news feed tells about massive destructions and troubles of this settlement.
First Krymske was occupied by separatists from self-proclaimed Donetsk/Luhansk People's Republics, and was liberated in October by Ukrainian army. However, until now this territory is suffering from daily attacks and bombings from the side of terrorists. For several consecutive months the life here is like motionless, the only you can see are destroyed houses, splinter of missiles and only sounds you can hear are rocket salvos. But you can see also the signs of life in Krymske where exhausted, intimidated and unfortunate people still live. They are living in the basements for the long time, without gas, light and water and only joy for kids is riding the Ukrainian armored vehicles.
"The first time when we were fired, we hid behind the house, in the garden. During intensive shelling we all escaped to the basement. When all ended we went outside. Then we became accustomed to missiles and bombs. Today my cherished dream is the end of war. And I hate Russia and its entire regime "- sadly tells Dennis, the boy dressed in Ukrainian army uniform in disproportionately large army boots. He received it from the Ukrainian soldier, because had no clothes in which to get to Lviv – where he and more than 20 people were invited by Caritas of Sambir-Drohobych Diocese.
Recently Caritas Drohobych greeted children and their parents from Krymske. They spent 10 days in Galicia and were able to see the most picturesque places in Western Ukraine: Drohobych, Truskavets, Skhidnytsya, Boryslav, Lviv. Mothers who came with their children, were very silent, unsmiling and incommunicative. When asked "Do you like to be here?", the only one brief answer was "Yes, all is well".
"The overriding necessity for us was to find families who have agreed to greet children of war in their homes. And we did it incredibly fast! Then we had to find money to pay for the visit and accommodation of families. Then to create intensive but unobtrusive program in order to create a possibility for our guests to forget the sound of bombing for at least few days and sleep without fear of new missiles" – Natalia Holynska, Executive Director of the local Caritas says.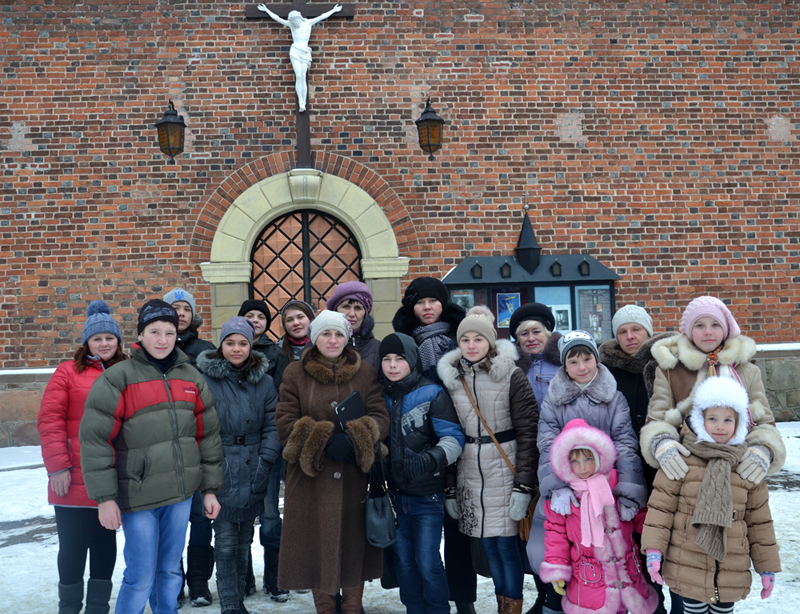 Caritas Drohobych works with displaced people from Crimea and Eastern regions of Ukraine from last May. The focus is concentrated on the most needy – pregnant women, single mothers, large families, families with handicapped and disabled members, pensioners. Centre in Drohobych is one of nine such Ukrainian centres supported by Caritas Ukraine.  Assistance for more than 6000 IDPs is provided in the framework of projects implemented in these centres.
The purposes of this activity of Caritas Ukraine are:
•    Coverage of basic needs of internally displaced persons (food, clothes and shoes, hygiene kits, and also accommodation and transportation services).
•    Provision of legal assistance (counseling and support with documents) and social support (assistance in adaptation, help with employment).
•    Psychological support and counseling for vulnerable IDPs affected by the conflict (include primary diagnostics, group and individual work work with children and adults).
"As soon as we arrived here, we feel somehow uncomfortable, because – frankly to say – we a bit afraid of Western Ukraine. But now I'm feeling great! The apartment where I live now is like the one I was born, because it is so warm and cosy here. Of course there is a difference between Eastern and Western Ukraine – people here are wealthier,  large and beautiful houses are anywhere, you are more open and more smiling. You have beautiful nature, especially mountains, and even different air.
In Krymske many of our relatives are left and we here always think about them and the situation in our village. My son in law decided to go to fight for Ukraine and I'm worrying and praying for him every day. Now our village is controlled by Ukrainian army, actually they recommended us to come here "- says Valentina, who together with granddaughter Eugenia recently visited Caritas of Sambir-Drohobych Diocese.