02.03.12
Recently a conference called: The Elderly in Ukraine: Our people or strangers, was held in Kyiv. It was organized by the German Remembrance, Responsibility and Future foundation (EVZ) and the nationwide Age Concern Ukraine organization. Dzvenyslava Chaykivs'ka and Rostyslav Dzundza, Caritas representatives made presentations at the event.
Results of a survey conducted by professionals from the Institute of Gerontology (IfG) of the University of Heidelberg in partnership with eastern European professionals were presented. For three years they collected data in Belarus, Russia and Ukraine as part of the Meeting Place: Dialogue program which is supported by the Remembrance, Responsibility and Future foundation. They found that projects which involve members of different generations positively influence the self image and self worth of the elderly and encourage them to be active in civic life.
"The program Remembrance, Responsibility and Future allows the elderly to shar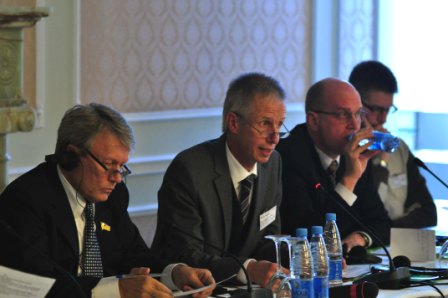 e their memories of the war and of their suffering with the younger generation, and for young people to benefit from hearing these histories," says Dr. Martin Salm, Chairman of Remembrance, Responsibility and Future.
The conference examined Ukraine's social policies that affect the elderly and discussed how to resolve the circle of problems that the elderly encounter.
Valeriy Sushkevych, Committee Chairman for the Parliamentary Committee on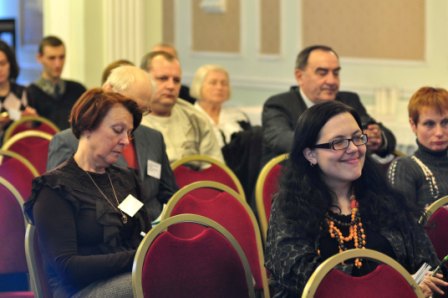 the Retired, Veterans and the Disabled and Ol'ha Krentovs'ka, Director of the Department of Strategic Planning of the Ministry of Social Policy of Ukraine took part in the conference.
Meeting Place: Dialogue's Project Coordinator in Ukraine presented theoretical and practical models for re-socializing elderly victims of Nazism, increasing their social status and image and developing a dialogue between the young and old.
"The event was very interesting. The Remembrance, Responsibility and Future's report presented the real situation that Ukraine's elderly population faces. Unfortunately, there are more problems than s
olutions.
The conference's real benefit came from the round table which created a work group to lobby for the interests of the elderly in Ukraine, to advocate for their needs," said Ms. Chaykivs'ka.
Video report of the event can be viewed here.