07.11.13, Ternopil
Caritas in Ternopil teaches its clients not to focus on own needs and to take care of others. Participants of "Mobile work with youth" project are children and youth from disadvantaged and crisis families. They created a really good tradition not only to receive help from Caritas, but to help and get involved in implementation of important social initiatives.
Natalia Kotsyuba, coordinator on work with children and youth in Caritas Ternopil, retells: "Coming in social center children don't expect to get something only for themselves, but are interested to take care of other people. This care can be manifested in different ways. Once we were cleaning riverwalk of Ternopil pond from litter, collected old and unnecessary things and products, another time – we delivered required things to animal shelter. Lately, we participated in charitable marathon."
This week team of enthusiastic people from local Caritas rendered an already planned visit to Ternopil geriatric rest home. The day before youngsters together with social worker were baking sweet presents for people who dwell in the care home. On the next day children, stuff and director of Caritas Ternopil visited these people. They prayed and, afterwards, children presented the sweet things.
Project "Mobile work with youth in Ukraine" seizes 5 social centers in Kyiv, Donetsk, Lviv, Khmelnytskiy and Ternopil. Every year hundreds of crisis children and teenagers, project clients, receive assistance to cope with own life d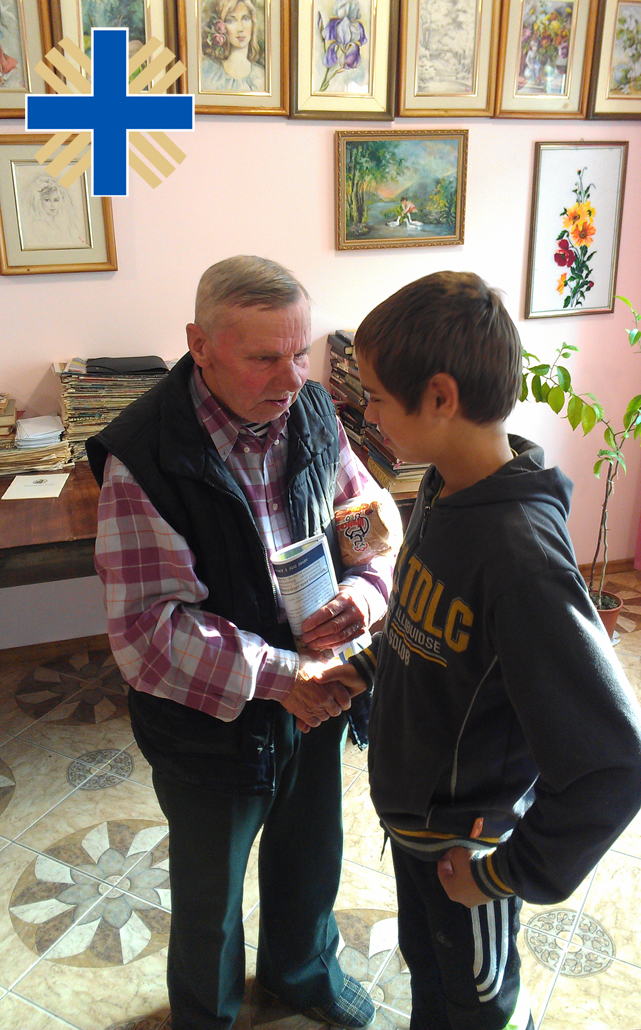 ifficulties, some hundreds needful individuals get consultation or target help.
Securing basic needs, information support, psychological and legal consultations are foreseen services in social centers on assistance to crisis children, youth and families; moreover, conditions for spiritual and artistic development of clients are created.  Group and individual approaches to social work are being used. The objective of such activities is to open positive resources of young individual in need, coping with psychological difficulties, acquiring knowledge and skills that favor social inclusion, healthy lifestyle, rational management of time, resources and possibilities, professional fulfillment. Children and youth get involved to educational, entertaining, sport, cultural and touristic events in social centers of Caritas and outside it.
"Recently we have visited elderly people and it was a great pleasure for them. Attention is the best present we can give to these people, showing our personal involvement. At least to their experience, knowledge and challenges they overcame. I don't think this is our last visit, because clients of the geriatric rest home invited us to come one more time. Also my friends and I are willing to do this!" says 18-year-old Yulia that joined Caritas Ternopil some years ago.
Caritas in Ternopil started its activities in 1994. Work was launched with functioning of charitable refectory and rendering humanitarian aid in form of clothes, shoes and food products for needful people. Now the activities implemented are focused at securing of social services, consultations, education and training activities for people who found themselves in crisis living circumstances. And principles of work have changed – from instant episodic impact of the assistance provided to complex and systematic programs of care for individuals in need.