08.08.13, Kyiv – Ivano-Frankivsk region
Caritas Kyiv organized trip to Carpathians, recreation and leisure in 'Edelweiss' camp (Mykulychyn village, Ivano-Frankivska oblast) for its clients in July. It is the third summer set off, but in previous years groups from local Caritas dwelled in Zarichya village (Ivano-Frankivska oblast): tourist and training events were held by Caritas employees.
This year social worker and two volunteers accompanied group of 20 children and teenagers from large and crisis families, in particular, players of 'Mriya' football team. But in Mykulychyn local teachers, – professional, experienced and harmonious team, – were involved in activities with children.
'Edelweiss' tourist and health complex, where Caritas Kyiv clients stayed for 10 days, granted children with unforgettable moments: hiking in the mountains, walks to waterfalls and Prut river valley; fireworks in the evening of camp opening; new competitions, discos and sport contests every day. Children and teenagers were able to find the most interesting activities, recognition and friends – that will stay in their mind for all life.
Viacheslav Fedchenkov, Caritas Kyiv social worker, retells: "It is no surprise that the first day was marked with disappointment and tears: children compared this year camp in 'Edelweiss' with previous trips, where they had other conditions and more self-management. The youngest participants missed their relatives. However, everybody got used to the rhythm of life in 'Edelweiss' and had n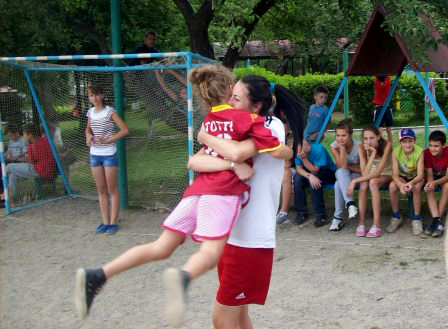 o time for sadness.
Our clients didn't reveal their talents in entertaining and creative contests, only at the last disco party elder girls (5 people) and their tutor impressed everyone with well-conducted dancing performance. Nevertheless, they played great at sport yards: the eldest girl football team (14-16 years old) beated three teams of opponents, and didn't miss any ball (scores 4:0, 4:0, 2:0). And the youngest 8-year-old girl, who is our client, became the best 'bomber' in her team (4 goals)! Boys, unfortunately, didn't have chance to play football, but in few training matches proved their superiority; they also successfully played in tennis and badminton outside sport contests."
Tourist program of the summer camp for crisis children provided everyone with possibilities relevant to their age and conditions: the youngest visited Guk waterfall, crossed the Prut river suspension bridge, strolled in the foothills; the eldest participants additionally saw Yavirnyck mountain uplift; conquered Dovbush cliffs and Makovytsya mountain, and the most resistant went to Goverla mountain. This journey on foot was possible thanks to good will of camp organizers and wonderful weather conditions.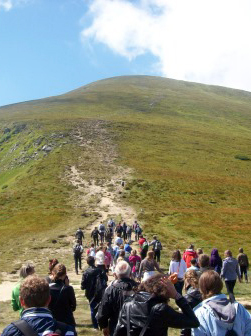 Caritas Kyiv tutors enriched training activities of 'Edelweiss' teachers with personal talks and group lessons, particularly targeted at friendship and gratitude topics. Moreover, kids visited Sunday church service in Mykulynychyn cathedral.
The last day in Edelweiss was difficult in the same manner as the first one. Farewell with camp, tutors and friends was frank and full of tears. "In comparison to our last camps Edelweiss became a winner. Despite restrictions and tough schedule, program was incredibly exciting and interesting, filled with communication and memorable impressions," says Slavko Fedchenkov.
Children received diplomas, souvenirs and almost 1000 photos made by tutors during these ten exciting days as a memento for recreation time.