21.06.2016, Ukraine
In June Caritas launched the second phase of the project "Implementation of Case Management Approach to Work with IDPs" supported by the UN Development Program (within the project "Rapid Response to Social and Economic Issues of Internally Displaced Persons in Ukraine"). The project is implemented in Kiev, Odessa, Kramatorsk, Dnipro and Zaporizhia.
The project aims to promote a comprehensive response to the problems and needs of IDPs by implementing an integrated approach to case management in the public and private organizations that provide services to IDPs and the creation of jobs for case managers based on such organizations in five regions of Ukraine. "An important component of the project is to attract specialists to lobby for the implementation of case manager positions in the city administration or acquisition of case management social services in the NGO sector by state organizations", – commented social worker of Caritas Kyiv Alla Kochubey.
During the project implementation, almost 500 IDPs families receive support in case management. It is assumed that each case manager will accompany at least 15 families of IDPs for 5 months of the project duration. At the end of the project, working report and recommendations to further support of each IDPs family will be prepared.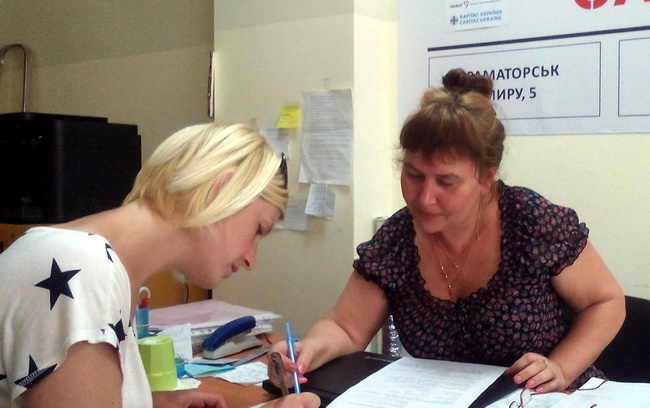 The main objectives of the case management approach are:
– To develop opportunities and abilities of clients to apply different approaches to solving problems;
– To encourage clients to participate in community life and communicate with its members;
– To build contacts of clients with social systems for obtaining services and resources.
– To give clients knowledge and skills to solve their problems and needs in the future.
"Nowadays a lot of people find themselves in a crisis, and therefore they do not know what to do. What seemed to be easy at first, then it is very hard and tensely to do. This is where "case management" can be of great help. After working with the client, he will have all the necessary skills for a normal existence in a new society, in the new circumstances. Therefore, I believe that it is a necessary program especially at the present time, "- said psychologist of Caritas Odessa Oleksiy Tykholaz.
To participate in the project internally displaced persons need to have their basic needs satisfied and have two or more problematic requests for long-term work. Case management for internally displaced persons does not provide financial aid (monetary or humanitarian). Its aim is to support them in adapting to new environmental conditions.
The project "Rapid Response to Social and Economic Issues of Internally Displaced Persons in Ukraine" implemented by UNDP and funded by the Japanese Government in partnership with the Government of Ukraine, and regional and local authorities.