10.10.2014, Volyn region
For two years Caritas Volyn has been taking care of dozens of victims of totalitarian regimes. Special meetings, hobby groups, discussion clubs, cultural and educational events, excursions and lessons of exercise therapy. In general, apart from local Caritas employees, such activity seizes 70 victims of totalitarian regimes, 13 elderly and 10 young volunteers.
Beneficiaries who are victims of totalitarian regimes receive social and household, humanitarian, socio-psychological, informational and legal types of assistance. By visiting "Dovira" center great number of participants became more open, acquired an active life philosophy and willing to participate in center's events and excursions – therefore, their circle of acquaintances and life turned to be more interesting and highly-charged. The majority of beneficiaries have recently improved their relationships with relatives, believed in own abilities and personal importance; and they get ill less often.
And what is significant – local Caritas managed to assist the most needful participants of "Dovira" center: victims of totalitarian regimes had own material status improved by receiving humanitarian help; assistance in form of cleaning of accommodation, purchasing of food products, doing personal hygiene procedures was rendered; legal support and protection, as well as consultations from various state services were provided.
One winter night, in December 1947, People's Commissariat for Internal Affairs loaded a family of 78-year-old Ganna in the baggage train and transported them to Siberia (Russia) for three weeks. Children were hungry, but had nothing to eat. Locals came and with own free will threw bread in the compartments to save people who were kept there from dying. Children were actually dying in the compartments because of unfavorable conditions, and their cadavers were throwing out at the nearest station.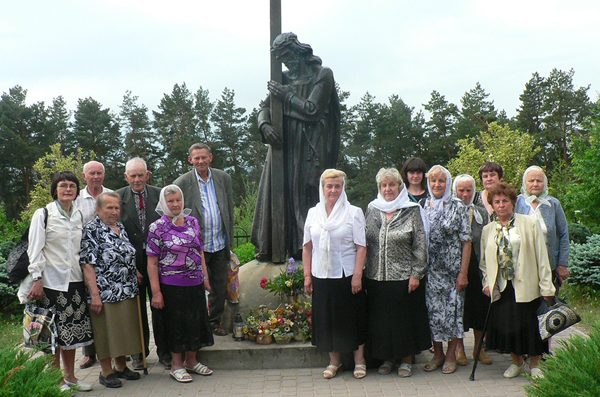 11-year-old Ganna clearly remembered that her father was killed by Soviet occupants for his participation in the Ukrainian Insurgent Army, local school was burnt down and village households were robbed. Her young destiny faced much pain, disappointment and harm.
When they moved to Siberia, being exhausted and not ready for such great frosts, children often got ill. Mother didn't have a stable job, that's why they were cadging regularly. They managed to come back to Ukraine 23 years later, being absolutely desperate of human kindness, social justice and right for a decent life.
Nowadays Ganna Mykhaylivna is grateful to her destiny because she can live on her native land, communicate with relatives and share own life experience by means of work of local Caritas.
"For the period of "Dovira" center activity we managed to attract attention of the society to the problems and needs of victims of totalitarian regimes by means of cooperation with media, organization of special trainings, public events and integration meetings with youth and children. Interests of elderly people were presented in state authority bodies and other civic organizations. Also work of this project contributed to the development of volunteer movement among war veterans and other pensioners by organization of self-help groups," retells Victoria Skrynnikova, coordinator of "Dovira" center.
After two years of being involved in work of "Dovira" center half of participants – 35 people – expressed a willing to join patriotic education of youth, organize meetings with them in educational establishments, share own enormous life experience. Thais is also an outstanding issue of Caritas Volyn activity: to encourage dialogue of generations, self-organization of local community and care of seniors.