03.09.2015, Ukraine
During the Episcopal Synod of the Ukrainian Greek-Catholic Church that was held in Ivano-Frankivsk this year Andriy Waskowycz reported that among the main fields of activity such as assistance to children and youth, healthcare and dealing with social problems of migration, emphasis of Caritas Ukraine work shifted to overcoming of humanitarian crisis in Ukraine as a result of EuroMaidan events, annexation of Crimea and military actions in Donbas region.
According to Caritas Ukraine President, nowadays we say that over 5 millions of Ukrainians are affected by annexation of Crimea and military conflict in Donbas area, and are in need of help. People who continue living on occupied territory and on the fire line, have no possibility to move – are in the most complicated condition. There are nearly 3 millions of such people, and these are predominantly lonely seniors, single mothers, disable persons and large families who have nobody to address for help and support.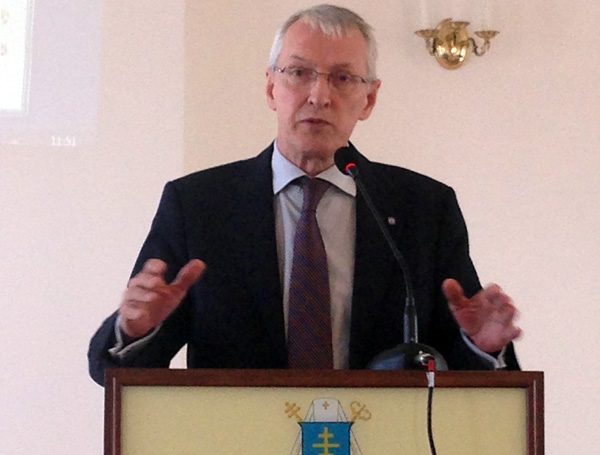 "As a response to humanitarian crisis in April 2014 Caritas Ukraine provided assistance to victims and also families of the deceased during EuroMaidan events. In May after annexation of Crimea Caritas Ukraine started rendering help to the first wave of IDPs, the majority of them were Crimean Tatars. With the beginning of summer when a military conflict in Donbas got worse and the number of the displaced grew significantly, Caritas Ukraine activated own work on the provision of assistance to victims of military actions. In general, acting Eparchial and Exarchy centers of Caritas in Western Ukraine, Kyiv and Odesa were involved to the assistance projects, moreover, new regional offices in eastern Ukraine were opened.
As of these days, Caritas Ukraine has helped and continue assisting over 115.000 persons, affected by military actions in eastern Ukraine and annexation of Crimea. Each day hundreds of workers with the support of our partners and donors render aid to tens of thousands of victims of humanitarian crisis in Ukraine. At the same time, consistency and complex approach are specific characteristics of our assistance," he mentioned in his speech.
Caritas Ukraine President Andrij Waskowycz also thanked bishops for their support and emphasized that work implemented by Caritas Ukraine these days became possible with the support of Caritas organizations form different countries, for example, from the USA, Germany, Austria, Italy and Spain. "This helps us to respond on big challenges we face, notably humanitarian crisis related to military actions in eastern Ukraine," he said. "But today and from now on we have to put in more efforts to help those who are in great need, prevent further escalation of military conflict, advocate rights of all victims of military actions and support people in manifestation of solidarity and mutual support that we haven't experienced before. Each of us, hierarchy and parish of our Church should join action on overcoming of the biggest humanitarian crisis in Europe," added Andrij Waskowycz.