21.10.2013, Ivano-Frankivsk
Caritas Ivano-Frankivsk has recently launched "The future of good work is in your hands!" charitable program. It is aimed at collecting money for work with disabled youth. Last year the similar fundraising campaign united local community and private philanthropists; 107 thousand UAH were involved in social adaptation of children and youth with mental development problems. The year of active work passed, money was effectively used; new plans, achievements and scope of required tasks in service to the disabled needful individuals are expected ahead, – it is said in local Caritas.
For some years over 60 young people with special needs have been under care of Caritas in Ivano-Frankivsk, one third of them are clients of Ivano-Frankivsk Geriatric Home.
Young people in "Center for leisure and social adaptation for youth with special needs" receive qualified help and support from social workers. During classes in creative labs they work with instructors, social teacher and psychologist; individual lessons and trainings are organized; leisure and summer recreation are provided. Volunteers bring happiness of face-to-face communication for youth with special needs in the framework of "Buddy program: It takes Two!".
Under the guidance of social workers and volunteers, disabled youngsters master simple skills of self-service. They learn to get dressed, cook easy dishes, iron clothes, use public transport, make small purchases, and keep the house. Actions that seem rather common for us become a great problem for people with failures of development. Furthermore, in Caritas particular attention is paid to work with parents and caregivers of youth with special needs, because only complex efforts contribute to successful integration and rehabilitation of these young people.
"The future of good work is in your hands!" charitable program was launched on October 14 and considerable contribution to the fundraising initiative was made on the following day. On the day of Church holiday of the UGCC local community 1976,50 UAH were collected to continue work with disabled youth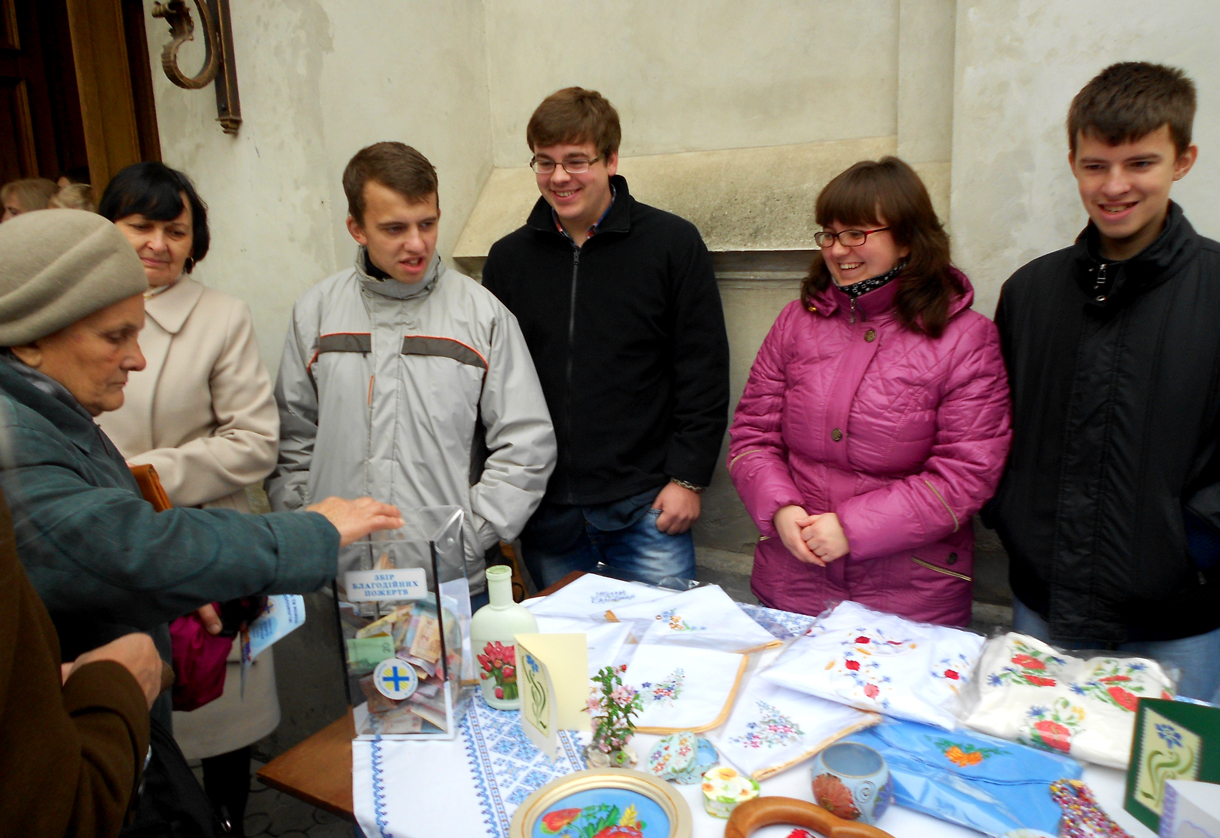 in 2014. Children, parents and Caritas employees shared a joint prayer with parish, and after a Holy Liturgy they organized charity exhibition and fair of hand-made goods.
Natalia Kozakevych, Executive Director of local Caritas, retells: "We don't stick to the opinion that nobody never wants to assist us in social work. It is important to find certain pathways and messages to people, and then everyone, according to his/her possibilities, is open to help the neighbor! That's why it is the second time we start this charitable program and we are convinced in its significance and efficiency. Moreover, blessings and support of Archbishop Metropolitan Volodymyr Vijtyshyn from Ivano-Frankivsk are essential for us."
Managers of the initiative ask for three types of assistance: volunteering, help in information distribution and organization of fundraising campaign and directly financial support. You can support the activities of Caritas Ivano-Frankivsk for people with special needs, by making charitable contribution on the account: current account 2600805250617, PJSC "Kredobank", MFO 325365, code 13652164.
If you are willing to deliver your donation in person – we are waiting for you at the address:
– Ivano-Frankivsk, Lesi Ukrainki Str.1; telephone number for inquiries – 50 25 46
– Ivano-Frankivsk, Kryhivtsi Village, Kryhivetska Str. 102; telephone number for inquiries – 77 99 89.