24.06.13, Lviv
Recently Lviv Caritas organized another friendly football match. The event was dedicated to the protection of children, but as they say here – they are engaged in protection of children's rights for the entire calendar year. Two teams of kids were involved In a football competition – Family House "Pokrova" and wards of the "Mobile work with youth in Ukraine" Caritas Lviv of the UGCC. In general there were 30 teenagers. This was preceded by 3 weeks of persistent systematic training.
Nazar, 15 years old, came under the care of Caritas in 2010. The teenager spent most of his time outdoors in the company of children who smoked, drank alcohol and took drugs, most of them are registered by the police. In his family all relationships were reduced to different types of violence, and that is why he regularly ran out of the house. Mother of a teenager had divorced, drank alcohol, so basic care Nazar got from his grandmother.
The boy was in the care of the "Mobile work with youth in Ukraine" during the raid of Caritas.
In the course of work with the boy, it was revealed that he admires street football. Thus he was involved in a football team Caritas. Training, schedule, sports discipline, and the opportunity to improve his skills fundamentally changed the nature of adolescent behavior. He quit smoking, gained positive team interaction skills, became a leader among peers and became a good helper for employees.
The tournament took place in Lviv, Pogulyanka region. At the meeting sounded a hymn of Ukraine, which was sang by all the contestants. Later teams greeted each other and began the play.
"It is no secret that in today's world children most of their free time spend on computer games, the Internet or watching TV. Therefore one of the objectives that we set ourselves at work is to teach children from disadvantaged families live a healthy lifestyle , play sports. Also, training and competitions allow adolescents to improve their character traits, discipline, endurance performance. For us it becomes a tool of social work," says Vitaliy Herasymiv, member of Caritas.
Currently organizational issues for new tournaments and competitions with children of other children's institutions of the city are discussed. The initiators are convinced that complex work with children in social centers in Lviv and other cities of Ukraine, and in particular football, promote adaptation of problem children, changing their outlook and character.
In Ukraine today there is about 8 million children, of whom 60,000 – are at risk. More than 100,000 of them are orphans and children deprived of parental care. More than 96,000 of them are in boarding schools. No official figures for "street children", but most experts agree that their number reaches 100,000. Of these, 22% of adolescents who take drugs, 65% of girls engaged in prostitution, and every third girl with sexual experience confesses that she was pregnant. Street youth is a "base" of HIV, because 18.4% of this group is infected.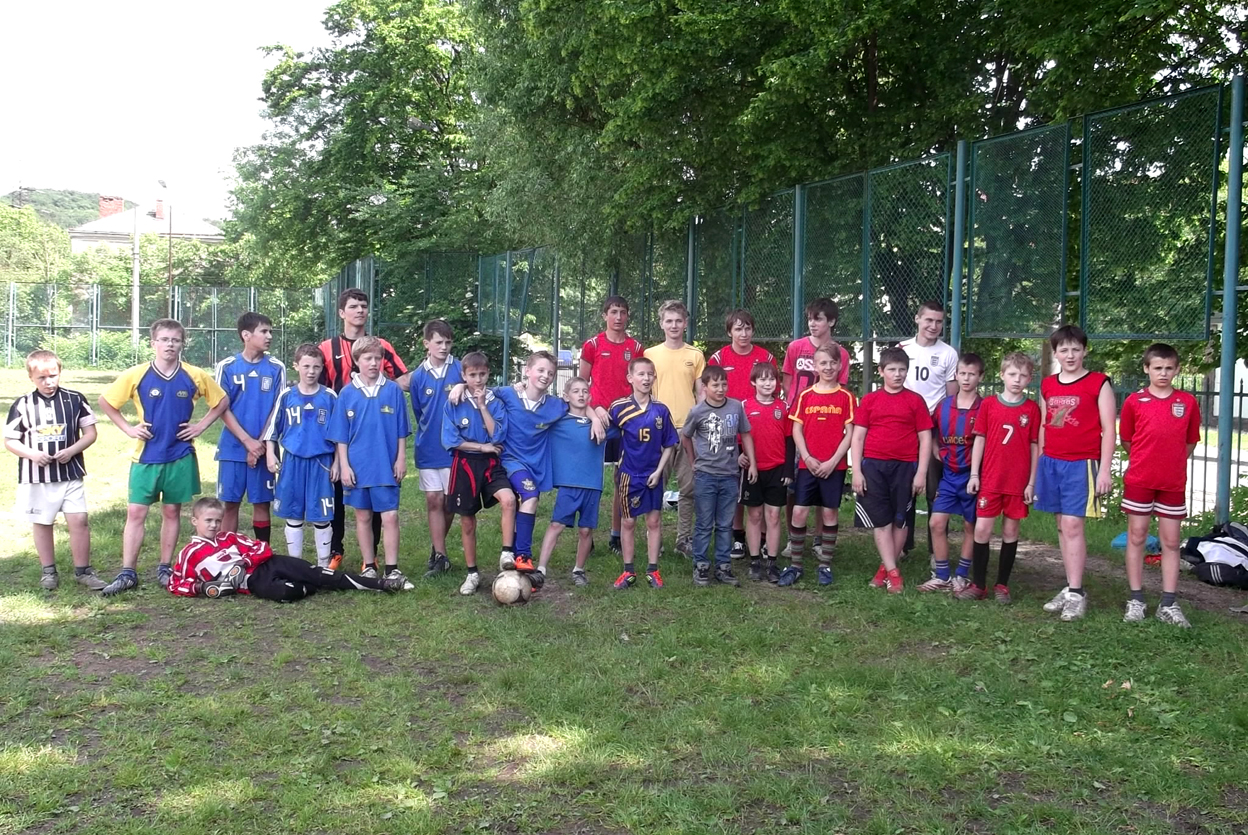 Background:
Family House "Pokrova" works in Ukraine since 2008, based by Salesian monastic community of the Ukrainian Greek Catholic Church. Funded by the Ukrainian and foreign patrons. Today, in a family house live 39 boys, aged 7 to 17 years. They live at the belfry of the church, and study in secondary schools of Lviv.
Caritas Lviv UGCC was founded in 1999, and is funded by benefactors from Germany, France and Spain. It's objective is to support "street children" and children in crisis, or from poor and large families. Every day 25-35 children are provided with comprehensive care by providing food, medical monitoring, improving social conditions in families, psychological support, studying in computer class, participation in cultural and recreational activities.