10.10.2016, Ukraine
On October 1 each year, the world celebrates International Day of Older Persons declared by the UN. Each year this day becomes more and more urgent, while the problem of the aging turns into a global challenge. On the one hand, it is worth to focus more at the assistance and support. On the other hand, it is important to help them remain active members of society overcoming the psychological limit of old age. Ever more urgent the problem becomes for Ukraine. The latest statistics show that over 22% of the population are people aged 60 years and beyond.
Caritas Ukraine is always trying not to stand aside urgent social problems and considers assistance to the elderly as one of the top priority areas of its work. The most famous and longest Caritas Home Care Program has been operating for almost 20 years trying to improve the quality of life of people who find themselves in difficult circumstances: those who cannot leave the house because of illness or old age or who are alone and no one takes care of them. Qualified social workers help their wards at home; assist them in basic medical procedures and housekeeping. Meanwhile, employees of Caritas are trying to support older persons, so they were not just staying within four walls of their houses – those people, who are able to go out, are always welcomed in the premises of Caritas Ukraine. Employees of regional organizations also could not miss the feast and invited their wards to the small treat and cultural program.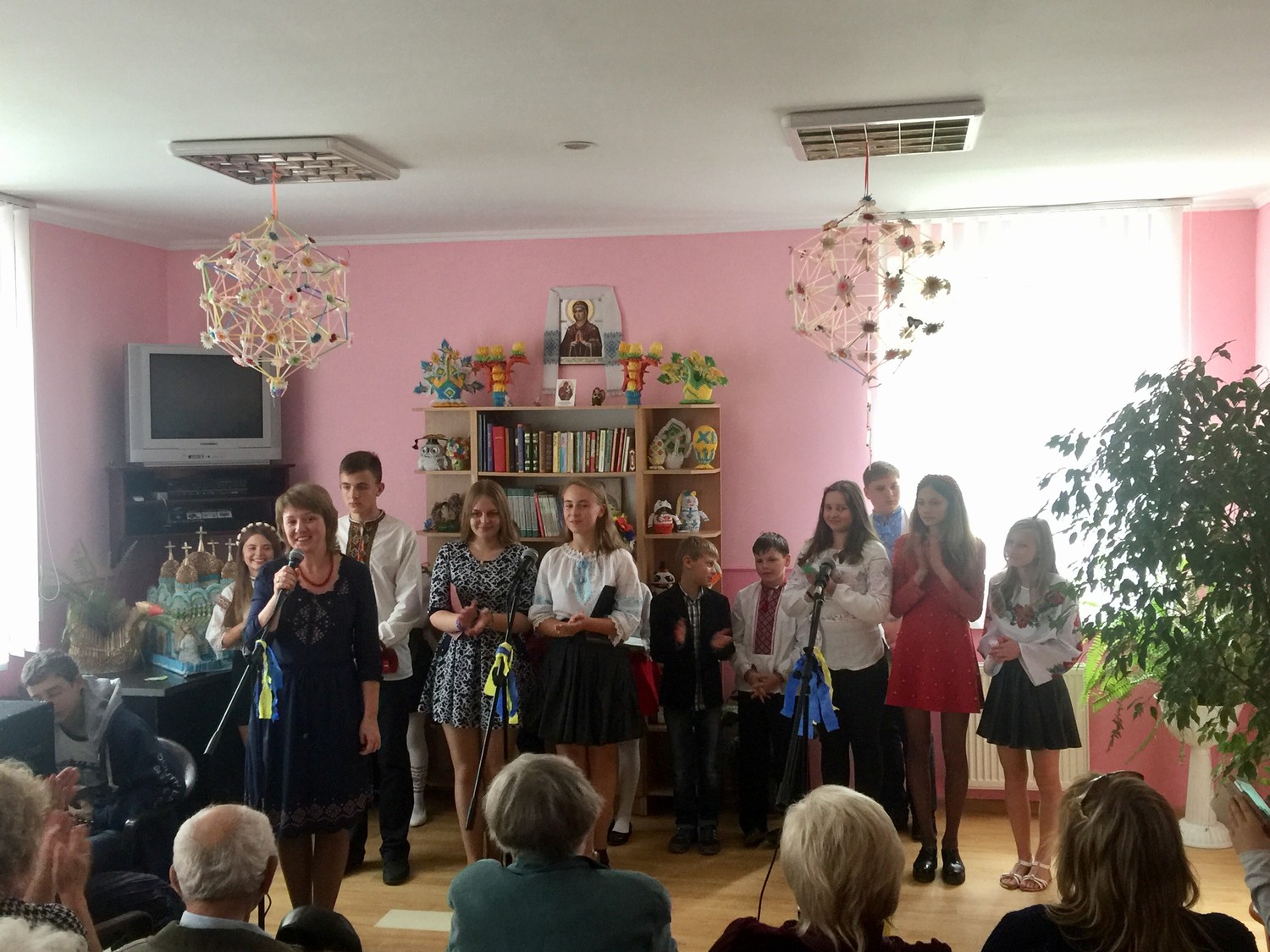 Caritas Kharkiv brought together employees, partners and wards to honor people, who have passed through difficulties of life. In a friendly atmosphere, guests were able to watch the concert prepared by local amateur actors and local volunteer center 'Razom' (Together), try tasty sweets and hear the sincere wishes of the director of the foundation fr. Serhiy Koval, who wished all present good health and God's blessing.
Caritas Boryslav welcomed its wards too. Traditional celebration has brought together so many guests that they barely accommodated in the hall of local Caritas. Obviously, the long tradition of honoring parents and grandparents lives and it is the key for preserving the spiritual values of Ukraine. For honored guests of the feast there were prepared a delicious dinner by Caritas staff and a concert by students of Boryslav Gymnasium. Caritas experience in working with the elderly people who need special care is well known and respected in the city. Thus, Deputy Mayor Roksolyana Harasymiv also visited the feast and wished everyone good health and all the best for many happy years. She appreciated the results of Home Care Program as well as cooperation of local social services with Caritas that makes assistance to people in need more effective.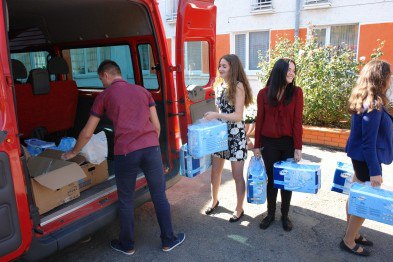 Nevertheless, for Caritas to help the elderly means not only to prepare concerts and treats. As part of the initiated by the local Caritas charity action "Youth Takes Care of the Elderly", students of three Ivano-Frankivsk Universities collected 3,465 UAH of donations. Money were spent to purchase about 300 diapers that were transferred to Ivano-Frankivsk Geriatric centre. The action was intended to attract the attention of students and the public to the problems of lonely and ill elderly people and to show an example of social service to people in need by students-volunteers. Students of Vasyl Stefanyk Subсarpathian National University, Ivano-Frankivsk National Technical University of Oil and Gas and Subcarpathian Law Institute joined the action. The action was implemented entirely by the students – they created flysheets, filmed videos and spread them in social networks. It not only allowed older people to feel attention and care, but also taught young people to help others. "We wanted to help elderly people the most, because nowadays society is helping military, raising money to ATO, while ordinary older people remain out of our sight. However, they need a lot of our support", – said Caritas volunteer and a student of Pedagogical Institute named after Vasyl Stefanyk Khrystyna Khmelivska.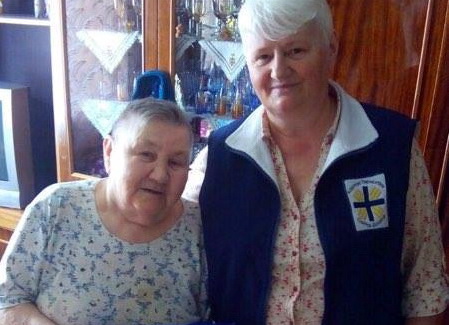 Caritas in Ternopil also participated in the social service on the International Day of Older Persons. At the expense of sponsors, Caritas employees purchased hygiene for their lonely elderly wards. Although it is not an action with flowers and concerts, but still such gifts help lonely and terminally ill people of Home Care Project to brighten difficulties of everyday life.
Meanwhile, Caritas Kyiv within the program "Meeting Place: Dialogue" supported by the German Foundation EVZ launched activities within the project "Creating a favorable social space for meetings and mutual support of victims of National Socialism, IDPs and persons with limited mobility functions." The main idea of the project is to help and support older people who are victims of National Socialism and totalitarianism. The project involves the creation of space with favorable and trustable conditions for the elderly by holding educational sessions, workshops, on-site meetings and visiting people with limited mobility and disabled at home and launching groups based on Caritas Kyiv. The European experience is that social interaction and psychological support are very important for maintaining the mental health of the elderly. Cooperation with the younger generation helps to develop further changes in perception and conditions of interaction between children and the elderly. In addition, it is important to create an environment of support in families with persons who have limited mobility or disabled and who are the victims of National Socialism and communism.
***
International Charitable Foundation Caritas Ukraine constantly expands nationwide social Home Care program that includes free medical and social assistance to lonely seniors. Now, the project operates not only in Kyiv, Lviv, Odesa, Ivano-Frankivsk, Ternopil, Kolomyja, Boryslav, Khmelnytsky and Dnipro but also in Kharkiv, Kramatorsk and Chortkiv. Thus, in the east of Ukraine, project is adapted to the needs of IDPs. Currently, Home Care Program workers are constantly caring about almost 700 elderly wards who have no relatives or close friends. More than 200 people of them are internally displaced persons in eastern Ukraine.
Activities of Home Care program are aimed at improving the quality of life of people who find themselves in difficult circumstances: those who cannot leave their houses because of illness or old age, and who have no one that can take care of them. At the same time, the program is an opportunity for a person to remain at home and receive free assistance without changing their usual home conditions for hospital or asylum. Social workers and nurses are working with most of the wards of the project, while with IDPs in eastern Ukraine work doctors and psychologists too.
The project is carrying out by qualified team that implements in Ukraine international practices of medical and social work modeled on similar programs in Germany, France and Austria. Caritas Ukraine works on the project for 17 years. During these years, over 13 000 people received support within the project activities.