On 28-29 May 2012 Caritas Ukraine offered journalists of regional and nationwide media outlets a press-tour to regional Caritas branches. Caritas employees noted that seven members of the press were very interested in the work being done by the branches. The two day tour included visits to Caritas branches in the cities of L'viv, Ivano-Frankivs'k and Kolomyya.

Tetyana spends all her free time here, even though she has little of it—she is raising a small son and teaches at a pedagogical college.
"At this time 14 females and 5 males aged 9-32 undergo treatment at the farm," continues Tetyana. "I am assisted by volunteers; Mar'yana Stefak, Anastasiya Nimchuk and Khrystyna Bents are my most active volunteers. I am very grateful to them! I hope that in the nearest future the number of clients we serve as well as the number of volunteers who make it possible will grow."
Tetyana is one of a few individuals in Ukraine that holds an internationally recognized certificate in both horseback riding and hippotherapy. She says there are many individuals who could benefit from hippotherapy in the area. There are very few facilities in Ukraine which offer this therapy and their charges are prohibitive. Currently there are nearly 15 patients with cerebral palsy, autism, Down's syndrome and other diagnosis receiving treatment at the Caritas farm. They undergo regular treatment and their self esteem has increased as a result.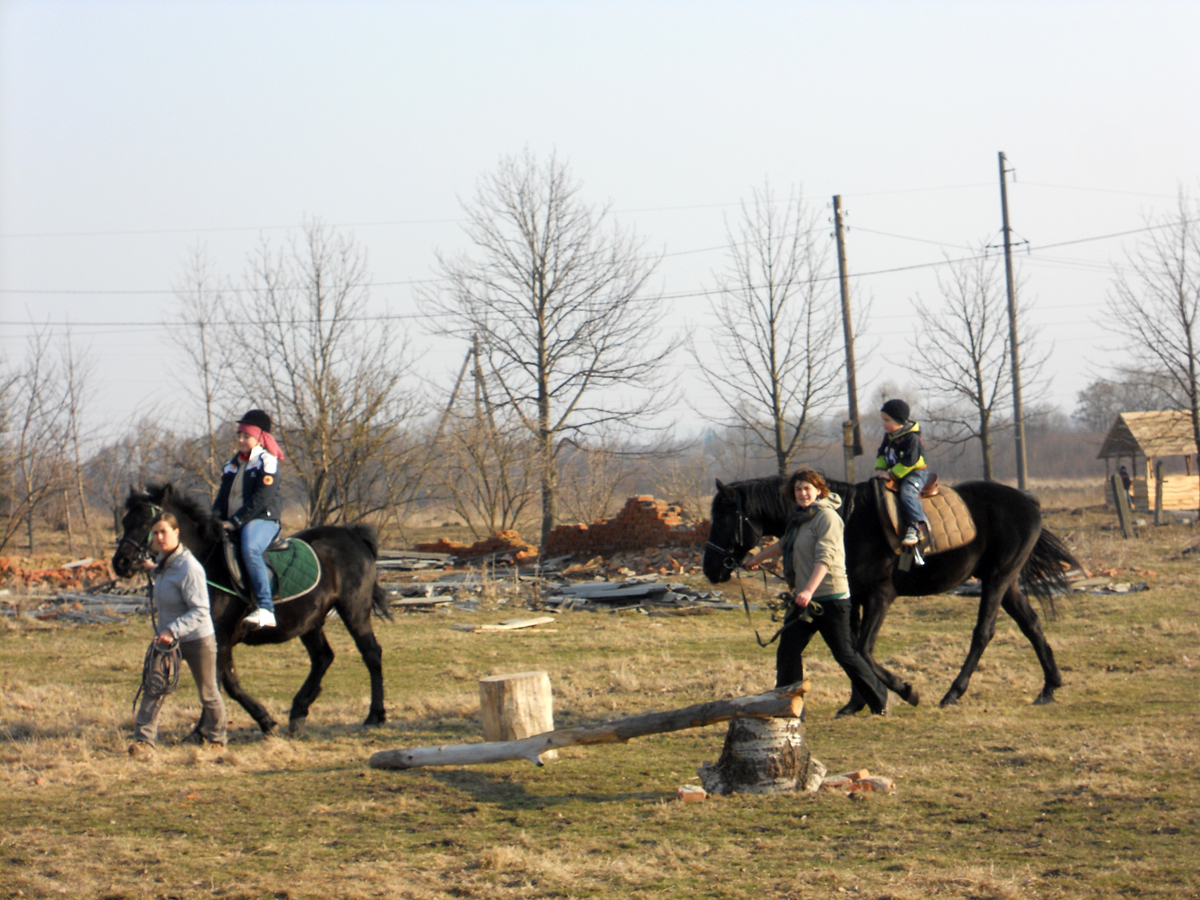 "Patients with a wide range of diagnoses can expect a faster and more steady improvement if they undergo hippotherapy," notes therapist Tetyana. "Therapeutic horseback riding can effectively treat gastrointestinal disease, cardiovascular disease and diseases and injuries of the musculoskeletal system.
Post operative patients can also benefit such as those with poliomyelitis, prostate and gynaecological diseases, scoliosis and osteochondrosis. Hippotherapy is also recommended for patients with neurological disturbances, and multiple sclerosis. It has proved to be very helpful in rehabilitating children who suffer from cerebral palsy, autism and mental retardation."

The therapist states that the benefits of hippotherapy are observable because horseback riding requires the rider to pay constant attention to their basic reflexes. This plays a big role in treating patients who suffer from disorders of the motor system.
It is for this reason that Tetyana hopes that the general public will come visit Kovcheh so that they can become familiar with hippotherapy and each of the horses and just to give themselves a rest.