21.07.2014, Ukraine
Last year a pilot project "Wheel-chairs for people with special needs" was launched in Caritas Ukraine. It was initiated and financed by the Canadian Wheelchair Foundation. With help of this charitable initiative 280 low-income individuals received for chargeless use special wheel-chairs that are made of high quality materials, with folding construction for comfortable transportation, with adjustable foot support and flexible kneeboards to facilitate access.
Canadian Foundation secured purchasing of wheel-chairs, and Caritas Drohobych was involved in their delivery, customs clearance and provided a warehouse room for storage of beneficent aid. Wheel-chairs were distributed by Caritas organizations, notably – Caritas of Sambir-Drohobych Diocese (90 items), Caritas Lviv of the UGCC (70 items), Caritas Volyn (60 items) and Caritas Kyiv (60 items).
But, firstly, information on individual needs of low-income people with limited possibilities was collected: it gave an opportunity not only to evaluate the importance of securing wheel-chairs, but to find out other problems that can be solved with help of Caritas workers.
At the moment among prioritized activity areas of Caritas Ukraine and its regional organizations there are, obviously, assistance to victims of mass protests, families of deceased people, IDPs from Crimea and Eastern Ukraine, witnesses of mass protests and military operations – there are 4 complex programs that seize several thousands of people. But, nevertheless, since April within project "Wheel-chairs for people with special needs":
30 wheel-chairs were distributed in Lviv, 16 of them – in "Dzherelo" rehabilitation center for children with cerebral palsy and 22 wheel-chairs – for lonely seniors who are clients of "Home care" project and Metropolitan Andrey Sheptytsky Hospital. It is planned to deliver wheel-chairs to clients of Bus'k center of social security.
25 low-income people with limited possibilities in Drohobych were provided with wheel-chairs, particularly, dwellers of geriatric center for lonely individuals in Pidbuzh village – 6 wheel-chairs, and also clients of Drohobych department of social security and local Caritas in Boryslav, Truskavets, Drohobych and Sambir.
Caritas Kyiv distributed wheel-chairs for clients of Boryspil rehabilitation center, in Bila Tserkva, Fastiv, Zhytomyr Chernigiv, Cherkassy and Vinnytsya regions – in general 35 items.
Needful people in Volyn region were secured with 16 wheel-chairs in Novovolynsk, Volodymyr-Volynskiy and Ivanychivskiy region of Volynska oblast.
Lyudmyla Sukharyeva, responsible for project implementation, retells: "It's seem to be a commonplace thing – 280 wheel-chairs. But, in fact, our state doesn't secure needful people with wheel-chairs. And th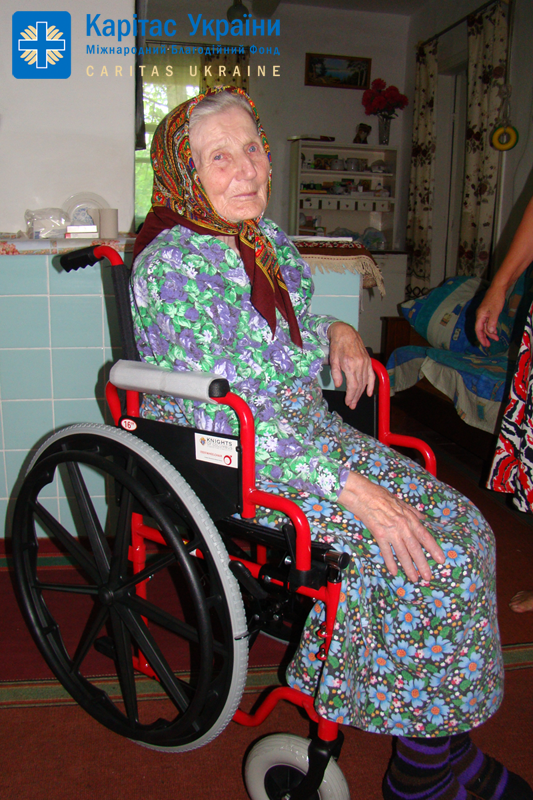 ousands of people (15% from total population in Ukraine are disabled individuals) become detached from the society. Because of certain reasons and problems with heath they can't move around on their own, they have no right for work, education, creative self-realization, participation in activities of local communities and visiting of public places.
Moreover, our state doesn't simply neglect social issues, but through taxes it makes impossible for us to assist people in need. For instance, when providing targeted help to victims of protests, we additionally pay 52,3% of taxes, extra charges and allowances in accordance with acting legislation. But if we speak about charitable assistance that is taxed in 2014 – it makes only 1 710 UAH. Is it possible for such money to render help to family of IDPs or family with a disabled child?
On behalf of Caritas Ukraine I am grateful to the Canadian Wheelchair Foundation for assistance and support of our service to the most vulnerable population categories. Notwithstanding that all attention in the country and beyond its borders is focused on the events that follow the Revolution of dignity, there are still tenth thousands of people with colossal problems that haven't disappeared."
It is planned to continue and extend such initiative: benefactors from Canada intend to purchase and deliver wheel-chairs to needful people in Odesa, Kyiv and Volyn region. Meanwhile, during February-July 2014 only three out of ten thousand registered philanthropic foundations paid over 10 mln. UAH of money designated for charity activities to state budget. And private benefactors will face this challenging situation at the beginning of 2015 when filling-in annual income declaration. Therefore, problems in Ukrainian legislation become more and more evident and require urgent solution. And this, says Lyudmyla Sukharyeva, – will give impulse to prioritization of social problems of Ukrainians and to more qualified and large-scale work of philanthropists.