27.07.2016, Lviv
On Wednesday, 27 July 2016, "Special Exhibition" opened in Lviv Palace of Arts. It is a warm project about art without limits from Caritas Ukraine. Young people with special needs presented their paintings. The event became a basis for a discussion on issues of inclusion, integration in community and public support of people with disabilities. More than 80 paintings and more than 20 photo-portraits of special artists from Stryi and Drohobych were brought before Lviv public.
"Special Exhibition" is an expressive art project and at the same time visual story of people with disabilities about self-confidence, courage and determination. Work on paintings lasted for 4 months. For the majority of young people it was the first artistic attempt in their life.  Professional artists Daria Mysak-Tkach in Drohobych and Ihor Melnyk in Stryi curated the art-workshops. They introduced students with specific techniques and materials, and encouraged them to work directly on their own works.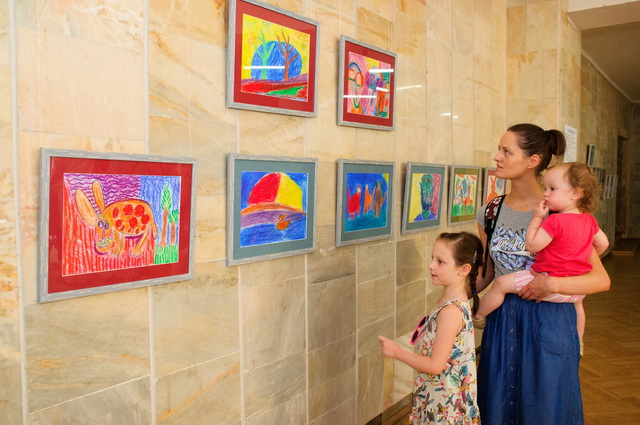 Each picture embeds far more work than it seems at first. People with disabilities have to make great efforts for almost each of their actions: to get to the social center using public transportation, to communicate with the seller in the store, constantly control their emotions and work on their patience and confidence. It is their special daily inner work and their struggle for personal development. Finished paintings became an evidence of their victory over themselves, while the art show in Lviv gave them sense of cooperation and interest of the community. One of the strongest aspirations of people with disabilities is to feel wanted and useful to the society they live in.
"We've started art therapy projects for people with disabilities several years ago with artists and volunteers Ostap Lozynsky, Marian Pyrih, Olga Kravchenko, Euhenia Rybchun. Then we could not even think that it will reach that quality. Art therapy – one of the most effective practices, revealing the inner potential of people with disabilities. It provides them an opportunity to express themselves, to convey their emotions and understand them. In art classes our wards are opening, like flowers "- said Lyudmila Sukharieva, coordinator of Caritas Ukraine national project for people with disabilities.
"In special needs we can see special opportunities too. These pictures are sincere and colorful – for our artists draw with their hearts. We are so proud of them! "- Added Lyudmila Smolen', coordinator of the Amazing Hands Social Center in Drohobych.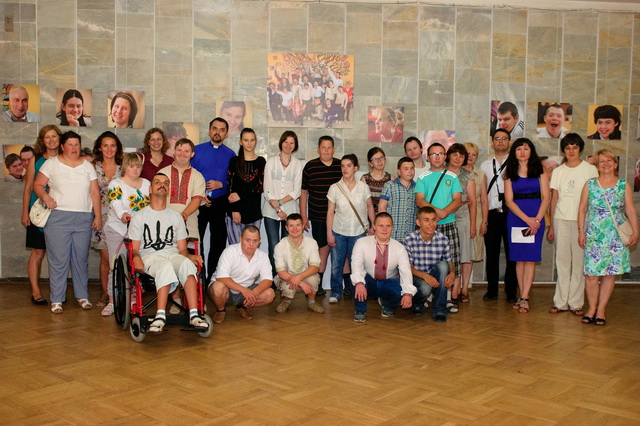 Representatives of partner communities and organizations: Emmaus Center, Constellation of Orione Studio, Faith and Light Community, Peace Corps agency joined the opening. As Lyudmila Sukharieva noted, in recent years the number of organizations working with special people increases – as well as the level of tolerance and acceptance level.
"I am the same as everyone else. I do not want someone doing me unsubstantiated comments or overcaring. Treat me as an equal – is the main requests of people with disabilities. Yes, they may be physically or mentally disabled, but – they are rightful, and need to feel it"- summed up father Oleg Zharovskyy, chaplain of Caritas Ukraine and Dzherelo Rehabilitation Center.