Let's Warm the Hearts of Our People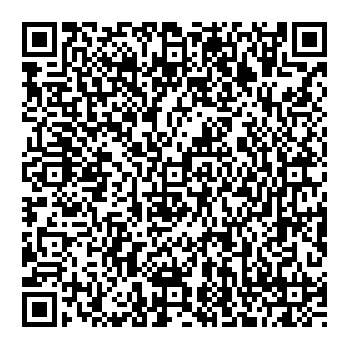 As we assess the risks for winter of 2023-2024, it's clear that Russia may continue its attacks on critical energy infrastructure.
Restoring essential services remains a significant challenge in areas close to the conflict zones. These regions have endured over a year without water, electricity, and gas access.
The winter cold in these frontline towns and villages threatens people's lives and well-being, akin to the constant shelling by Russian forces. Together, let's extend a helping hand to ensure our fellow citizens stay warm during the winter and have the means to prepare hot meals for themselves.
Caritas Ukraine plans to procure heating materials valued at 471.64 EUR for specific households as part of our winter preparedness efforts. This amount covers the purchase of firewood or fuel briquettes (depending on regional requirements), logistical support, and wages for our dedicated workers.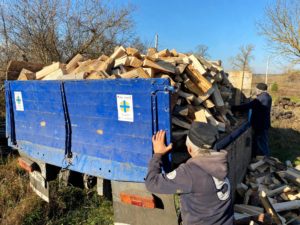 In total, we plan to raise 1,414,925.10 EUR. Your support can make a significant difference in the lives of those enduring the harsh winter conditions in frontline towns and villages.
Caritas Ukraine has provided humanitarian assistance in areas close to the frontlines and previously occupied territories since the beginning of the full-scale invasion. Our mobile response teams deliver everything the war-affected individuals need: housing repair kits, food and hygiene supplies, medical kits, and clean water. Legal experts and psychologists offer their counseling services.
The most vulnerable are children, the elderly, and people with disabilities. The absence of warmth for them isn't merely an inconvenience; it poses a matter of survival and a serious threat to their health and well-being.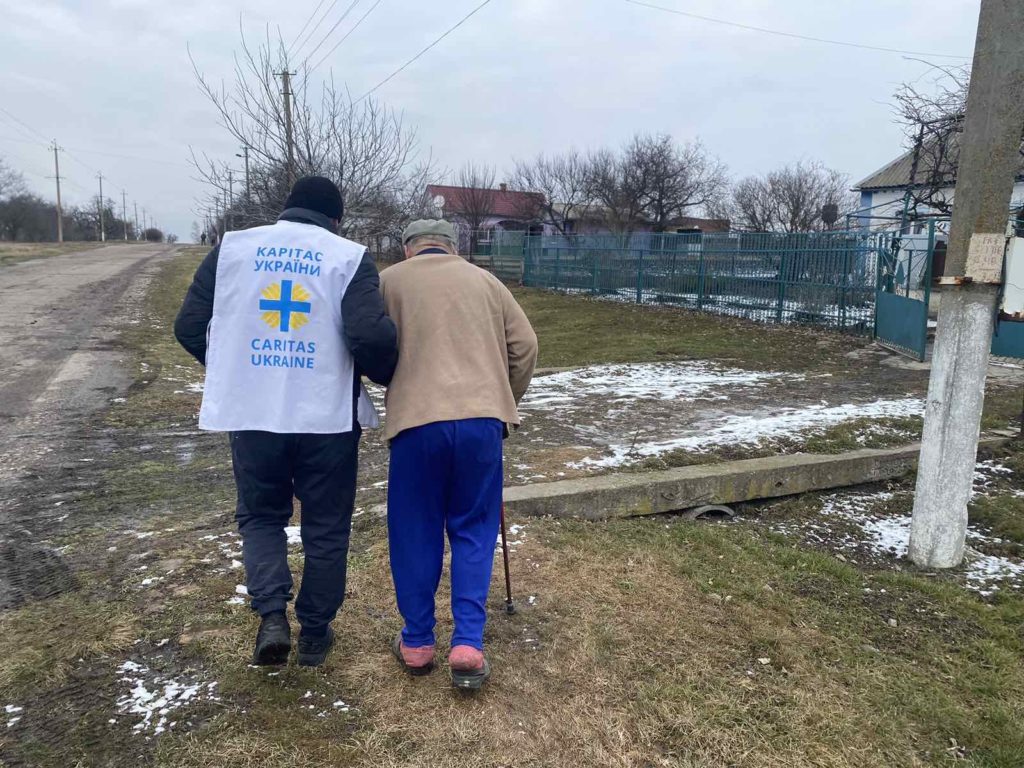 An example of this is a large family from the currently occupied city of Berdiansk, which is now renting a private house in Zaporizhia. The mother of this large family, Lisa, has seven sons and one daughter with her husband. They fled from the occupation in the summer of 2022 because they felt a threat that their children would be taken from them. There were plans to take the children to northern Russia under the pretext of sporting events. Along with leaving Berdiansk, the family also took their pets – a dog and five cats. The children couldn't imagine their lives without their beloved animals.
Finding suitable housing for such a large family was challenging. They couldn't afford a multi-room apartment for financial reasons and because of their pets. Fortunately, Lisa found a small private house in one of the city's neighborhoods. It has enough space for everyone, but there is a significant insulation and heat preservation issue. As winter approaches, the family is worried about the cold. Lisa has been saving money for heating since May, but they have yet to purchase the necessary fuel materials.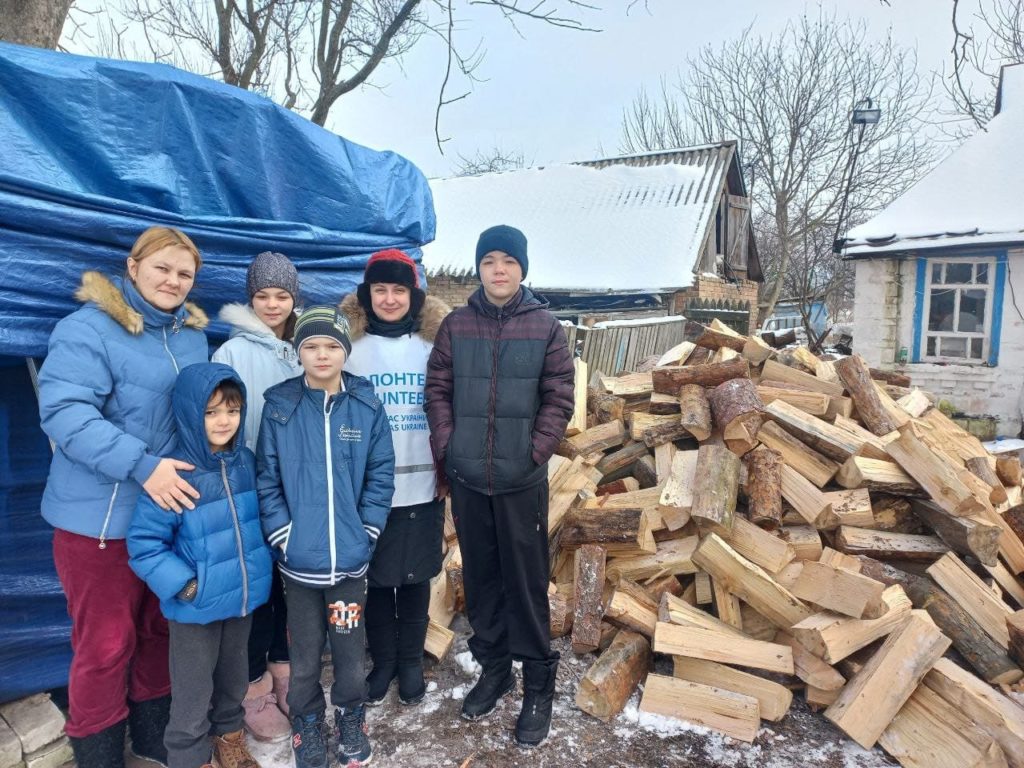 We are deeply concerned that people are venturing into forested areas in search of firewood to heat their homes and cook, despite the serious landmine risk and unexploded ordnance.
One such person trying to address the firewood issue for his family is Mr. Yuri. A blast wave damaged his house, located 20 kilometers from the front line in Komyshivakha. Yuri and his wife are retirees who care for their mentally disabled son. The family relies solely on their pensions and a social allowance for their son's support. They sustain themselves through their garden. As winter approaches, they urgently need assistance with heating fuel, as they cannot afford to purchase it. Yuri attempts to gather some dry wood on the outskirts of the settlement, but this area is already an orange danger zone, and many fields and territories are off-limits to civilians. Yuri is uncertain if they will be able to make it through the winter and is even prepared to cut down the decades-old orchard that has been the lifeline of their family for years.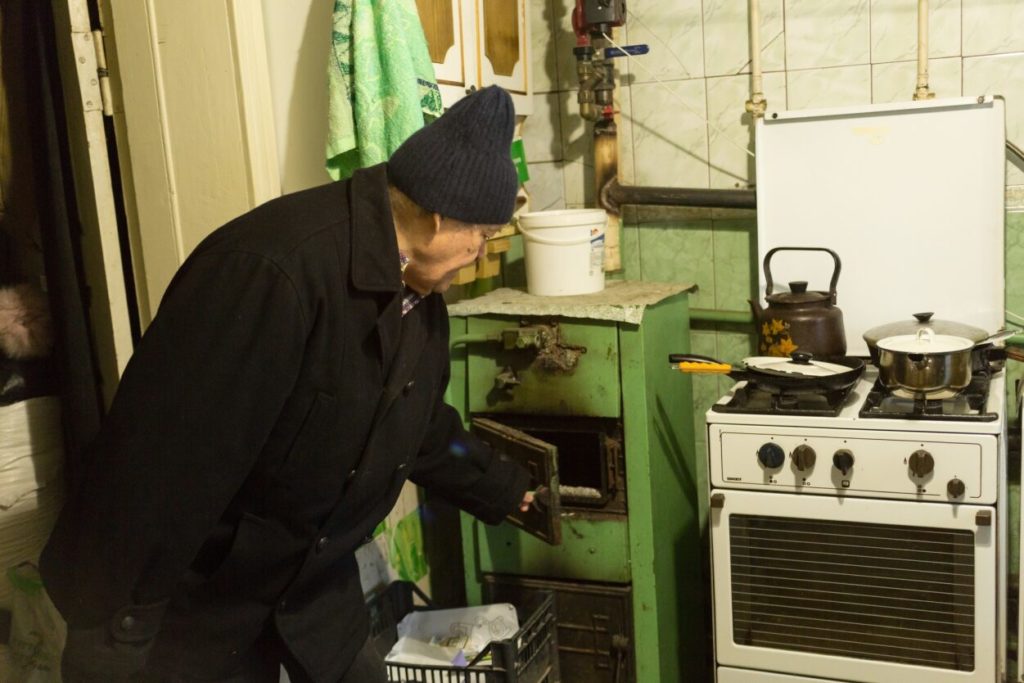 The experience gained in preparing for winter last year has allowed Caritas Ukraine to develop action plans, safety protocols, logistics, procurement procedures, and assistance distribution processes. We have refined our strategies for even more effective winter preparedness.
Caritas has the experience and professional teams and has already identified the regions and communities needing assistance. In total, this includes 3,000 households across 8 regions:
Kherson Region: 250 households
Mykolaiv Region: 250 households
Zaporizhzhia Region: 250 households
Donetsk Region: 650 households
Dnipropetrovsk Region: 600 households
Sumy Region: 250 households
Chernihiv Region: 250 households
Additionally, we have a reserve of 300 households for emergency response in newly liberated territories or areas most affected by Russia's missile attacks. Residents of the Kharkiv Region will be provided with heating materials through another project of Caritas Ukraine.
Every donation is a source of warmth and a hot meal for Ukrainians.
If you donate 25,000 euros, we can purchase fuel briquettes to help 51 households.
With your donation of 50,000 euros, we can acquire fuel briquettes, which will provide heating for 103 households.
JSC KREDOBANK
Sakharova str. 78 Lviv, Ukraine
SWIFT: WUCBUA2X
DETAILS FOR WIRE TRANSFERS
in USD
Intermediary: BANK OF NEW YORK  MELLON,
Банк-посередник New York , USA
SWIFT: IRVTUS3N  

Beneficiary's bank: JSC KREDOBANK
Банк-одержувача Lviv, Ukraine                                   
SWIFT:WUCBUA2X                                                  

Beneficiary: Acc 21695710
name Caritas Ukraine International Charity Foundation
IBAN UA79 325365 000000 2600801913626
Одержувач: рахунок відкритий у   ПАТ "КРЕДОБАНК", 
Призначення платежу: Charitable donation for heating fuel EA_2023
Purpose of payment: Charitable donation for heating fuel EA_2023
or
Intermediary: RAIFFEISEN BANK INTERNATIONAL AG, 
Банк-посередник VIENNA, AUSTRIA
SWIFT: RZBAATWW  

Beneficiary's bank: JSC KREDOBANK
Банк-одержувача Lviv, Ukraine                                   
SWIFT:WUCBUA2X   
                                              
Beneficiary: Acc 21695710
name Caritas Ukraine International Charity Foundation
IBAN UA79 325365 000000 2600801913626
Одержувач: рахунок відкритий у   ПАТ "КРЕДОБАНК", 
Призначення платежу: Charitable donation for heating fuel EA_2023
Purpose of payment: Charitable donation for heating fuel EA_2023  
in EUR
Intermediary: KBC BANK NV,  
Банк посередник: Brussels , Belgium
SWIFT:KREDBEBB  

Beneficiary's bank: JSC KREDOBANK
Банк одержувача Lviv, Ukraine                          
SWIFT:WUCBUA2X

Beneficiary: Acc 21695710
name Caritas Ukraine International Charity Foundation
IBAN UA79 325365 000000 2600801913626
Одержувач: рахунок відкритий у   ПАТ "КРЕДОБАНК", 
Призначення платежу: Charitable donation for heating fuel EA_2023
Purpose of payment: Charitable donation for heating fuel EA_2023  
or
Intermediary: COMMERZBANK AG,
Банк-посередник: Frankfurt, Germany
SWIFT:СOBADEFF

Beneficiary's bank: JSC KREDOBANK
Банк одержувача: Lviv, Ukraine
SWIFT:WUCBUA2X

Beneficiary: Acc 21695710
name Caritas Ukraine International Charity Foundation
IBAN UA79 325365 000000 2600801913626
Одержувач: рахунок відкритий у ПАТ "КРЕДОБАНК",
Призначення платежу: Charitable donation for heating fuel EA_2023
Purpose of payment: Charitable donation for heating fuel EA_2023
Intermediary: UNICREDIT SPA,
Банк-посередник: Milano, Italy
SWIFT: UNCRITMM

Beneficiary's: JSC KREDOBANK,
Банк одержувача: Lviv, Ukraine
SWIFT:WUCBUA2X

Beneficiary: Acc 21695710
name Caritas Ukraine International Charity Foundation
IBAN UA79 325365 000000 2600801913626
Одержувач: рахунок відкритий у ПАТ "КРЕДОБАНК",
Призначення платежу: Charitable donation for heating fuel EA_2023
Purpose of payment: Charitable donation for heating fuel EA_2023
in САD
Intermediary: CANADIAN IMPERIAL BANK OF COMMERCE
Банк-посередник: Toronto, Canada
SWIFT: CIBCCATT

Beneficiary's bank: JSC KREDOBANK,
Банк одержувача Lviv, Ukraine
SWIFT:WUCBUA2X

Beneficiary: Acc 21695710
name Caritas Ukraine International Charity Foundation
IBAN UA79 325365 000000 2600801913626
Одержувач: рахунок відкритий у ПАТ "КРЕДОБАНК",
Призначення платежу: Charitable donation for heating fuel EA_2023
Purpose of payment: Charitable donation for heating fuel EA_2023
in GBP
Intermediary: LLOYDS BANK TSB PLC
Банк-посередник: London, Great Britain                                   
SWIFT: LOYDGB2L  

Beneficiary's bank: JSC KREDOBANK
Банк одержувача Lviv, Ukraine                                  SWIFT:WUCBUA2X  

Beneficiary: Acc 21695710
name Caritas Ukraine International Charity Foundation
IBAN UA 47 325365 0000000 260010007580
Одержувач: рахунок відкритий у   ПАТ "КРЕДОБАНК", 
Призначення платежу: Charitable donation for heating fuel EA_2023
Purpose of payment: Charitable donation for heating fuel EA_2023
in (PLN)
Intermediary: POWSZECHNA KASA OSZCZEDNOSCI BANK POLSKI SA
Банк-посередник: WARSZAWA, POLAND
SWIFT: BPKOPLPW

Beneficiary's bank: JSC KREDOBANK,
Банк одержувача Lviv, Ukraine
SWIFT:WUCBUA2X

Beneficiary: Acc 21695710
name Caritas Ukraine International Charity Foundation
IBAN UA73 325365 000000 2600902913626
Одержувач: рахунок відкритий у ПАТ "КРЕДОБАНК",
Призначення платежу: Charitable donation for heating fuel EA_2023
Purpose of payment: Charitable donation for heating fuel EA_2023