10.09.2014, Ivano-Frankivsk
"Football is more than sport, it is a certain language that unites people!" workers of Caritas Ivano-Frankivsk of the UGCC are sure about this fact. They have been working with children and youth who have special needs for many years. That's why each year a special football match for physically challenged youth is held in this Caritas.
VI exhibition game was traditionally organized with the assistance of Ivano-Frankivsk Federation of Football that provided professional referees and presented a quality football to youth with special needs.
Among those who were involved in sport game there were clients of Center for leisure and social adaptation for children and youth with intellectual disabilities of Caritas Ivano-Frankivsk, and also 16 children-autists, representatives of CO "Svitanok-IF". For these kids it was the first possibility to play football on the professional field. And it didn't matter that their parents assisted them in this activity. The most important is that they felt themselves like stars who can make goals.
Such sport contests are norm for Caritas clients. Children with various deficiencies need sport activities in order to improve own physical development.  
"Our clients are thoroughly getting ready for the football game. Twice a week volunteer Nazar Kostiv conducts training classes in the sports hall, and during the warm season – on the football yard in Kryhivtsi village. Sport lessons are an integral part for the improvement of person's physical development, and for the disabled it is a kind of medicine. Everyone – boys and girls – is incredibly fond of football, because this game brings a mass of positive emotions, it is a training of discipline and endurance," says Natalia Kozakevych, Executive Director of local Caritas.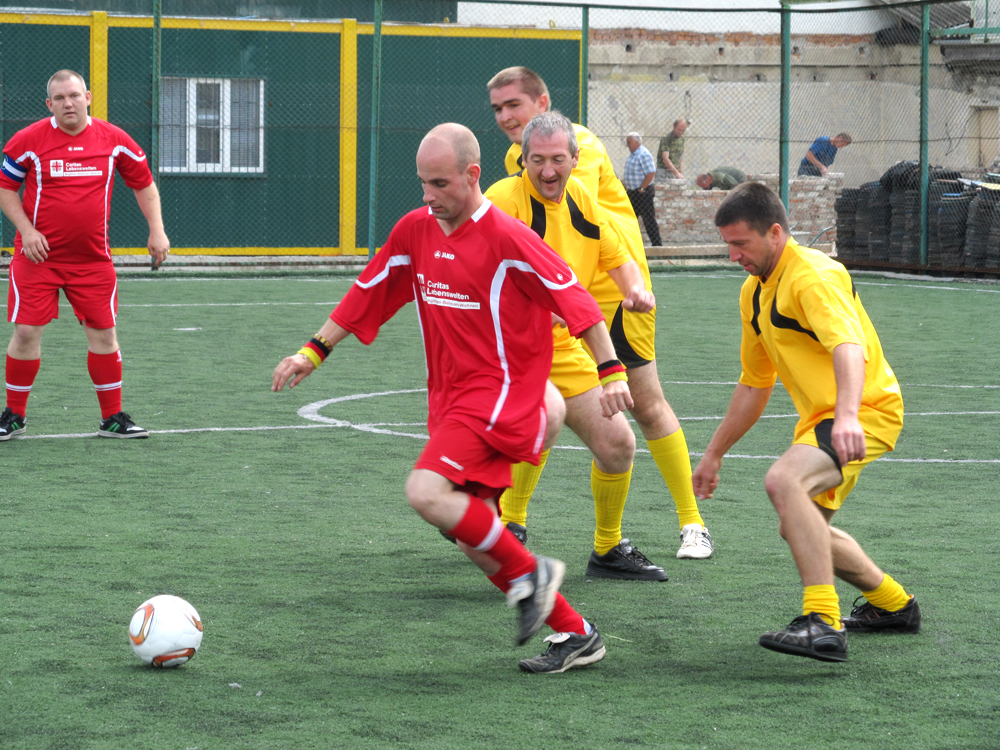 Caritas became a second home for more than 40 young disabled persons. The majority of children comes here every day. Some of them are being brought by parents, and others are really proud to use public transport and come to Caritas on their own. They get involved in Caritas creative workshops (make some items with beads, paper and wood), do sport, go for excursions, visit cinemas, communicate with volunteers and what is particularly valuable – they are wanted and give everyone their love.
In general a network of Caritas Ukraine centers for young people with special needs unite work of 6 specialized social centers in Lviv, Ivano-Frankivsk, Kolomyia, Drohobych, Stryi and Boryslav. Nearly 135 physically/mentally challenged persons, aged 17-54 years, receive a daily care.
The objective of social centers for people with special needs is to provide help to clients with intellectual deficiencies in adaptation to life in the community, in overcoming social isolation, in increasing of self-sufficiency, obtaining and consolidation of acquired skills, creative and educational self-actualization.
Social centers of Caritas Ukraine secure their clients with the following services:
o    Obtaining of work and educational skills;
o    Possibility to join creative workshops and projects;
o    Acquiring social and household knowledge and skills on housekeeping;
o    Development of communication skills;
o    Training on orientation and independent movement in the locality and beyond;
o    Acquiring skills on decision-making and protection of own rights and interests;
o    Development of understanding of sexual physiology and adjustment of sexual relationships;
o    Development of skills on leading a healthy lifestyle.