04.08.2014, Lviv
In June-July a Ukrainian community from EuroMaidan organizing committee in Rome collected and delivered more than 40 packages with food products and also hygiene means, clothes and orthopedic mattresses. This initiative became a part of a large-scale Caritas Ukraine project on rendering help to people who were forced to move from Crimea and Eastern Ukraine.
Received assistance was distributed among the most needful families of IDPs who live in Lviv and neighboring regions. There are predominantly large and single-parent families and also children with special needs – in general there are over 130 persons from 26 the most vulnerable Ukrainian and Crimean Tatars families.
Caritas Ukraine project on care of internally displaced persons, first of all, foresees evaluation of displaced residents needs and keeping of a special data base that is used for rendering specific social services for such individuals, notably accommodation, clothes, shoes and food products, assistance in legal issues, employment, transportation services and psycho-social follow-up. 6 regional organizations of Caritas Ukraine in Ivano-Frankivsk, Lviv, Kolomyia, Novovolynsk, Drohobych, Sokal have already rendered and are providing help for over 1000 displaced persons. Total budget of the project amounts to 5 mln. UAH.
Maksym Bondarenko, who takes care of IDPs, retells: "We assist one family from Crimea that consists of a mother and 8 children. They moved to Lviv after referendum, Fatima (name is changed) was on the 7th months of pregnancy, alone with 7 kids. People of a good will provided a flat for chargeless dwelling, and Caritas workers together with social services from the very beginning took care of this large family. Children went to school and learnt to speak Ukrainian in two months. 8th kid, a girl, was born in June. Life was getting better. Though there was worrying news from other family members who stayed in Crimea about bashing of "new authorities" they hadn't chosen.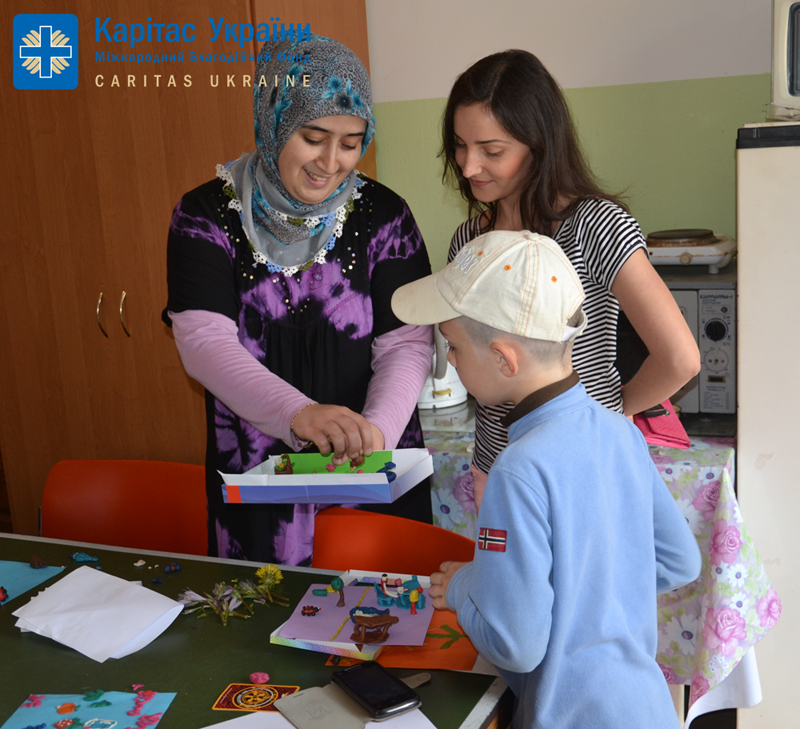 Another challenging moment came when Fatima and her children had to look for another flat. Because it was getting more and more difficult to find a temporary accommodation for IDPs from Crimea and Eastern Ukraine. With gratefulness to a family who had been hosting them for over three months, and with Caritas support Fatima moved to another oblast where she continues to get assistance from organization employees. When saying goodbye a woman said with thankfulness and without being ashamed of her tears: "We felt the warmth of Lviv citizens and Caritas in particular. It is so good that there are such concerned people!"
Caritas Ukraine expresses sincere gratitude to Ukrainian community in Rome for their concern and conscious civic position in the period of great changes for our country and its people. Material assistance along with our systematic social, psychological and legal work secure IDPs with high quality care and provide them with opportunity to begin new life.
Another woman came to Caritas Lviv with tears in her eyes. She hardly kept steady on her legs, but she didn't fall into despair. Together with disabled parents and little children she managed to run away from military occupation in Eastern Ukraine. At the same time her husband was kept as hostage for more than a month in Donbas region. Separatists tortured him, because he had supported Revolution of Dignity. She addressed Caritas to assist in setting him free. By means of joint efforts of Security Service of Ukraine and newly created department of emergency situations in Caritas Ukraine in two weeks this couple reunited.
Natalya (name is changed) retells: "Here, for the first time we felt ourselves protected. It was strange that we didn't have to hide. People with children were going on streets and playing in the yards". When we asked the couple: "Are they afraid of banderivtsi?", a husband answered: "Those who were able to get released from captivity in Donbas region and acknowledged that hell, became ever greater baderivtsi then you are".
"The only thing in these stories that is painful for me is manipulation on IDPs issues in media coverage and society. It is a kind of establishment of a negative stereotype by means of panic emphasizing on occasional unpleasant cases: it makes people pay less attention on those who really in need. And it doesn't favor unity of a nation that goes through this cleanup for the right to be free. And I want to wish all displaced persons a peaceful future that is essential for all of us. Because society is created by us, humans, and our mercy," says Maksym Bondarenko.