17.11.14, Lviv region
Recently, there was an educational training course in Caritas of Sambir-Drohobych Eparchy of the UGCC for workers of rehabilitation centers. This training course was held for three days each month during a year. It was organized by experts-psychologists from Poland.
It was aimed to support those who work with drug and alcohol addicted persons in their professional qualification, experience exchange between each other and psychological release. On this stage of training listeners and participants got acquainted with the sense, psychological, social and spiritual aspects of addiction and codependency, studied theoretic basics of assistance to people who have substance use disorders in accordance with the Spiritual therapy method, received skills of advisory work. Training was held in two formats: practical and theoretical.
In accordance with the data presented by the World Health Organization, Ukraine takes the fifth place on alcohol consumption per capita. Nearly 40% of Ukrainian teenagers aged 14-18 years drink alcohol regularly, and according to WHO, Ukraine takes the first place in the world on children alcoholism. Generally, there more people dying from alcohol abuse than from AIDS, tuberculosis and wars.
In Bydgoszcz region (Poland) per 350,000 population there are 30 rehabilitation centers just for people who have substance use disorders. Polish residents have chargeless medical insurance from alcohol and drug addiction, informed trainers Mr. Vitek and Mr. Yuzuf. They have been working for over 30 years in the sphere of social service to people with various forms of addictions. Year by year they improve and develop their own rehabilitation centers for people who suffer from drug and alcohol addictions, and problem gambling, so that people who have such addictions won't to feel rejected by the society and surrounding environment.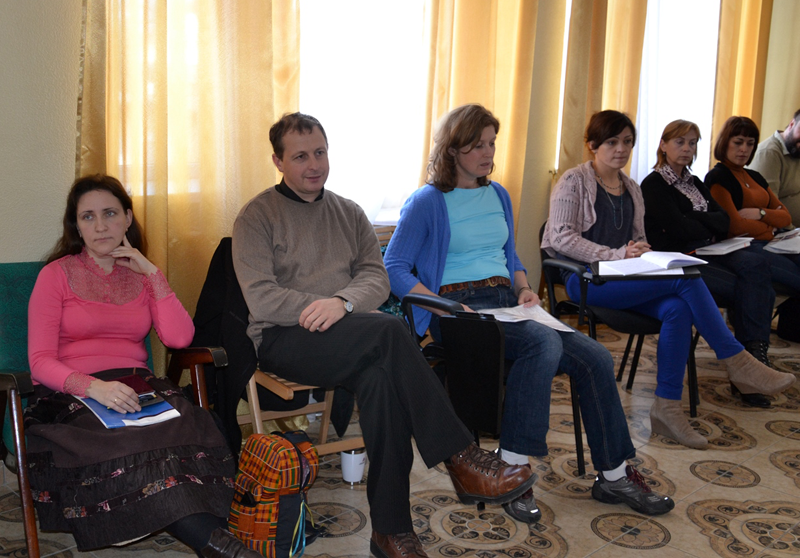 "It was a very important and required experience for me. I had an essential discovery about a practice of 'dual diagnosis': condition of a person who suffers from schizophrenia and drug addiction. I haven't practice such approach in "Nazareth" before. But after this training course I have decided to implement this approach in my work!" notes Danylo Fedosov, director of local Caritas "Nazareth" rehabilitation center.
In general, over 30 people from various cities of Ukraine, in particular from Drohobych, Lviv, Kyiv, Symy and other towns, took part in the educational training. Among training participants there were representatives of different professions: psychologists, doctors, teachers, priests and even nuns, and also employees of "Nazareth" and "Doroga" rehabilitation centers from Lviv, professors of Ukrainian Catholic University and others.
Caritas in Drohobych initiated such training course on work with people who have substance use disorders. In 2004 its workers founded a "Nazareth" rehabilitation center. Men, aged 18-55 years, can address the Center regardless ethnic or social background and religious confession. Duration of stay in rehabilitation center is at least 12 months. An average number of people on rehabilitation is 20-30 persons.
Polish colleagues hope that Ukraine will soon face great changes, and notably in such a highly charged issue as combating alcoholism and drug addiction. It is planned that such trainings will continue and there will be a perfectly established mutual cooperation. Polish partners of training centers are ready to support us, organize interstate experience exchange visits between Caritas and its partners, share important experience with our specialists.