29.09.2014, Lviv-Germany
Since May 2014 Caritas Ukraine has been implementing a large-scale project of assistance to IDPs from Crimea and those who fled armed conflict in Eastern Ukraine. 6 regional organizations in Lviv, Ivano-Frankivsk, Kolomyia, Novovolynsk, Drohobych and Socal provided and are rendering help to over 2100 displaced people.
It is also foreseen to secure basic needs (food packages and hygienic kits, clothes, shoes, heaters and potable water), organize social, legal and psychological support to several thousands of people affected by humanitarian crisis in Donetsk and Luhansk oblasts by means of newly founded Caritas Ukraine office in Kharkiv.
"In August a new wave of IDPs – direct victims of military conflict – overcame twofold our possibilities on rendering assistance (compared to what we planned in spring). People ran away from destroyed buildings with only clothes and possessions they had on/with them. And even those who are already dwelling here, weren't ready to stay away from our home for such a long time and, moreover, they weren't ready for a changeable weather in Lviv. Therefore, we faced an acute need in warm clothes and shoes.
The majority of the displaced – large families, single mothers with children and physically challenged persons. There are widows or women whose men are fighting for Ukraine or are kept as hostages. Obviously, we couldn't stay away from such people, that'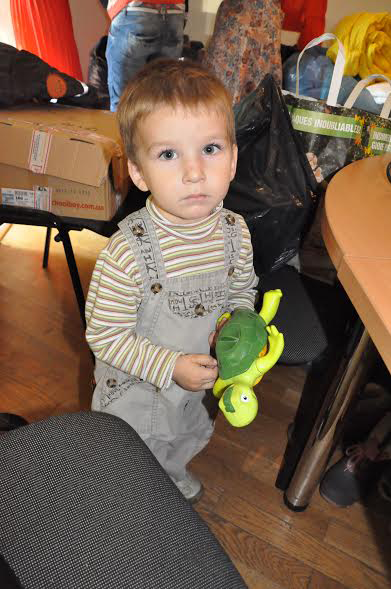 s why it was decided to make an announcement in a social media with a request to people of a good will. And they responded!" retells Hryhoriy Seleshchuk, coordinator of assistance to IDPs in Western Ukraine.
Lviv community, CO "Obnova", Ukrainian community in Rome and also Mrs. Nadia Metzger supported collection of warm clothes and shoes for dozens of IDP families. At the beginning of September Caritas Ukraine got a message from one modest Ukrainian woman who has been living in Germany for many months. It is a unique fact that Mrs. Nadia, being the only one Ukrainian in her locality, alone organized native German community for the assistance to needful IDPs who are under care of Caritas Ukraine. 40 big packages with things for adults and children were collected, sorted and packed. And her relatives in Ukraine, notably, Mr. Andrij Paniv with his own financial means made a trip to the Switzerland border and brought a bus with these things to Lviv. Furthermore, Mrs. Nadia handed over her books on spiritual development.
40 charitable packages were distributed among IDPs who receive assistance from Caritas in Lviv and Drohobych. All in all, needs of over 100 needful families were covered.
Caritas Ukraine project is aimed to provide the possibility of safe and dignified life for IDPs from Crimea and east oblasts of the country who dwell in Western regions of Ukraine. Caritas employees have the following objectives for such activity:
•    securing basic needs of the displaced in Western oblasts of Ukraine (food, clothes and shoes, hygiene kits, and also accommodation and transportation services);
•    provision of legal assistance (counseling and support in preparing of documents) and social follow-up (assistance in adaptation, help in search of employment);
•    psychological support and consultations for IDPs who are vulne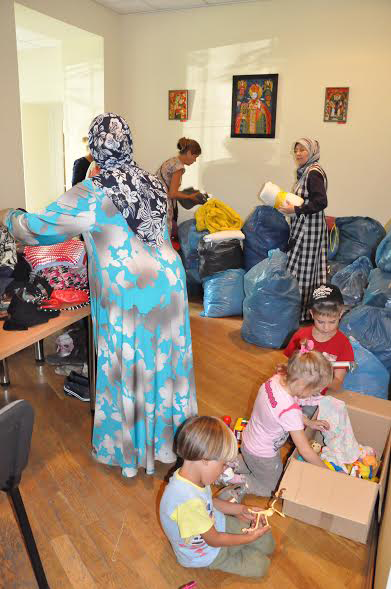 rable and affected by the conflict (include preliminary diagnostics, team and face-to-face work with children and adults).
Caritas Ukraine's approach to care for the displaced is personalized and foresees scrupulous evaluation of their needs. Attention is focused at the most needful: first of all, there are pregnant women, large families and families with physically challenged and elderly people. Caritas workers don't duplicate assistance that is provided by other organizations, services and initiatives, on the contrary, we coordinate our efforts to render the most efficient help to the displaced from Crimea and Eastern Ukraine.